---
When Sharlene Wells walked across the Wilkinson Center stage as BYU's 1983 Homecoming queen, she thought she had just qualified for the Miss Utah Pageant.
The 19-year-old had already competed once for the Miss Utah title and placed third. Happy with the results, Wells thought she and pageants were finished. Three judges, however, urged her to compete again.
"I decided to give it another shot and entered the BYU competition," she says. "I believed it was a Miss Utah preliminary pageant." After being crowned, she learned that BYU did not affiliate with the Utah program. So she had earned a front-row seat for the Homecoming festivities but not a place in the Miss Utah Pageant.
Rather than give up, Wells found her way to the state competition through another pageant. This time, when she competed for Miss Utah, she won. Later that year she was crowned Miss America. "Sharlene exuded so much confidence," says Renee Nelson, former Provo Daily Herald lifestyle editor. "She owned the stage."
Since then Sharlene Wells Hawkes (BA '88) has commanded many stages, whether as a professional speaker, a commentator on the Kentucky Derby, a recording artist, or an executive addressing military generals.
She received ample attention as Miss America, with its press conferences and appearances, and, for good or ill, the crown stays with her a bit.
"No matter what I accomplish, I'll likely always be known as a former Miss America," she explains. "I could walk on the moon and the headline would read 'Former Miss America Does Moon Walk.' It's been an asset and a liability. I call the title my Miss America card, and I have an instinct about when it will help me get in a door or when it is better left unused."
For example, she did not use it when an agent saw her on a KSL sideline show and thought of her for ESPN. "You never know what lenses an interviewer looks through when it comes to pageant participants," she says. "I wanted to be taken at face value."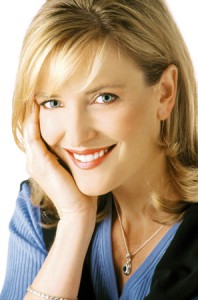 She got hired, signed a contract, and married. Hawkes eventually asked ESPN for part-time work that allowed her to live in Utah, and ESPN agreed. However, with a family that would grow to include three daughters and a son, life became more complicated. When Hawkes' contract ended, she opted to freelance; her assignments included the Kentucky Derby and Preakness. In the meantime she earned a master's degree from the University of Utah, wrote books, and recorded music.
Currently, she works for StoryRock, a business that puts life stories on a CD or DVD. Hawkes is vice president of marketing and sales over three divisions—education, scrapbooking, and military. She gives particular attention to military, which she oversees directly.
Hawkes has spent the last year and a half learning about the military, getting feedback from generals and other officials, and creating a product to help members of the military preserve their service. The leatherbound book, reminiscent of a class yearbook, contains a CD and blank pages, where military buddies can write notes.
Hawkes' enthusiasm for her work is evident, but her passion for her children is even clearer. "I took this job for many reasons, chief among them the flexibility to leave when my children go to school and return as they arrive home. I respond to e-mails a couple of hours every night and am thankful I'm a person with high energy."
The Hawkes are building a small recording studio at home. "But it's not for me," she says. "My kids are really talented. They sing and play the piano, guitar, and drums. And I have a 10-year-old who wants to be a Broadway singer—and a lawyer. Even my 8-year-old knows his way around a computer, and that's the direction of music today. They have more talent in their pinkies than I ever did. I'm content to sing in the background."