---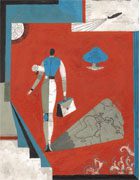 By Lisa Ann Jackson
Nar'yan-Mar is as remote as it gets. There, the sun never completely sets during the summer and never completely rises during the winter. The small town is situated on the inside of the Arctic Circle in Russian tundra. There are no roads to Nar'yan-Mar and the 19,000 people who live there were born there, or they arrived by passage on a boat on the ice-riddled Barents Sea, a bumpy flight in a twin-engine plane, or a very long snowmobile ride. Jeffrey Flint took a plane.
He arrived in Nar'yan-Mar in June 1995 as a student intern from BYU. He had with him a passion for Russia, a keen sense of adventure, and a few contact numbers given to him by some higher-ups at United Way International. Only later did he fully discover that he was in Nar'yan-Mar, the capital city of Nenets Autonomous Okrug, Russia, to organize the distribution of a $2 million grant from USAID. The grant was earmarked as social assistance for the 54,000 inhabitants of the autonomous region, many of whom are much like Inuits or Eskimos, still herding reindeer nomadically and living in tepeelike structures made of reindeer hide. But tucked away in this remote nook of Russia, Jeffrey stumbled upon a nug-get of opportunity that christened his international career.
Jeffrey is one in a legion of BYU students heeding the clarion call to make the world their campus. As technology shrinks the globe, and employers and graduate schools seek more diversity in their successful applicants, students are finding it increasingly difficult to maintain a monocultural focus in their studies. More and more students are spending summers or semesters abroad in hopes of gaining practical experience and cultural knowledge that will give them an edge in the job market or graduate school. But such internships and field studies are more than an edge; they have become veritable springboards into international-related careers for students like Jeffrey, a 1997 Russian and communications graduate, whose professional futures are wrapped up in cross-cultural studies.
It was Jeffrey's understanding of both the culture from which he came and the culture in which he interned that was the springboard. Obsessed with Russia since his youth, Jeffrey combined this passion with his natural people skills and majored in Russian and communications. When he got the internship in Nar'yan-Mar (beating out three MBA students for the spot), he was initially brought on to spend a summer setting up an office for United Way International. He ended up staying for 11 months and receiving two promotions that made him the program director reporting directly to the U.S. Embassy in Moscow. A returned LDS missionary from the Russia St. Petersburg Mission, Jeffrey impressed the directors of United Way International with his knowledge of the Russian language and culture. Observing his ability to blend that understanding with his Western skills in public relations and fund-raising, the directors asked him to go back to Nar'yan-Mar when he finished school and continue training locals to run the newly established branch. After a few months back in Provo, Jeffrey returned to Nar'yan-Mar as a consultant.
"Interns like Jeffrey are successful because they have the skills and the culture and language ability," says David Shuler, director of the International Field Studies and Internships (IFSI) Office at BYU. "They are getting their jobs because they are cross-culturally smart."
The IFSI Office was created in 1995 to help students become cross-culturally smart. It was given charge of the legions looking for international internships or field studies by facilitating the whole process. (An internship is defined as a hands-on work-related experience tied to an organization; a field study is independent academic field research.) In the 1997­98 school year, about 375 students are going to countries on six continents.
Though 375 students is a small percentage of the almost 2,000 BYU students studying abroad each year, the nature of field studies and internships make that number a virtual tidal wave.
"Everything is individually tailor-made here," Shuler says. "That is fairly labor intensive." Shuler and his staff–students who have completed internships or field studies themselves–help students find an internship or decide on a field study; help students arrange for professors to sponsor independent-study courses in the students' areas of interest; and ensure that students are properly enrolled in school and receiving credit. Because internships and field studies are usually completed alone or in small groups and are inherently an intense cultural immersion, the office staff also weeds out students not up for the challenges of such an experience.
"It's not a retreat," says Shahram Paksima, a student facilitator in the IFSI Office who has participated in field studies in India. "Not only is it a waste of our time if students are not committed, but it is a waste of their time. The process is pretty rigorous from beginning to end."
"Students need to see their field study or internship going exactly in the direction of their life–in preparation for graduate school or a career," Shuler says. "We'll turn students away if we sense that their life is going in one direction and all of a sudden they want to turn around and do this almost as a break from Provo."
When Jeffra Burke decided to do her student teaching in Mexico, she had already been a high school foreign exchange student in Ecuador, a college study-abroad student in Chile, and an LDS missionary in Spain. Teaching in Spanish was exactly the direction she wanted to go with her degree in elementary education and Spanish. While she was in Mexico, her cross-cultural smarts and ability to teach caught the eye of a visiting elementary school principal from Orem, Utah.
"He never said anything in Mexico," Jeffra recalls, "but I called him when I came back, and he basically said, 'Since I saw you teach in Mexico, I want you to come teach for me. Do you want the job?'"
The job was teaching fifth grade in a Spanish immersion program, and she found her experiences in different cultures and her student teaching to be invaluable preparation. A 1996 graduate, Jeffra taught in the immersion program for a year before moving to New Hampshire, where she teaches Spanish classes in a public middle school. "There is no way I could be doing what I am doing now without having had the opportunity to do my student teaching in Mexico," she says. "Yes, my Spanish improved, but the experience prepared me in so many other ways as well."
Daily she draws on her cross-cultural background to help students understand the peoples of the world who speak Spanish. As they read story books from various cultures, she uses her experiences in Mexico, Spain, Chile, and Ecuador to explain to her students the traditions talked about in the stories.
"I can teach my students about the people and not just read the story. I know the people, I know the customs, and I can teach the kids about them and the stories make sense," Jeffra says.
But Jeffra says the most valuable thing she brought back from Mexico is her heightened understanding of education.
"Teaching in Mexico gave me a perspective of what education really is. You don't have to have three billion different text books. You just have to have a little imagination and the basic facts and you can do all kinds of things," Jeffra says.
A shift in perspective seems to be the most common and perhaps the most important effect these experiences abroad have on students. More common than landing jobs or getting into graduate schools, these shifts in perspective immutably alter students' perceptions of both the world in which they live and hope to work, and of themselves.
Brooke Harding, a December 1997 BYU graduate, remembers one day in particular, sitting quietly in the corner of a classroom in Dresden, Germany, observing deaf children being taught English. Brooke, completing a seven-month field study in linguistics, was scribbling notes when the class was released for a break. As the children milled about, they cast curious glances Brooke's way. One precocious little girl stopped and gazed intently at what Brooke was doing. She examined Brooke's notes carefully, then bounced away to the chalkboard and began to write.
Calling Brooke's attention, the little girl pointed to the board. "Who are you? My name is Fanny," the girl had written in English. Brooke went to the board and wrote, "My name is Brooke." Other children saw the exchange and began introducing themselves in English with chalk. Soon the board was covered with broken English phrases these students, who are German and who are deaf, had learned in their class, and Brooke saw a group of children aching to communicate and connect with others despite their seemingly limited abilities to do so.
Being a native speaker of English in Germany, Brooke's abilities to communicate were also limited. She came to understand these deaf children and the theories of language acquisition in a way she could not have understood if she had spent her entire education in lecture halls on BYU's Provo campus.
"I had an experience with the principles I was studying–I was participating in language acquisition myself," Brooke says. "Now the principles are deep inside me. I understand them because I lived them."
"When you go abroad you expect everything to be different," says Angie Rogers, "and when you come back you expect everything to be the same–and it is, but you are different."
Angie spent almost as much time out of Provo as she did in Provo while working on her degree in anthropology. She spent a semester in India studying culture and religion, a summer in Taiwan teaching English, and another semester in South Africa studying development.
"My experiences have taught me the reality of development," says Angie, who graduated in 1997 and then traveled to Korea to teach English. "It's not the big abstract ideal: 'I'm going to feed the children in Africa.' I have seen the reality of the limitations and challenges in developing countries."
Such is really the point of international field studies and internships–to help students learn academic principles and cultural understanding by placing them in the reality of it. With that understanding, students are becoming consultants, teachers, graduate-degree seekers, and enlightened citizens in the global community. All this BYU facilitates by making the world its campus.
"It's at the very heart of college education and advisement and all thethings we always say we should be doing at a university," says Shuler. "It's very rewarding."
---
Lisa Ann Jackson, a BYU alumni and former Brigham Young Magazine intern, is an associate editor with BYU's David M. Kennedy Center for International Studies.