---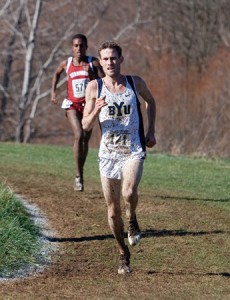 Senior Josh Rohatinsky ('07) finished first overall in the men's 10K race at the NCAA National Championships in Terre Haute, Ind., on Nov. 20, leading his team to an 11th-place finish.

"I looked back about halfway down the stretch and noticed that no one was behind me," said Rohatinsky. "It was at that point when I realized that no one was going to catch me."

"Josh had a phenomenal performance," said head coach Ed Eyestone (BS '85). "He was patient and spotted well. We've known all year long that he's an amazing athlete, so it's nice to see it materialize here."

Rohatinsky won the race with a time of 30:45, 1:37 ahead of the second-place finisher. He earned his third All-America honor and was named National Athlete of the Year by the U.S. Track and Field and Cross Country Coaches Association. Rohatinsky finished first in all five races he competed in this season.

All-American Kassi Andersen ('08) took sixth at nationals, leading the BYU women's team to a 22nd-place finish.
Read more at byucougars.com/cross_country/