---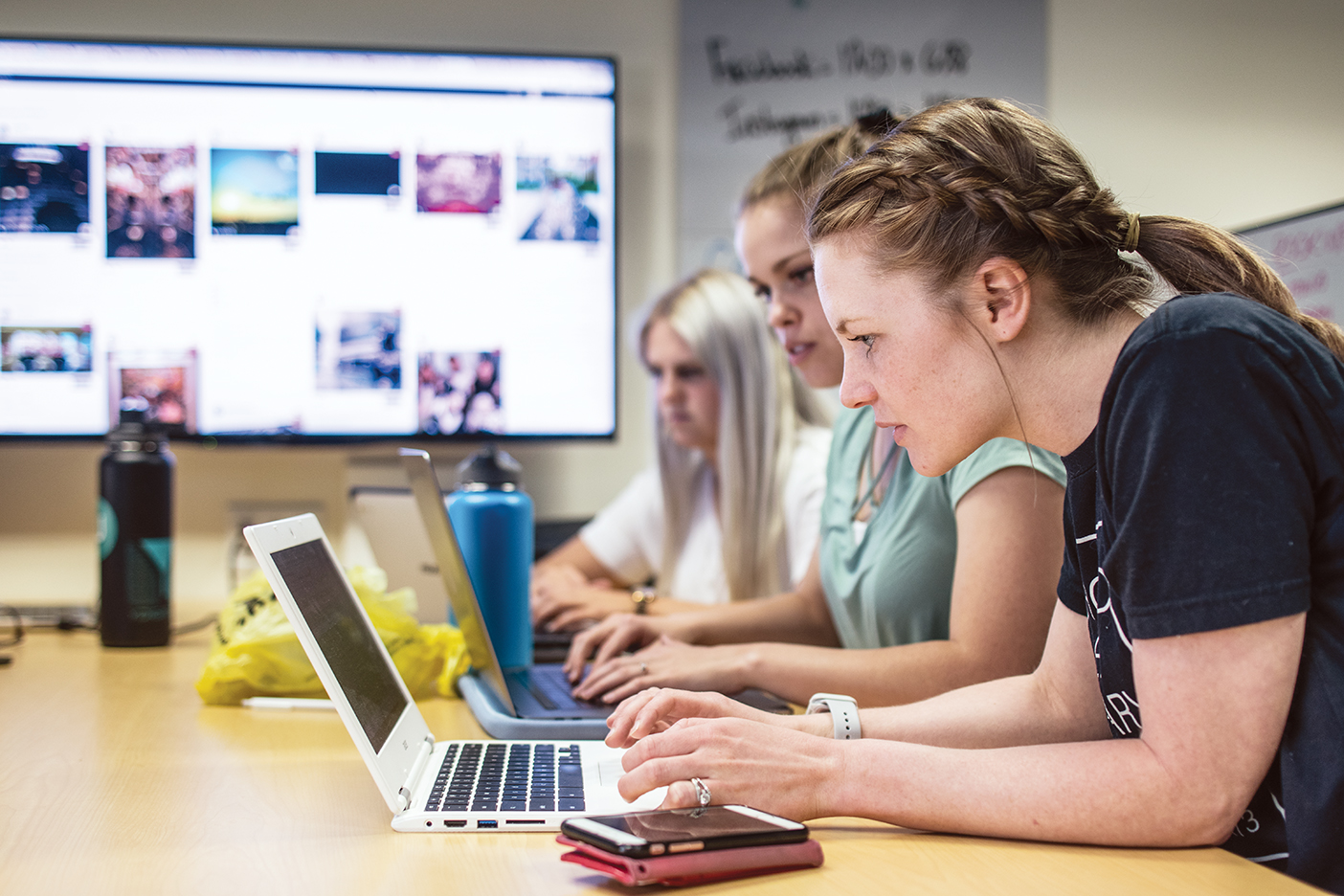 Maybe you heard about the Nevada teen who won a year's worth of Wendy's chicken nuggets on Twitter. Or maybe you follow GoPro's Instagram account for its famous outdoors photos or preview new merchandise on Facebook from your favorite boutique. If so, you're in the company of millions—and businesses know it. That's why they've begun investing in social and digital media teams, who work from behind the screen to cultivate these companies' online presence. And now, at BYU, there's a class for that.
Y Digital, BYU's on-campus digital communications agency, launched in spring 2017. The lab features a collaborative high-tech workspace and a 72-square-foot wall of screens. Each semester, 36 students have what managing director Adam R. Durfee (BA '14) calls a "professional preparation experience," where they create digital advertising campaigns and manage accounts for real clients such as Hard Rock Cafe and NASCAR.
But why digital? Like pretty much everything else, technology has changed the communications industry, which now divides its attention between online and more conventional formats like TV and print. Social-media ads are often more effective, says communications student Spencer J. Christensen ('18). A digital ad campaign includes "creating messages [and] developing images or videos . . . to connect companies with people," he explains. Social networks allow companies to engage one-on-one with potential customers.
In a campaign last year, Y Digital students exceeded expectations with their work for Whooshfly, an Uber-like organization for private flights. "We came up with some awesome social-media videos that . . . did really well," says junior Kira Nielsen ('19). The students directed Facebook ads to Sundance Film Festival attendees. The strategy was a success: Whooshfly earned more than 30 times what they had spent on advertisements.
With global clients, sometimes students will be in the lab at odd hours following and engaging with the social-media conversation surrounding a client's live event, such as a sporting event on the other side of the world. This "social listening" is just one of the many skills students learn at Y Digital, helping them take their communications training and "apply it to an online sphere . . . [to] make them more well-rounded and capable professionals," Durfee says.
Any communications major can apply to work at Y Digital, an opportunity that account director Nastassja I. Krupczynski ('18) says no one should miss. "Anybody that wants to go into the digital-marketing business needs to do Y Digital," she says. Nielsen agrees that the experience has given her a leg up in her job search, adding, "It's a really cool thing for students to get hands-on experience while we're still in school."