---
A BYU romance. A paradigm-shifting classroom moment. A sleep-ruining robot. Each was featured in a story shared in BYU Magazine in a series of comic-strip tales created by BYU alumni.
How We Met: Earl and Opal's Love Story
Artist Brian Crane shares how Pickles stars Earl and Opal met—and it turns out it was at BYU. Check out their love story here.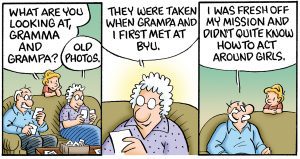 Reset.
BYU professor David Habben shared a story from his student days at BYU, when he was inspired to pave his own route to success. Read about the moment that changed his college experience here.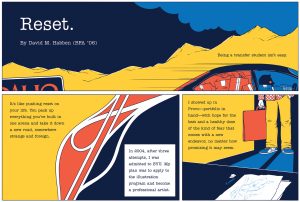 Planting Seeds
In their BYU student days, artist Adam Koford and his brother enjoyed tricking fellow students on their way to class. Robobutlers and balloons were involved. Click here to read about their shenanigans.