---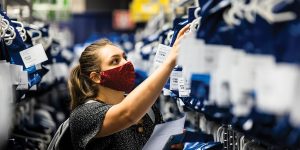 With pandemic precautions in place and a mix of online and in-person classes, this year's crop of freshmen started their first semester at BYU on a much quieter campus.
"There's definitely not a lot of places to sit—couches and study areas are spread out—and there aren't a lot of people walking around," says new student Cecilia L. Thomas (not pictured), who attended her first day of college online from her Helaman Halls room.
The traditional first-week to-do list was upended a bit. New Student Orientation moved to Zoom, and ID-card photos were submitted online. Freshmen sorted through rows of plastic blue bags to find their textbooks, gathered by BYU Store staff to limit the spread of germs.
"I didn't imagine this," Thomas says. "But I'm super grateful I can be here. I can still feel the Spirit on campus."