---
By David Gedris
Standing nearly 20 feet tall and 3 feet wide, instruments designed by a BYU chemistry professor collect microscopic air particles that may hold clues about the relationship between air pollution and respiratory and cardiovascular diseases.
Delbert J. Eatough, who will use his instruments in an Environmental Protection Agency (EPA)-funded study in Salt Lake City, says his new air-sampling devices capture pollutants smaller than a fraction of a human hair, particles that other instruments miss.
"The bottom line is we know these particles are harmful, but we don't know why," says Eatough, who begins the three-year study this fall. "Our current focus is to try to determine what makes these smaller particles so harmful."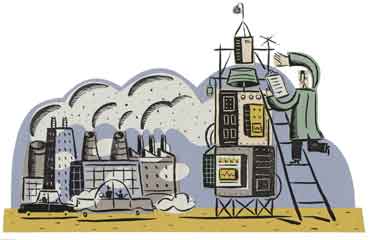 Tighter air pollution standards approved by the EPA in the last two years have made current pollution samplers obsolete, creating a need for more sensitive instruments, says Eatough. Until now, much of the volatile, potentially harmful material in air-pollution particles has escaped detection because older instruments were designed to catch the stable parts of particles, he says.
A test of his instruments against older ones two years ago in Riverside, Calif., showed that 40 percent of the mass of smaller air particles escaped as a gas when using older devices. But Eatough's new instruments were able to trap the entire sample, allowing for an analysis of its complete chemical composition.
Perhaps the biggest difference between Eatough's instruments and others is their ability to separate and account for the variety of particles in the air. Combining an earlier sampling system developed at BYU with a particle concentrator developed at Harvard University, the instruments can more completely analyze the sample, with less speculation and error than with other instruments, says Eatough.
"By switching the standard from coarse to fine particles, the focus for studying pollution changed," he says. "Air-pollution studies used to include windblown dust and rock grinding emissions as well as automobile and combustion emissions. Now the focus is only on material formed by combustion emissions, specifically those of vehicles and manufacturing. Researchers believe these areas are the cause of many health problems."
Eatough's new methods and instruments, along with his findings on the Riverside test, were published earlier this year in Atmospheric Environment, a leading journal on atmospheric studies. The EPA has awarded Eatough a grant to study Salt Lake City's semi-volatile air particles for the next three years.
Eatough will collaborate with Arden C. Pope, a BYU professor of economics who has published dozens of articles on the health effects of air pollution. Together they will look at the correlation between air pollution and illnesses, specifically cardiovascular diseases.
"With this particular research, we're trying to understand two aspects of air pollution," says Pope. "First, what can we learn from its relationship with cardiovascular diseases and death; second, we want to understand a little better what components of the fine particles are driving the adverse health effects."
In addition to his study of Riverside, Calif., Eatough has used his instruments to collect and analyze air-pollution data in Provo; Bakersfield, Calif.; Seattle; Philadelphia; Pittsburgh; and Atlanta.
Pope and Eatough agree that the new EPA guidelines for air pollution control improve air quality and are necessary to protect the public. But meeting the guidelines won't be cheap.
"The cost of meeting this new standard is really big," Eatough says. "We're talking billions of dollars."
And Eatough's instruments don't come cheap either. The effusively titled Particle Concentrator-Brigham Young University Organic Sampling System (PC-BOSS) and the Real-time total Ambient Mass Sampler (RAMS) that work together to characterize an air sample's chemical composition and mass cost $60,000.