Artist James C. Christensen draws viewers into his whimsical world with imaginative yet relatable creations.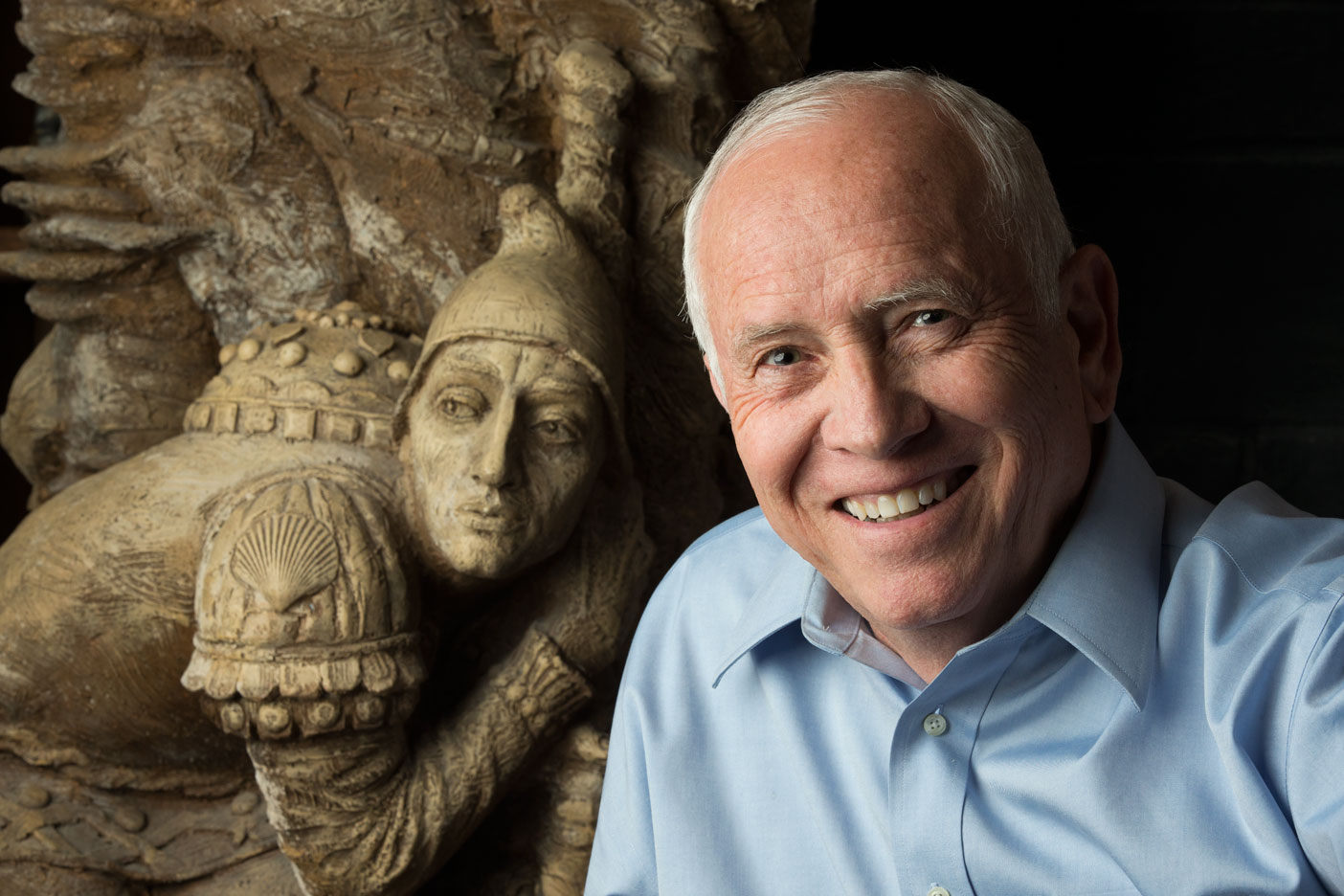 When celebrated artist James C. Christensen (BA '67, MA '68) takes center stage during Homecoming's BYU Spectacular in October, one of the fanciful creations that first made him famous more than 30 years ago will join him.
A frequently depicted character in Christensen's art is the hunchbacked Everyman, who will be portrayed by former BYU dance professor H. Patrick Debenham (BS '73). "This character allows us to see ourselves manifest through him," says Spectacular producer Michael G. Handley (BS '83). As Christensen explains, "In these images the hunchback's hump is stylized as a physical symbol of the burden all humans bear. It's a reminder that, while every person has weaknesses, it can be through those flaws that the Spirit both touches and teaches."
When Christensen learned about he invitation to participate in the 2014 Spectacular, the BYU alumnus and former art professor had every intention of turning down the honor. "These days I'm happier about how well my artist daughters are doing and that I have a granddaughter who is becoming a fine artist than I am about my own art," he says. "But as I listened to the ideas of the BYU production team, I got excited. So here I am, on board and committed."
An artist who suggests everyone should consider living a little left of reality has long inhabited a world where fish can fly, beautiful women sail in tiny boats, and it's not uncommon to happen upon elves, dwarves, and fairies. Christensen says the common phrase "seeing is believing" is better expressed in his world as "believing is seeing." And he embraces different ways of seeing that world: "I like to invite viewers to find their own meanings in my paintings," he says.
Christensen's whimsical creations have yielded multiple Chesley Awards from the Association of Science Fiction and Fantasy Artists, the Governor's Award for Art from the Utah Arts Council, and countless other honors.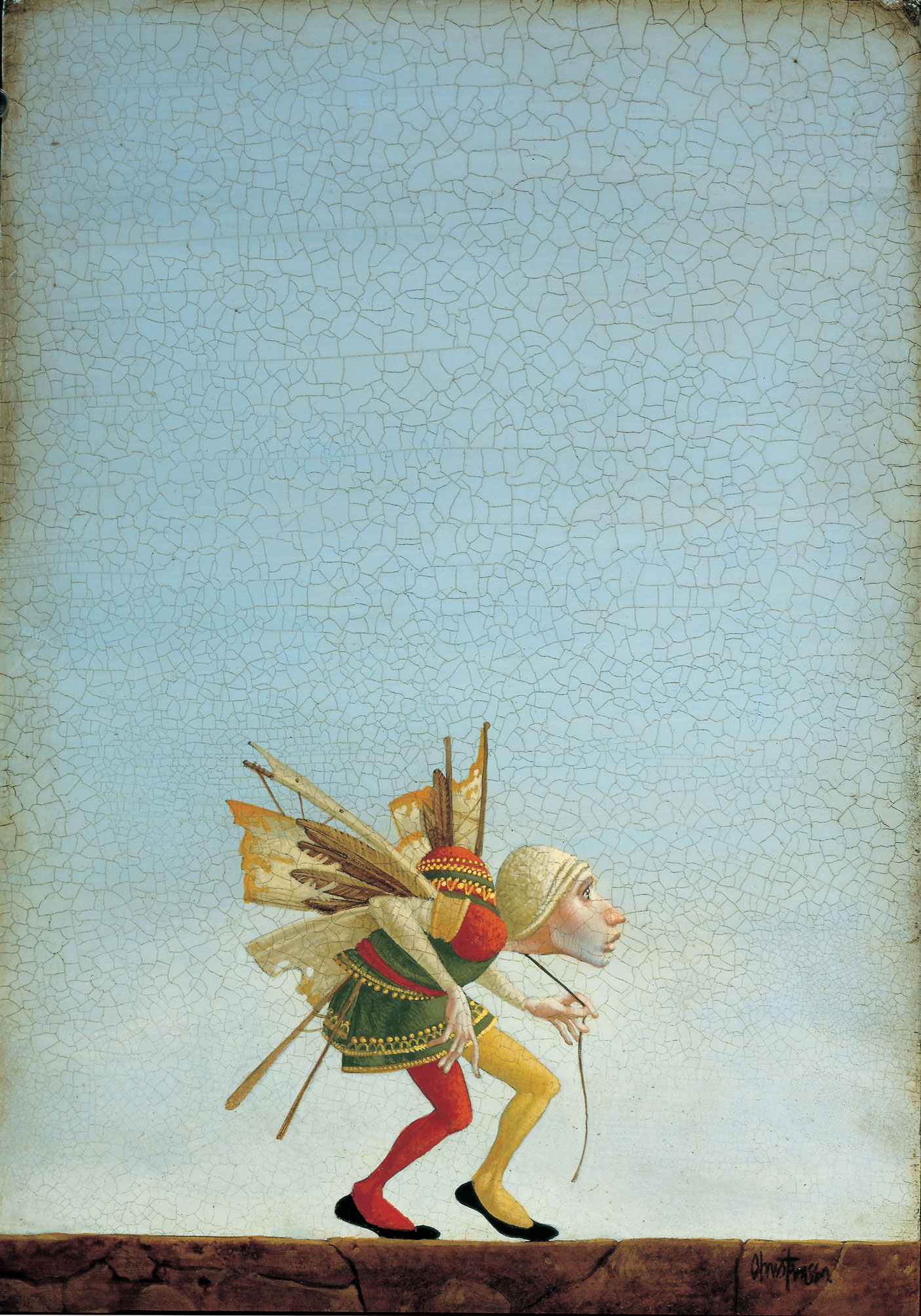 As his career began, however, art was about making a living. After teaching junior-high art and working as a New Era designer, Christensen joined the BYU art faculty and used his talents to paint portraits, buildings, landscapes, or whatever anyone ordered. He kept his winged people, fish heads, bejeweled dandies, and other creatures hidden away in sketchbooks.
But when he received a commission to paint "one of those crazy things stashed behind the desk," he thought he might find an audience for his visual storytelling. He did, and his reputation rocketed, particularly when he signed on with Greenwich Workshop, makers of fine prints and canvases in Trumbull, Conn.
Serious about his art, Christensen used to tell his five children, "Unless there's a fire, I am not to be disturbed." But today his focus has changed to include plenty of time for 13 grandchildren, and if he doesn't touch any of the nearly dozen paintings he has in process in his studios for two or three days, that's OK with him.
Christensen, who is also known for his religious and inspirational art, is especially pleased that he and three of his friends—called Frank's Boys after their teacher, the late Frank R. Magleby (BS '50, MS '52)—were asked to paint murals for the Nauvoo Temple. The same team, which includes Robert L. Marshall (BA '66, MA '68), Gary Smith, and Douglas M. Fryer (BFA '88, MFA '95), is now working on the Provo City Center Temple murals and will even paint the ceiling.
"We'll probably have Doug be our Michelangelo, because at 50, he's the kid," Christensen says. "The rest of us are becoming known as the grand old men."
It could be the title of the next Christensen painting.