---
Some people's best ideas come to them in the shower. For industrial design student Jared D. Weston, '03, his winning idea was a shower.
Weston's novel design—a circular shower basin surrounded with 6-foot-tall, broad blades of green plastic grass—won first place for best shower among 70 submissions by students at colleges and universities across the nation.
For the competition, acrylic surface manufacturer Lucite International Corporation asked students to create a unique shower, bath, or sink design using microban plastic.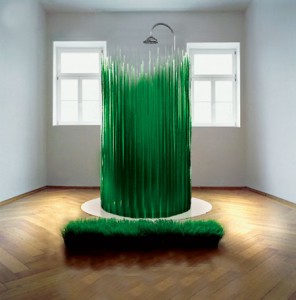 The first-place winners in each category received $500 and a trip to Florida. On April 11, Weston traveled to the Kitchen and Bath Industry Show in Orlando, where he saw a working model of his imaginative shower design, titled "Grassroots."
The show ran from April 11–13 and drew 40,000 visitors. Jill Moore, public relations director for the competition, said students like Weston attracted a lot of attention at the show because journalists attending the conference were eager to spot up-and-coming designers.
Weston's idea was for the bather to part the grass and step into a rainforest for a shower. The plastic grass blades act as the shower curtain because they overlap and prevent water from splashing outside the slightly concave shower basin.
Richard E. Fry, '89, assistant professor of industrial design, said Weston's naturistic design illustrates how students are taught to combine art and technology. The curtainless shower "is a good example of coming up with something that makes the user's life richer," Fry says.
"It awakens your imagination while you're waking up in the morning," says Weston.