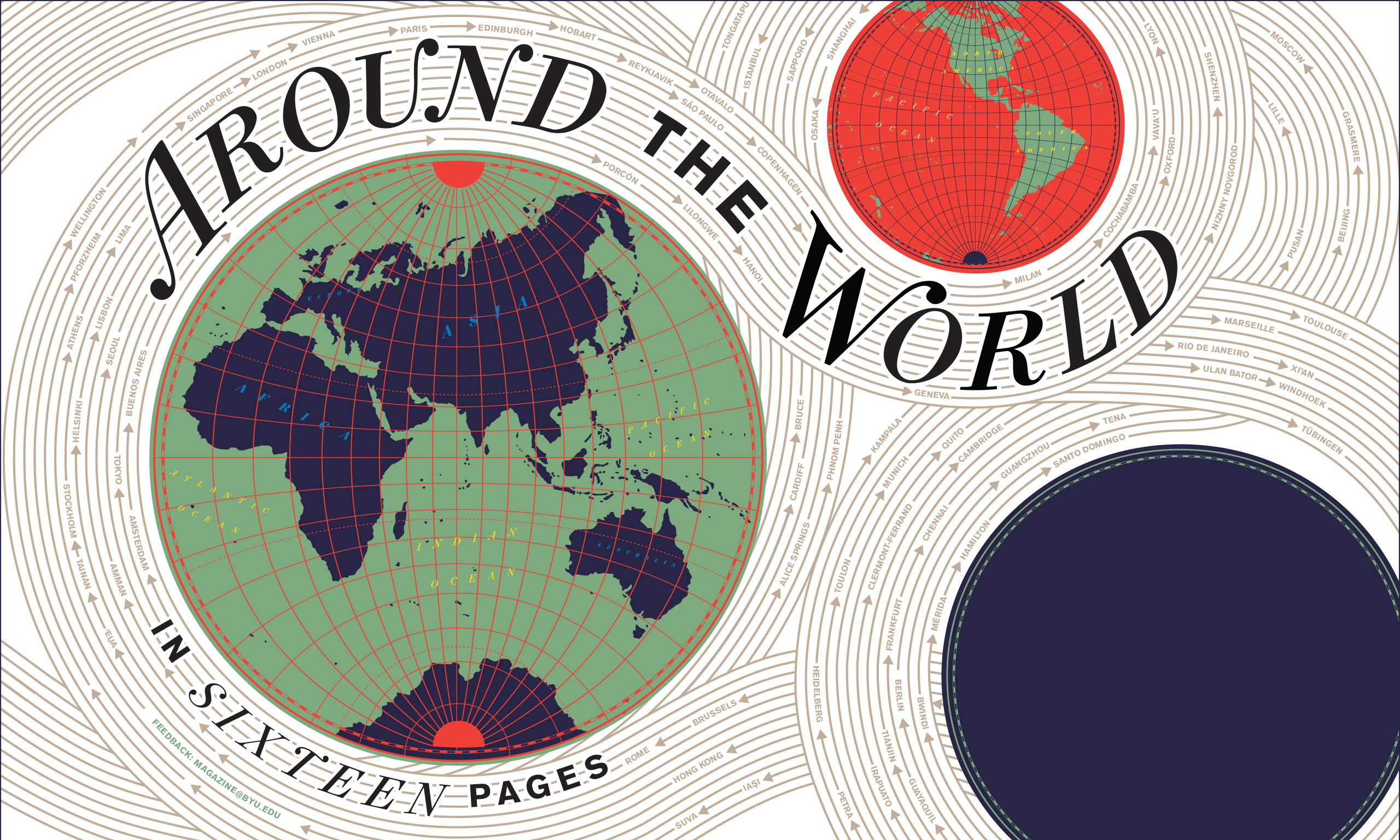 At any given time, you can find BYU students and faculty almost anywhere in the world. Here they share tips for visiting destinations in seven countries­—from Mexico to China.
---
By BYU Magazine Staff in the Spring 2014 Issue
Each year nearly 1,500 students commence journeys of learning through 132 programs offered by the David M. Kennedy Center for International Studies. Along with their academic gleanings, BYU professors and students gather a trove of practical knowledge from their adventures abroad: tourist traps to avoid, lesser-known sites, where to find the most authentic food, and tips for fitting in with the locals—or at least not standing out too much. Following is a BYU-informed guide for visiting seven of BYU's 57 study abroad destinations.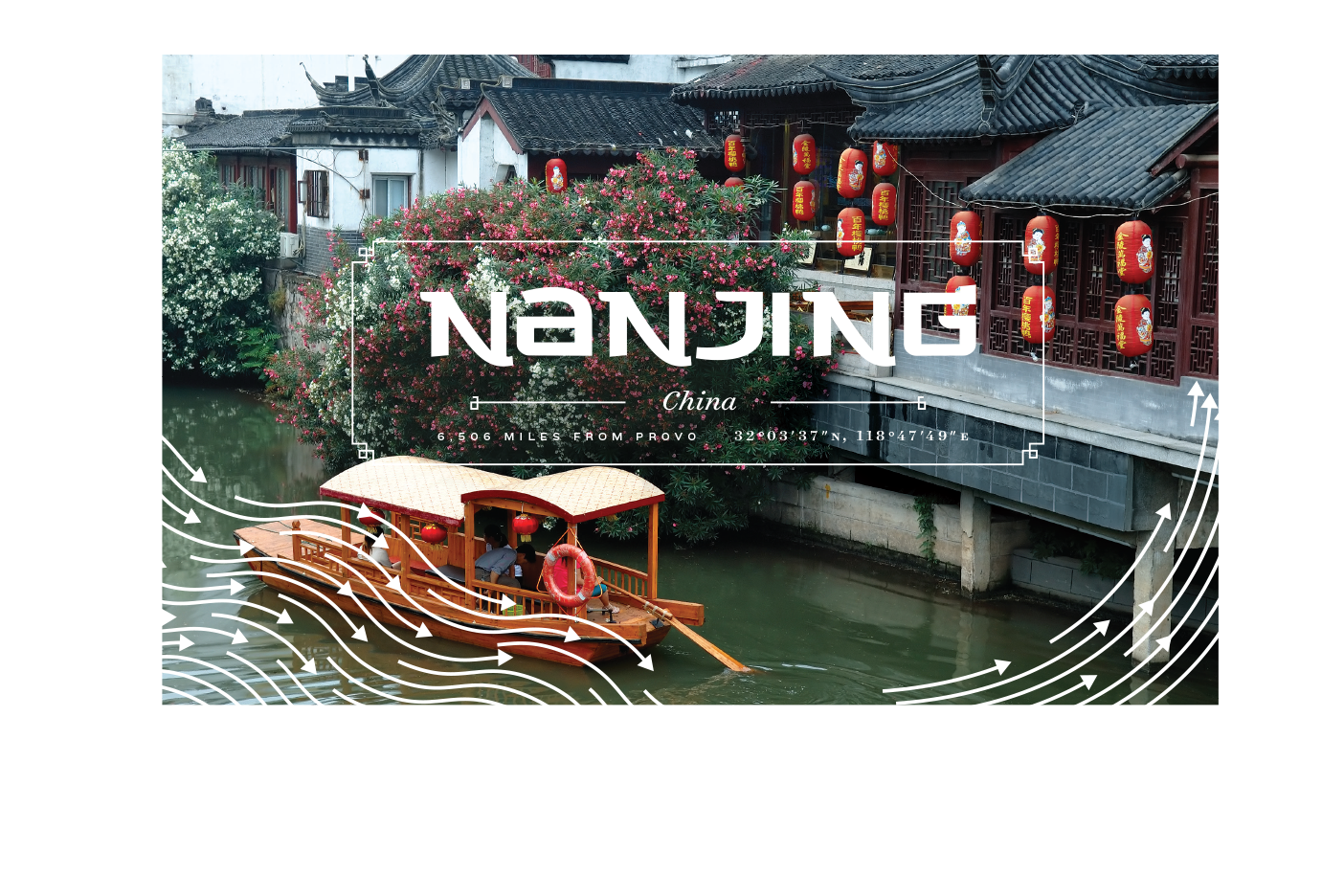 Nanjing, China
By Amanda Kae Fronk (BA '09, MA '14)
Students selected for BYU's Chinese Flagship Program aren't just good at Chinese, they're elite, says Matthew B. Christensen (BA '88), director of the program. While many students learn Chinese in the classroom and on study-abroad trips, Christensen says this program takes its students—mostly former Chinese-speaking missionaries—"way, way, way beyond."
Administered by BYU, the Flagship Center in Nanjing, China, hosts students from 12 different U.S. Chinese flagship programs. It offers American students the opportunity to study any discipline—engineering, law, medicine, business—side by side with Chinese students through direct enrollment at Nanjing University. After a semester of upper-level courses, students complete a four-to-six-month internship with a Chinese business or law firm, an experience that provides them with deep cultural understanding they could receive in no other way.
Don't speak Chinese? Don't worry. You don't need to be fluent in the language to have a great time in Nanjing. The city is big enough to find an English speaker in a pinch, but small enough, in Chinese terms—the city's population is a mere 8 million—to not overwhelm visitors. Once the capital of China (Nanjing means "Southern Capital"), the city provides plenty of opportunities to learn about the culture of China.
Authentic Nanjing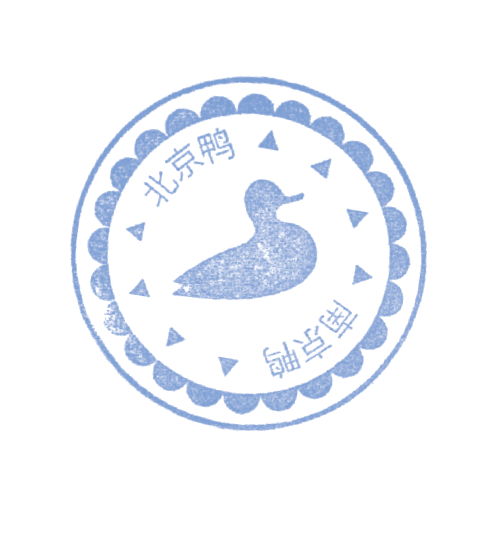 EAT THE DUCK: You may have heard of China's Peking (or Beijing) duck, but Nanjing residents will set you straight on the true history of the famous Chinese dish. Many believe that when the capital (jing) moved from Nanjing to Beijing, a variation of the duck dish came along, leading to a "duck controversy" that continues today, says Christensen.
NO THANK YOU: Due to Chinese society's focus on social hierarchy and deference, Chinese people use please and thank you far less than Americans. It's best to reserve qĭng (please) and xièxie (thank you) for formal occasions; you won't offend a store clerk by not saying thank you.
Enjoy the Jet Lag
For those first mornings in country when you can't sleep, Bourgerie suggests going to a park. "There's everything imaginable in the park at 6 a.m.," he says. One patch of grass contains martial artists, while another has a group of musicians playing traditional Chinese instruments. An outdoor public gym hosts geriatrics performing physical feats alongside youth.
BYU shares an affinity with the largest contingent of park-goers: ballroom dance. Dancers doing everything from waltz to cha-cha cover the nation's parks. "They have ballroom dance lessons in all the parks," says Bourgerie. "Sometimes they'll let you join in."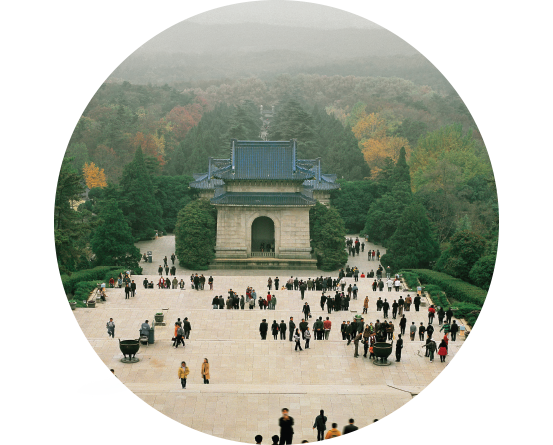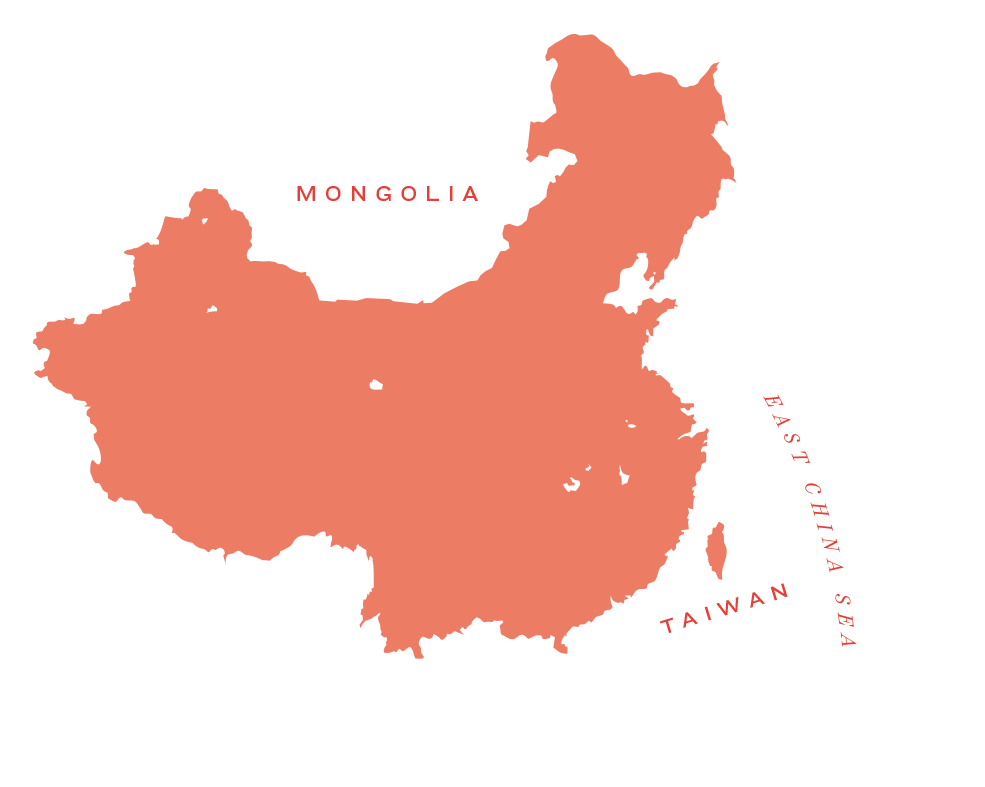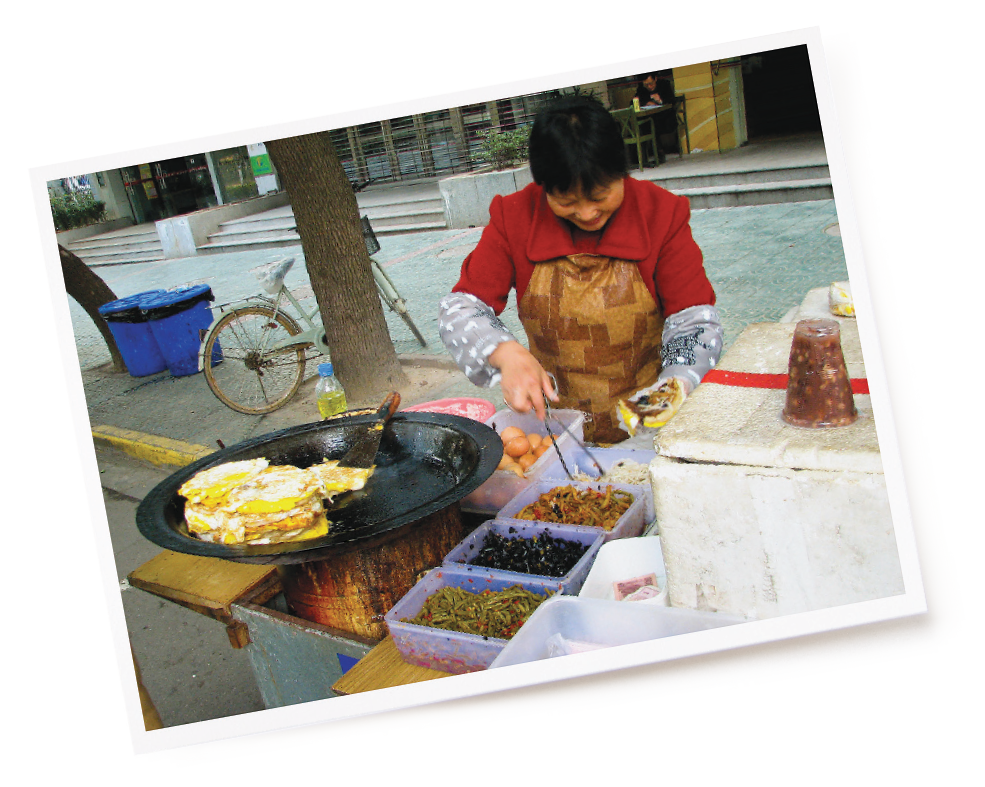 Things For Your Itinerary
1. NANJING MASSACRE MEMORIAL HALL: In 1937, during the Second Sino-Japanese War, the Japanese captured Nanjing and killed hundreds of thousands of civilians and unarmed troops over a period of six weeks. But the event is little known outside of China: "If you asked a hundred world civ teachers in [the United States] about it, they wouldn't know, and yet it's considered one of the most horrific events in the 20th century," says Chinese professor Dana S. Bourgerie, founding director of BYU's flagship program. The Nanjing Massacre Memorial Hall retells the tragedy through harrowing writings and photos. "If you want to understand the psyche of Nanjing, you have to go there," says Bourgerie. Once a year in memoriam, the city sounds sirens across Nanjing. "Everybody comes out of their house and stands silently," he says. "It's eerie, [but] poignant."
2. CHINESE TESTING CENTER: Once part of a massive facility for testing civil servant hopefuls in ancient China, the Jiangnan Examination Hall is now a museum exploring the center's 800-year history and its role in the oldest civil-service system in the world.
3. SUN YAT-SEN MEMORIAL: Called the "Father of Modern China," Sun Yat-sen led the revolution against China's last dynasty and founded the Republic of China in 1912. His remains are buried in a grand tomb in the hills outside of Nanjing. "Walking up the many steps to the memorial hall, it's almost as if . . . you're on a journey up the mountain to pay your respects," says flagship student Benjamin T. Jones ('14), who currently lives in Nanjing. "[The Chinese] truly have a deep and profound respect for Dr. Sun."
4. EMPERORS' PLAYGROUND: Take a row out to one of five islands on the manmade Xuanwu Lake or walk among lotus blossoms on its banks. "This is what the emperors dug out for their play area," says Bourgerie.
5. THE GARDEN CITY: Suzhou is a great day trip from Nanjing. The Chinese gardens combine sunlit waterways, pagodas, moon gates, and lush greenery. "Pingjiang Road and Shantang Street are roads that run right along canals," says Eric S. Hansen ('14), a flagship student currently fulfilling his internship in Suzhou. "Walking down these roads, you can see why people call Suzhou the Venice of the East."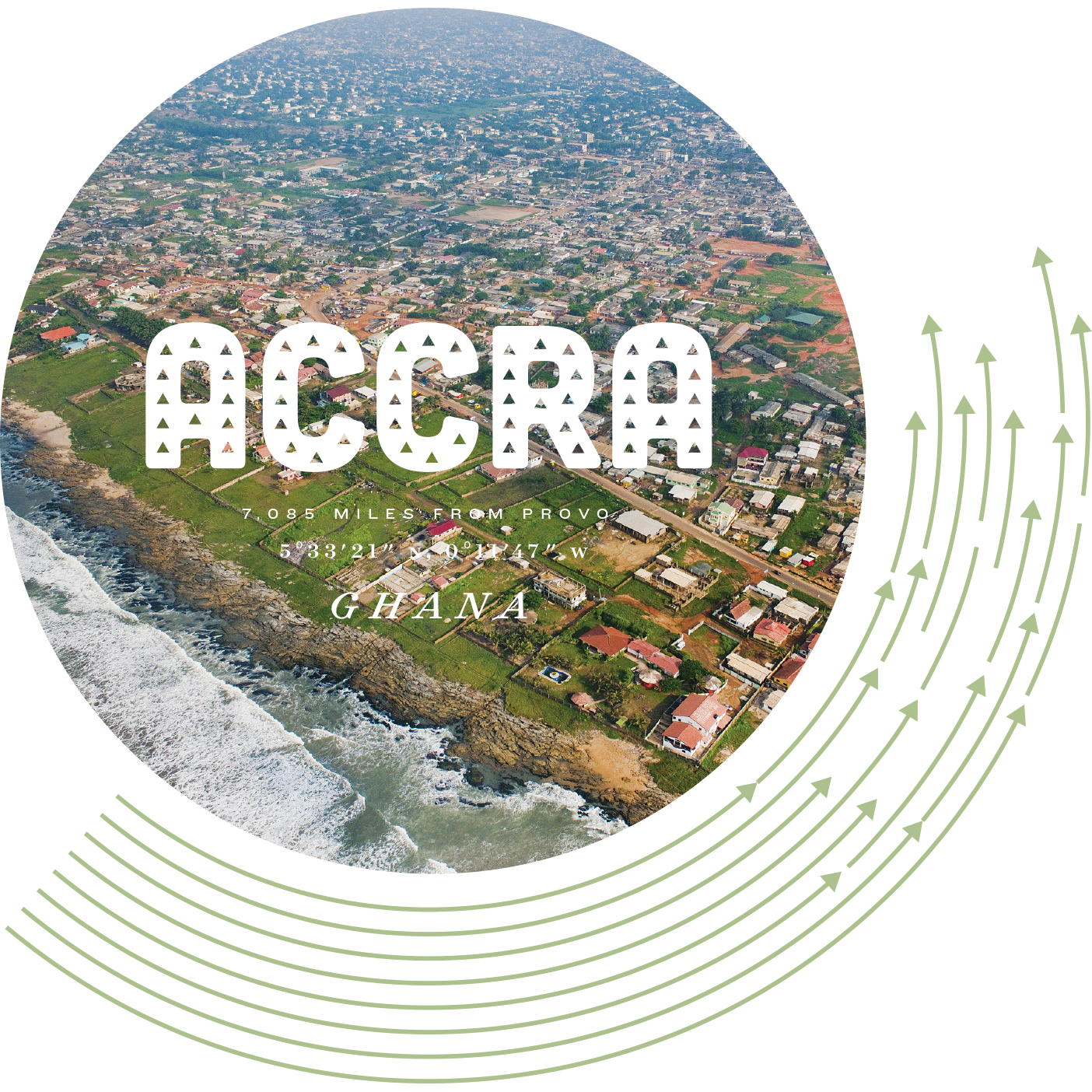 Accra, Ghana
By Peter B. Gardner (BA '98, MA '04)
Akwaaba! Visit Ghana, West Africa, and you're sure to hear the greeting (Welcome!) again and again. That inviting spirit, along with an infectious friendliness and political stability, make Ghana an enjoyable African destination for tourists and BYU international study groups alike.
Each spring term separate groups of nursing and MPA students experience the sprawling cities of Accra and Kumasi along with red-dirt villages carved out of tropical forests.
Nursing students come to add cultural diversity to their education. Program director and nursing professor Karen de la Cruz says that, even though Ghanaians primarily follow Western health care practices, a door-to-door—rather than hospital-based—delivery system feels entirely foreign to students. While staying in the remote village of Abomosu, students pitch in on house visits, public-health campaigns, and clinic shifts, working side by side with their Ghanaian counterparts.
Public administration students from BYU's Romney Institute come to Ghana to get a taste of international development in a country with both a fast-growing economy and widespread poverty. While here, they take on a project for a nonprofit, visit NGOs, and talk with locals about their hopes and challenges. Program director Jeffrey A. Thompson (BA '92, MBA '95), an MPA professor, says it's an eye-opening experience that leaves some students rethinking their plans and others hungry for more.
3 Things For Your Itinerary
1. CAPE COAST SLAVE CASTLE: The cannons and dungeons of the Cape Coast Slave Castle provide tangible and sobering reminders of the colonial slave trade's brutality.
2. CANOPY WALK: View the flora and, with luck, the fauna (including pigmy elephants) of the rain forest through canopy walks on bridges above Kakum National Park. Thanks to a local contact, BYU nursing students get to walk the forest floor with a traditional healer who identifies medicinal plants.
3. WLI FALLS: A 40-minute jungle hike delivers sweaty MPA students to the base of the 60-meter-high final step of Wli Falls (400 meters high in total), where they swim under the pounding cataract in a waist-deep pool as thousands of fruit bats screech from cliff walls above. "That's the experience that makes you most feel like 'I'm in Ghana. I'm in Africa,'" says program leader and MPA professor Aaron M. Miller (BA '02, MPA '06, JD '06).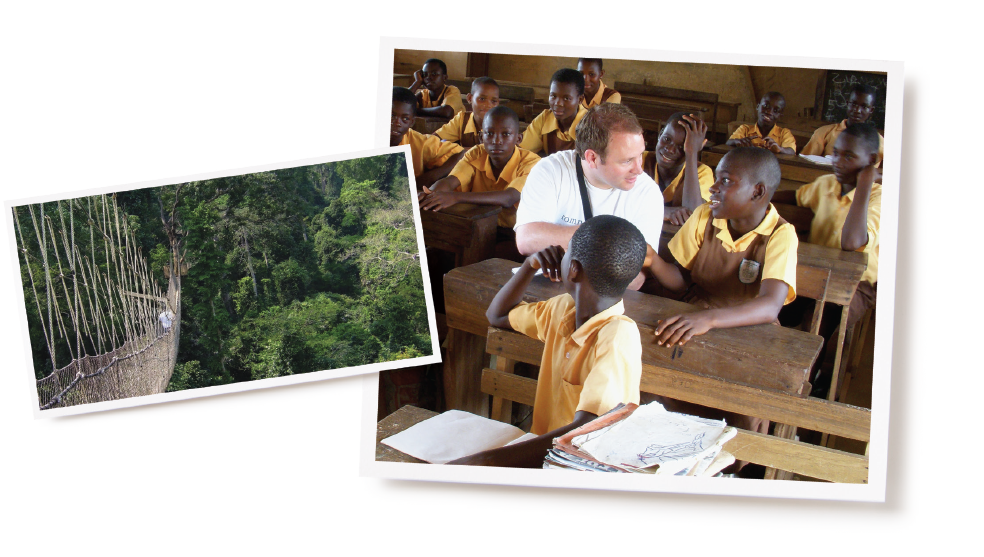 Authentic Ghana
TO MARKET, TO MARKET: Want an immersive cultural experience? Venture into Kumasi's labyrinthine Kejetia market—West Africa's largest open-air market. Miller sends student teams out on a scavenger hunt to locate items like live snails, a cow's head, and traditional Kente cloth in the market's twisting corridors.
TRY THE FUFOOD: Ghanaian cuisine is best known for its starchy staple, fufu, made from cassava or yams first boiled then pounded into a doughy ball. To eat, dip a pinch of the dough in a spicy soup and swallow whole. The daring might try snail soup, made using softball-sized snails gathered in the forest. One enterprising MPA alum recently returned to Ghana to breed thousands of the snails.
TALK LIKE A GHANAIAN: Caucasian visitors shouldn't be offended when Ghanaians refer to them as obruni (white person). Likewise, it's culturally appropriate to refer to a Ghanaian as obibini (black person). And you can impress the locals by knowing your "day name," based on the day of the week you were born. For example, people born on Friday are called Kofi (male) or Afua (female).
Lessons in Happiness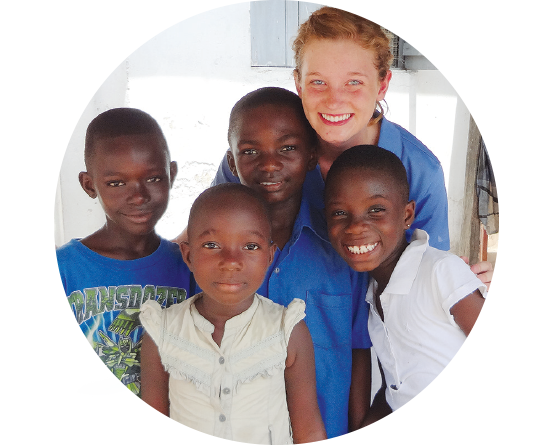 Take a drive down the streets of Accra, and it's clear why Ghana has developed a reputation as a religious, tolerant, happy nation: Christian churches and Muslim mosques sit side by side as peaceful neighbors, and local business names—like Jesus Saves Taxi Service and God Works Miracles Hair Salon—bespeak a pervasive faithful enthusiasm.
In the center of town stands the Accra Ghana Temple, which Thompson calls "the most beautiful structure in the country." BYU student groups regularly worship alongside the Ghanaian Saints there and in swelling local congregations each Sunday.
A highlight of the MPA trip is a family home evening with two Cape Coast families, who treat the students with Ghanaian home cooking and their own pioneer stories from the early days of the Church in West Africa—even from before the Church had an official presence in the region.
Miller says there is much for BYU groups to learn from their spiritual and secular interactions with the locals. "Ghanaians, in material ways, lack a lot," he says. "In spiritual ways, they have a great deal of abundance."
That abundance helps create a general aura of hope and optimism amid great challenges, says MPA student Daniel B. Ng (BA '11). "My visit to Ghana was a truly rewarding experience because of the lessons it taught me regarding happiness," he says. "Happiness . . . isn't dictated by circumstance. Rather, it is a state of mind."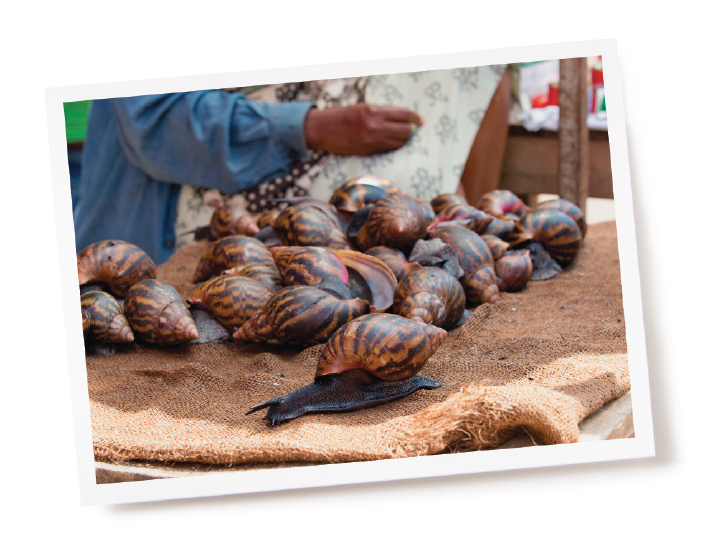 But Watch Out For
OVERPRICED GOODS: Hawkers at the market know a tourist when they see one, and they adjust prices accordingly. That is, unless you are a regular like de la Cruz, who has received "mother" status from Abomosu villagers and thus always gets a fair price. You don't mess with a mother in Ghana. But students? "The shopkeepers rook them with abandon," de la Cruz laughs.
STREET FOOD: It's best for visitors to stick to hotel restaurants and those approved by the government tourism agency.
MOSQUITOS: Africa's biggest health risk is malaria, so travelers must be sure to take their meds and wear their DEET.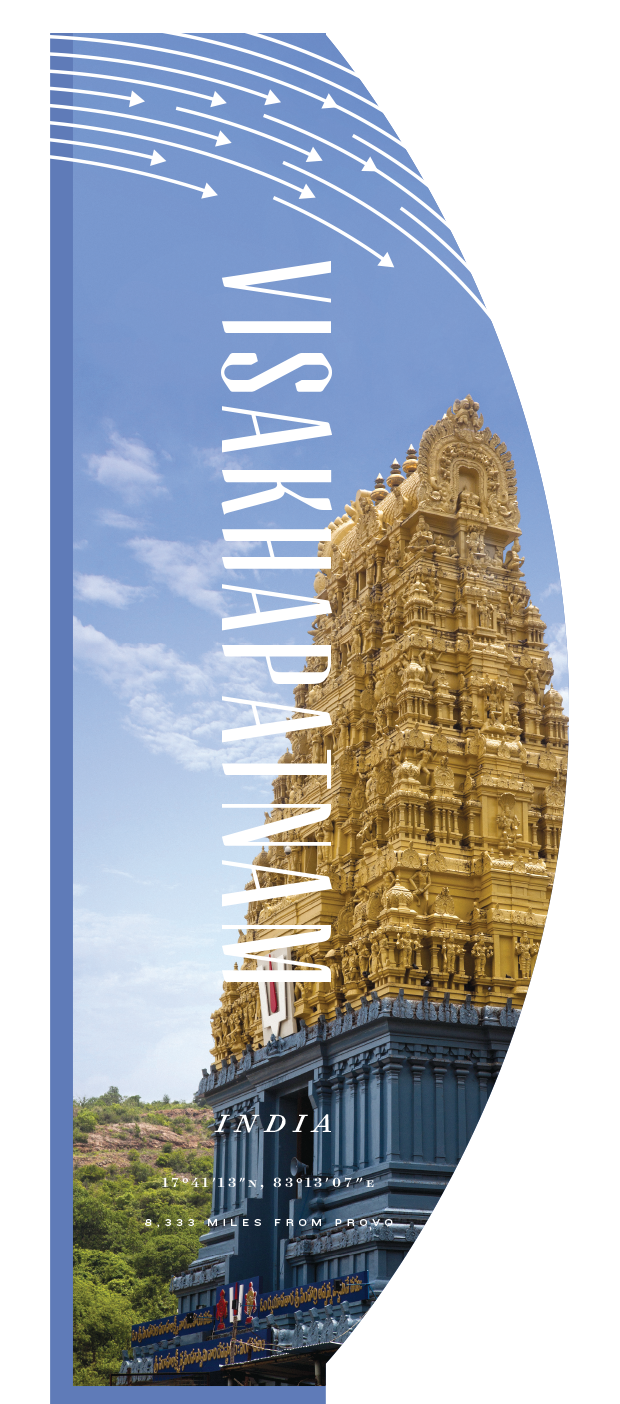 Visakhapatnam, India
By Melissa Hart ('14)
The streets of Visakhapatnam, India—Vizag for short—are filled with women wearing yards of colorful cloth and jingling bangles, people riding bikes along sidewalks, bells pealing from the Hindu temples, buses hurtling along, and curry and incense wafting through the air. "If you're going to go to India, it's good to go to a place that's not . . . dressed up for touristy purposes. Vizag is a real place," says anthropology professor Charles Nuckolls, who has been researching the culture, religion, and kinship within a small fishing village just outside of Vizag for 38 years.
Vizag belongs to the state where the first Indian stake of The Church of Jesus Christ of Latter-day Saints was organized and has been home to a BYU study abroad program since 2009. BYU students live in a leafy Vizag suburb not far from the ocean. BYU contracts with locals to assist the students on their cultural adventure by providing home-cooked meals, translation, and language instruction.
The students come from a variety of disciplines and have completed research projects on everything from birthing rituals to music and dance to leadership of small villages to women's microfinance to English-language learning.
Authentic Vizag
DRESS AS THE INDIANS DRESS. Ladies, feel free to dress yourselves in a colorful sari, or over-the-shoulder drape, and to adorn your forehead with the red bindi. Men usually wear more westernized clothing, although they will occasionally wear the skirt-like lungi. Traditional attire is not only effective for staying cooler and keeping women from receiving unwanted attention, but Indians generally appreciate those who embrace their culture.
CHOOSE THE RIGHT HAND. When eating, passing something to another person, or touching anything, use your right hand. The left hand is considered unclean and offensive.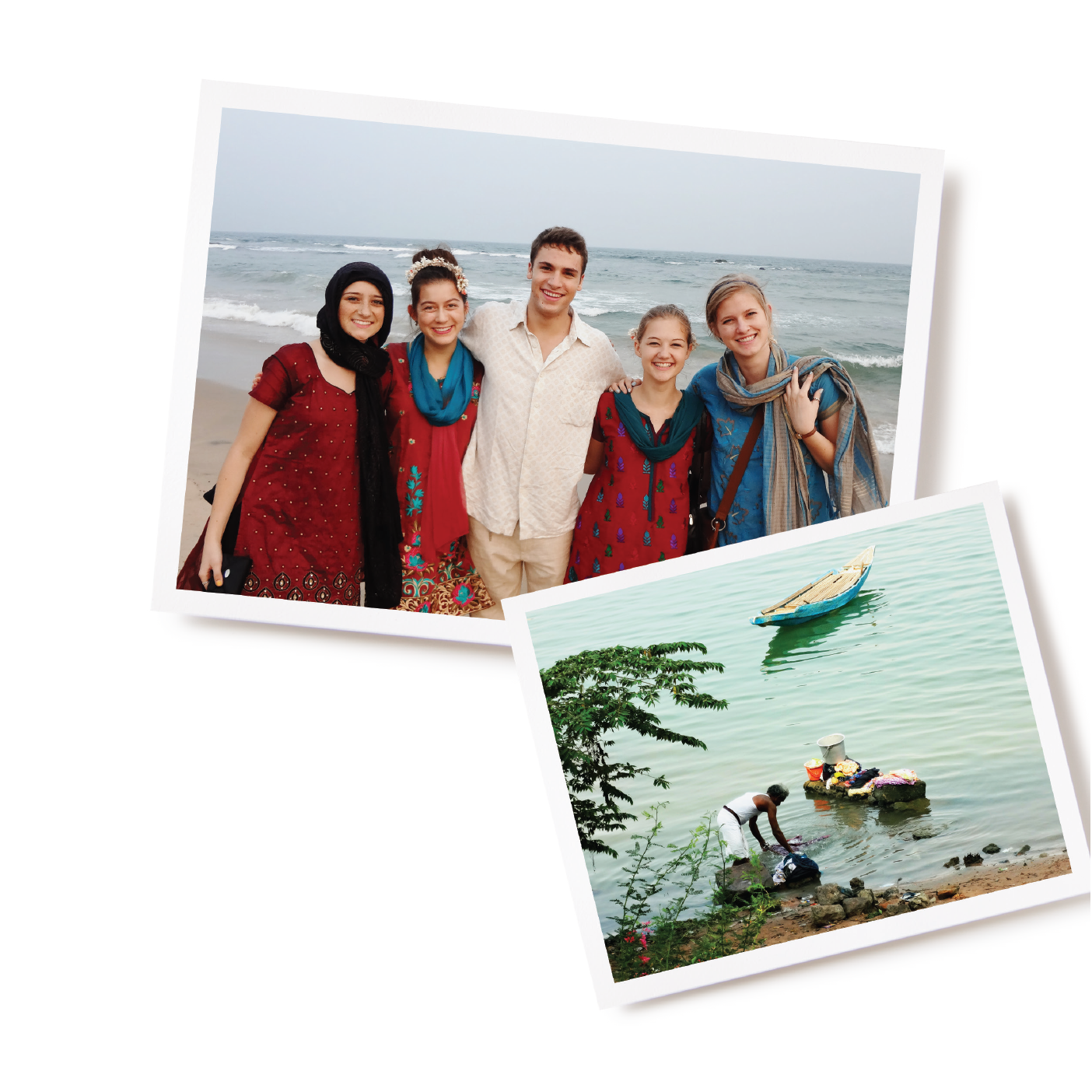 TRY OUT TELUGU. Telugu, the language of Vizag, is called the Italian of the East because each word ends in a vowel and is accompanied by much gesturing. As you travel around Vizag, don't be afraid to shout out a namaskaramandi (hello) to passersby. "Even the smallest bit of competence makes a world of difference in how the students [are] accepted by the people," Nuckolls says.
GET A TASTE OF VISAG. Students become well acquainted with Indian cuisine during their stay in this coastal city. Their favorite seafood? "Hands down, the shark—hammerhead shark," says Nuckolls. A standard part of their midday meal is pappu, a tomato-based curry that is served with rice (instead of the naan bread seen in Indian restaurants). But beware: some versions can be spicy. For a snack, try out bhajjis—plantains, potatoes, or onions fried in spiced batter ("Reminds me of a mini hot pocket," says Mackenzie Wallace ['15]). On a hot Indian afternoon, the juice of a muskmelon (similar to a cantaloupe) mixed with ice cream is just the thing.
Hospitable India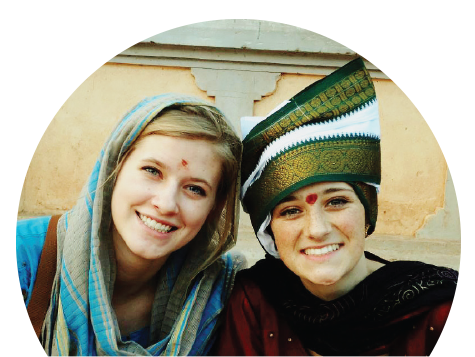 According to an ancient Hindu tradition, guests should be treated as possible embodiments of deity: treat them well and receive a boon, treat them poorly and be cursed. Nuckolls says Indian people's social and hospitable nature can come as a surprise to visitors, and he does his best to prepare his students. "I can't tell you how many times I've been the recipient of hospitality in that country," says Nuckolls. "There are people who I'd known for 10 minutes, and they'll say, 'You have to come to my house; you have to eat dinner with me; why don't you stay here in my guest room for two weeks?"
Along with this hospitality comes a different level of sociality than is common in the United States. Indians expect to know more about each other and have no problem asking visitors about income, love, and marriage—or to snap a picture with them.
3 Things For Your Itinerary
1. SIMHACHALAM TEMPLE. Pilgrims travel from all parts of India to the temple of Vishnu—the lion-man incarnation of the Hindu god Narisimha. Thanks to Nuckolls's connection with the official patron of the temple, BYU students are able to see the inner sanctum, which is off-limits to most pilgrims and tourists.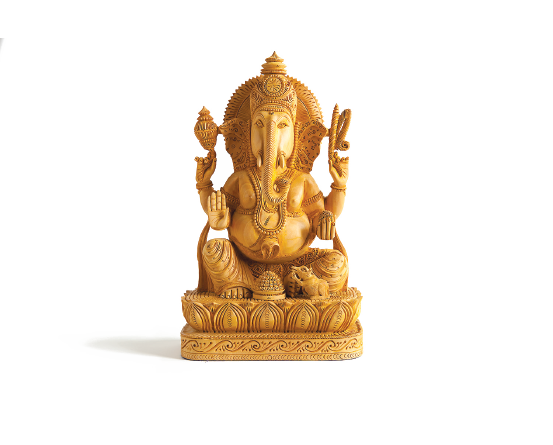 2. THOTLAKONDA. Along the coast just outside of Vizag lie the ruins of the ancient Buddhist monastery Thotlakonda. Discovered in only the past 30 years, the site contains brick dome-like monuments called stupas that traditionally contain Buddhist relics.
3. GODAVARI RIVER CRUISE. Take a trip 200 miles west of Vizag for a Godavari River cruise. Floating down the scenic waterway you can spot temples through the tropical trees. Each semester the study abroad program charters a boat for a four-day river cruise.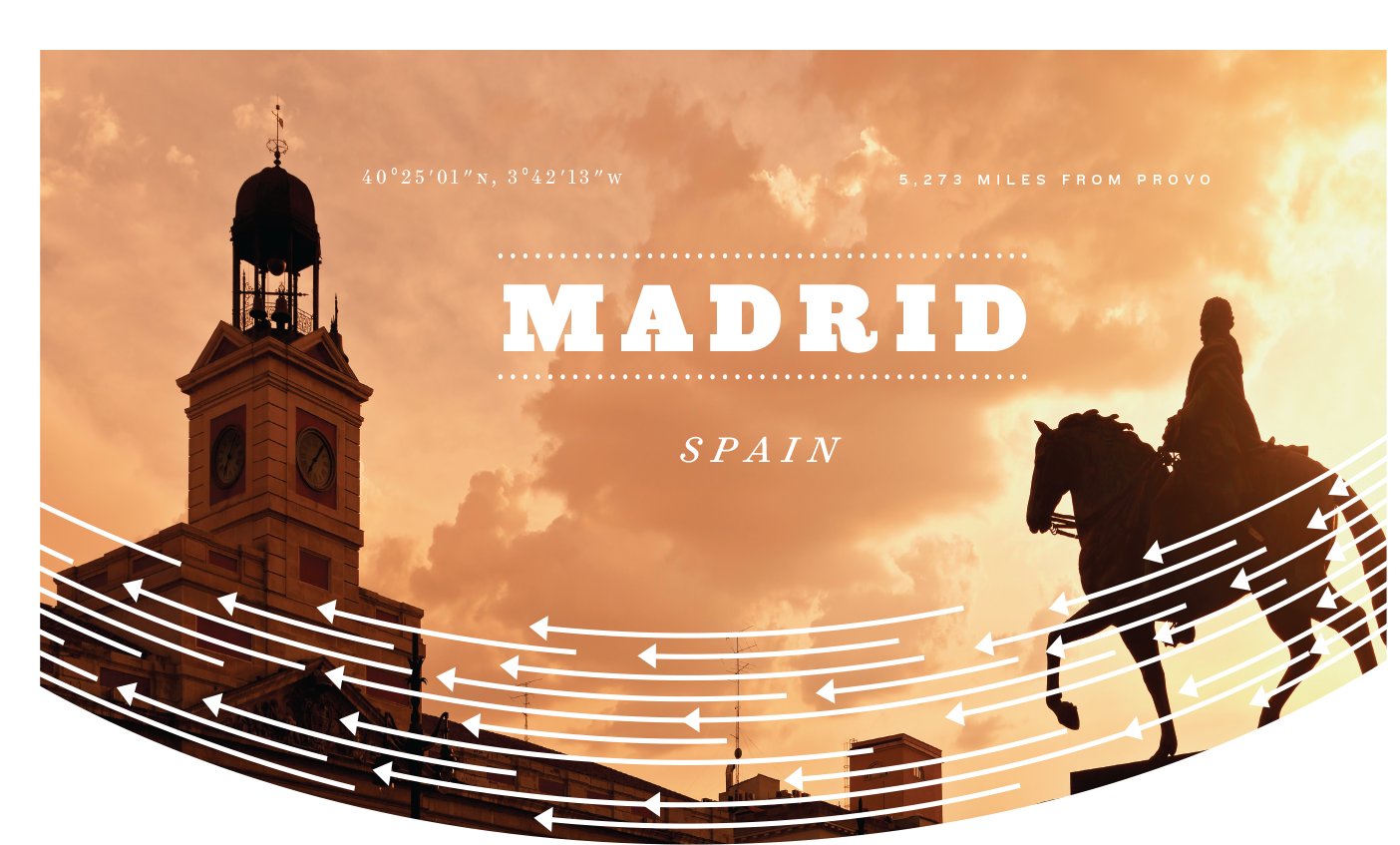 Madrid, Spain
By Natalie Sandberg Taylor ('14)
In a vibrant melting pot of cultures—inherited from Basques, Celts, Iberians, Romans, and Moors—Madrid is the center of one of the most diverse countries in Europe. "It's a country with magnificent variety," says John R. Rosenberg (BA '79, MA '81), dean of the College of Humanities. With some of Europe's finest art museums, a history that includes the 15th-century New World expeditions, and a topography featuring both glaciered mountains and breathtaking beaches, Spain offers BYU groups and other travelers a rich linguistic and cultural experience.
Students in BYU's Madrid program—usually there to study Spanish—live with host families in Alcalá de Henares, a 50-minute train ride from the heart of the capital. They take classes at the University of Alcalá from the local professors in subjects like Iberian civilization and Spanish literature and grammar.
Most weekends BYU students take trips to other cities in Spain and visit sites like the preserved Roman aqueducts in Segovia or the Islamic mosque in Córdoba that was converted into a Christian cathedral during the Reconquista in the 13th century.
Authentic Spain
JOIN THE CROWDS. Touristy though they may be, the big-draw sites "are part of authentic Spain," says Rosenberg. "Even the great monumental places . . . are very much embedded in the Spanish psyche." While Consuegra, with its iconic windmills that inspired Miguel Cervantes's Don Quixote, is a popular tourist destination, you will also find Spanish families sitting on the rocks and reading passages of the novel to their children.
RELAX IN THE PLAZAS. Nearly every major city or village in Spain has a unique plaza mayor, or a main town square, where you can sit and people watch, enjoy a three-course meal, listen to live musicians, and savor the terrace atmosphere. Carson J. McKinlay (BA '13), a spring 2011 student, especially enjoyed observing "the cute old ladies we'd always see sitting together in the Plaza de Cortez gossiping."
TRY THE TAPAS. Tapas—small appetizers or snacks—are an important part of Spanish eating culture. They allow you to restaurant-hop, sampling a bit of whatever you like, and help you make it to dinner, which usually doesn't start till 8 p.m. Most tapas menus include items like fish, sausage, stuffed olives, or a slice of tortilla Española—a Spanish omelet with fried potato and onion.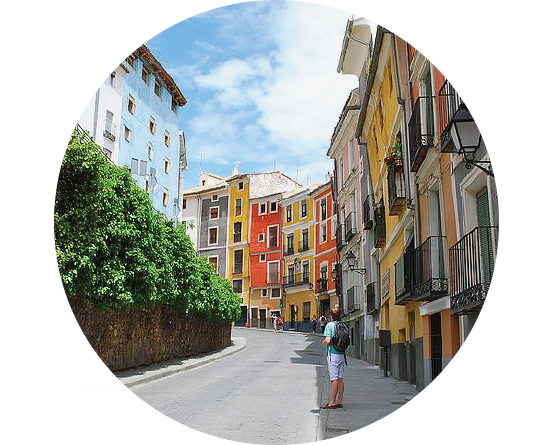 Get Out of Town
For all there is to see in Madrid proper, says program director Jeffrey S. Turley (BA '82, MA '84), "the weekend trips really are vital to understanding Spain as a whole. There's just such a variety."
A must-see is the medieval city of Toledo, a half-hour from Madrid via a high-velocity train. A place where Christian, Moorish, and Jewish cultures coexisted during the Middle Ages, the city is famous for its sword making. Be sure to visit the gothic Primate Cathedral of Saint Mary of Toledo (you can't miss it) and the home of painter El Greco.
There are plenty of tourist spots to hit in Spain's southern region, which includes Córdoba and Granada, but be sure to attend a flamenco performance in one of Seville's tablaos, where you can grab dinner or drinks—and where the performers are so close that their passion is practically tangible.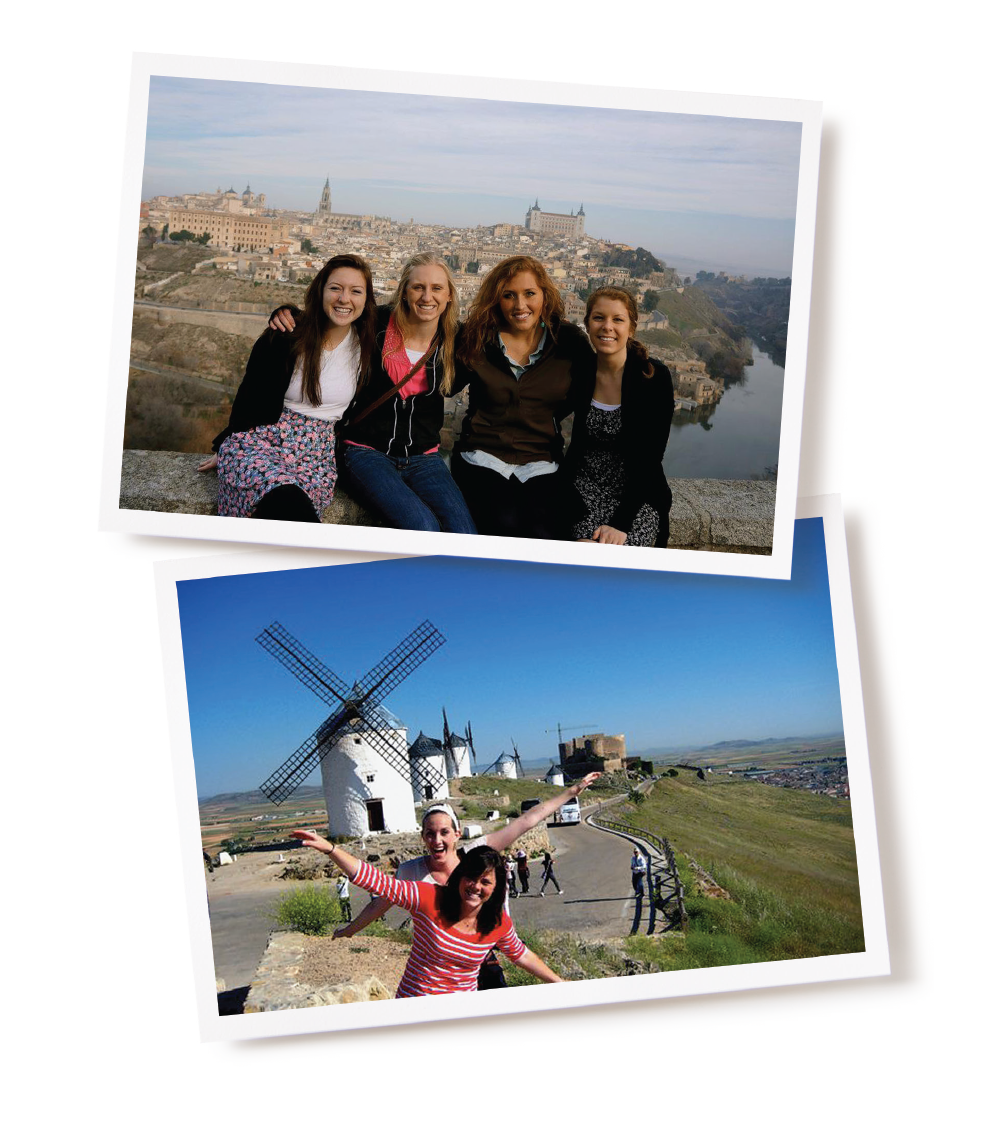 Madrid's surrounding area offers dozens of delightful small towns, but Rosenberg recommends visiting the village of Chinchón with its dirt plaza and traditional bullfights. One of Turley's favorites is Cuenca, a city lined with cobblestone streets and known for its casas colgadas, or houses hanging over steep cliffs.
2 Things For Your Itinerary
1. EL PARQUE DEL BUEN RETIRO. Once a recreation area for the royal family, this 350-acre park in the heart of the city lives up to its translated title: "Park of the Pleasant Retreat." BYU students like to relax here on Sundays or after class on a weekday afternoon, when they can peruse the trinkets of street vendors, rent a rowboat to take out on the small lake, visit the gardens and fountains, or simply nap on the lawn.
2. THE GOLDEN TRIANGLE. Downtown Madrid houses three world-class museums—known as the Golden Triangle of Art—all within about a block of each other: the Prado, the Thyssen-Bornemisza, and the Reina Sofia. One year, before visiting the Reina Sofia, Turley's students put on a living reenactment of Guernica, Picasso's depiction of the bombing of a small Basque town during the Spanish Civil War. "[It] really opened up the history of the civil war for them and made visiting the actual painting . . . so much richer," he says.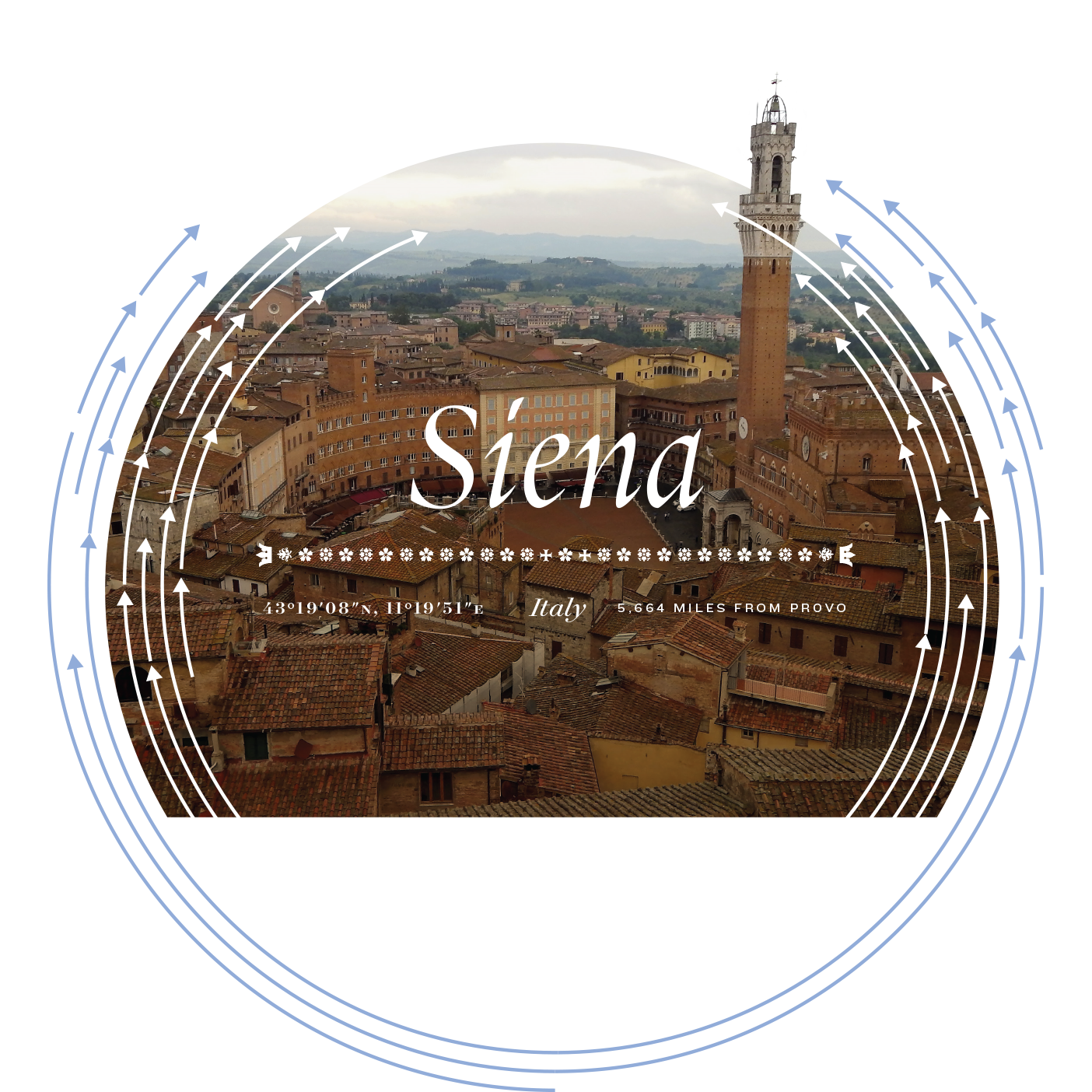 Siena, Italy
By Jessica Jarman Reschke ('14)
Each year BYU students longing for an Italian experience head to the town of Siena to take in the cypress tree–lined golden hills, medieval architecture and art, and overall friendliness of this little corner of central Italy. Nestled in the rolling Tuscan hills, Siena is a jewel of history and human culture. Known for the Palio horse race, the town is divided into 17 neighborhoods (contradas) filled with Italians who take pride in their sense of community. For Cinzia D. Noble (BA '78), who has been to Siena with the BYU study abroad program almost every year since its inception in 2006, it is this strong sense of identity that makes both Italians and tourists feel at home in Siena. Noble, a native of Italy, leads the Italian language program, which offers classes on language and culture through the Dante Alighieri Language School along with internship opportunities. Noble's students have worked as museum hosts, social workers, assistants to chefs, sports coaches, and much more.
Because of Siena's central location, this study abroad also includes travel to some of the great artistic and historical hubs of Italy, including Rome, Florence, and Pisa. Still, graphic-design professor and former Siena study abroad director Brent K. Barson (BFA '97), contends that "you're not really seeing Italy when you're in those huge tourist towns." Instead, he calls the beautiful, tranquil, authentic small towns like Siena the "true heart of Italy." Similarly, Noble's students have been known to say, "Rome is Rome, but Siena is home."
For Your Itinerary
PALAZZO PUBBLICO: The focal point of Piazza del Campo, of Palio fame, this palace now serves both as Siena's city hall and as a museum, filled with Renaissance frescoes both religious and secular. Be sure to climb to the top of the Torre del Mangia. Built in the 14th century to stand taller than the tower in the rival town of Florence, the tower provides sweeping views of the town and countryside.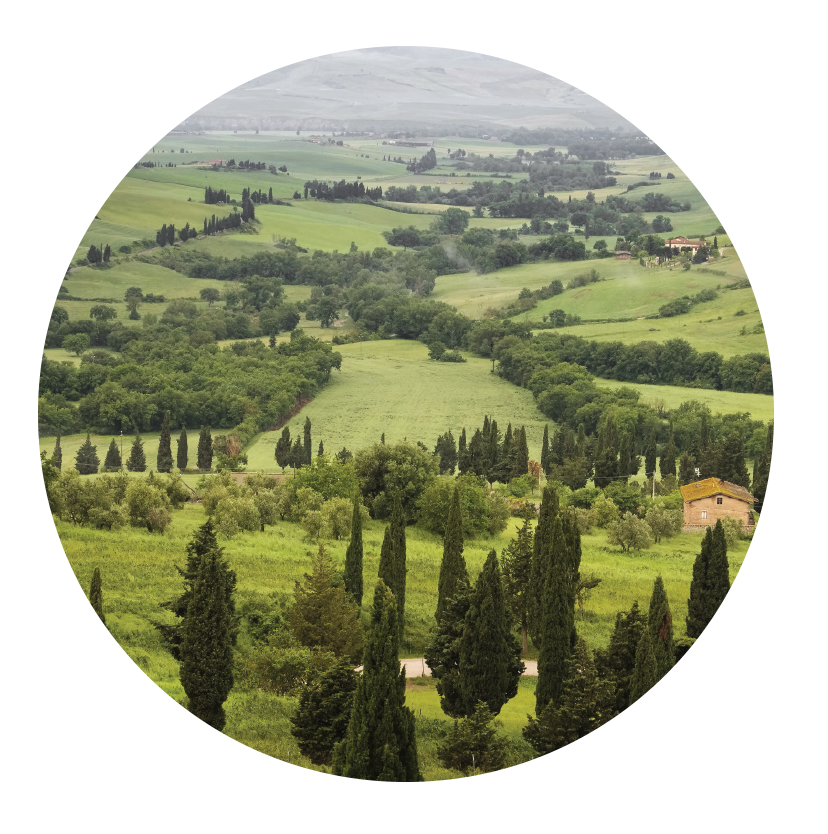 SIENA CATHEDRAL: BYU students visit the cathedral, or duomo, to study the stunning display of Italian Romanesque-Gothic architecture and the works of Donatello, Bernini, and Michelangelo that adorn its walls. The floor is covered with an inlaid marble mosaic pattern depicting scenes from the Old Testament.
BOTTINI DE SIENA: The Bottini are the underground waterworks of Siena. Built in the 13th century, these ancient tunnels still supply some of the town's fountains. On a guided tour, you will find terracotta statues of the Madonna and crosses, protection from the dangers of darkness.
BASILICA DI SAN DOMENICO: Saint Catherine of Siena, one of six patron saints of Europe, passed a large part of her life inside the walls of this 800-year-old , basilica, where some of her remains, including her head and thumb, are entombed.
Palio di Siena
Twice each summer, the population of Siena gathers anxiously in Piazza del Campo to witness the Palio—the horse race that is the crux of Sienese identity. According to Noble, "everyone in Siena is always thinking about the Palio." Each of the town's 17 contradas is represented by an animal or an object—from the snail or the unicorn to the wave or the tower. Introduced by a grand parade full of Renaissance costumes and flags, the bareback horse race decides which contrada will be celebrated until the next race.
"The Palio reminds them of the great ancient political triumphs of Siena," says Noble. "Siena was the most important city of Tuscany in medieval times." The different contradas provide a feeling of belonging to the people of Siena. "It's not a show for the tourists," Barson adds. "It's their identity."
You can get involved with the Palio as a tourist, even if you're not there for the horse races in the summer. Traditionally, newcomers to Siena are adopted by the contrada in which they spend their first night; or, if you have friends in a particular district, you may choose to be a member of their contrada. "Once you choose you can't change," warns Noble. "It would be very shameful. You have to be loyal." One way to make friends with locals is to say "forza" (strength to) and the name of their contrada.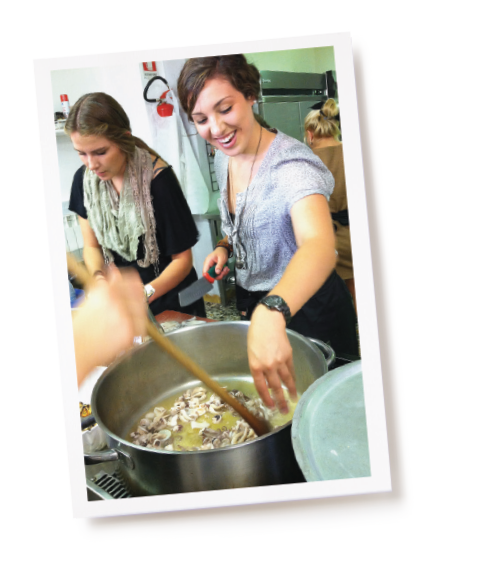 Authentic Siena
GET LOST IN THE PAST: Noble says the best way to get to know the town is to walk through the ancient streets, which are safe to wander, even at night. "Lose yourself in those little alleys," she says. "Listen to the noises. Look at the flowers on the balconies—those little jewels of local culture."
EAT LIKE AN ITALIAN: Eating in Siena is both a cultural and historical experience. Many Tuscan recipes have been around since ancient times, and the food has maintained a simple farm feel. Tuscan bread is made without salt, but wild boar ragù and Florentine steak are flavorful enough to make up for that. If you find yourself falling in love with traditional Italian food, you can sign up for the same cooking class that BYU students take at the Dante Alighieri school.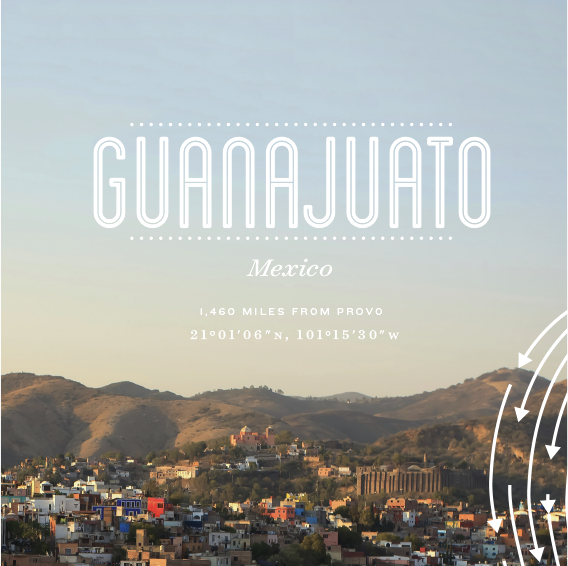 Guanajuato, Mexico
By Michael R. Walker (BA '90)
Stick a pin into the center of a map of Mexico and you might just punch another tunnel into this colorful, colonial hill town. Guanajuato is not just the geographic center of the country, it is also a center of history, culture, and learning for BYU groups and others who travel there, and it does not suffer from the security concerns of other places in the country.
Designated a UNESCO World Heritage site, this town works to retain its historic charm. "It's really Mexico," says BYU astronomy professor Victor Migenes, who worked at the University of Guanajuato for a decade. "If you go to Monterrey or Tijuana or even Ensenada, they are very Americanized."
When sociology professor Tim B. Heaton (BS '74, MS '75) took students to the state of Guanajuato to conduct research on humanitarian projects, an accompanying film crew was struck by the town's visual depth: "They kept saying, 'Texture, texture—there's so much texture here,'" he recalls. "And they couldn't walk for more than five steps without stopping to take another picture of the colorful buildings and narrow streets and doors."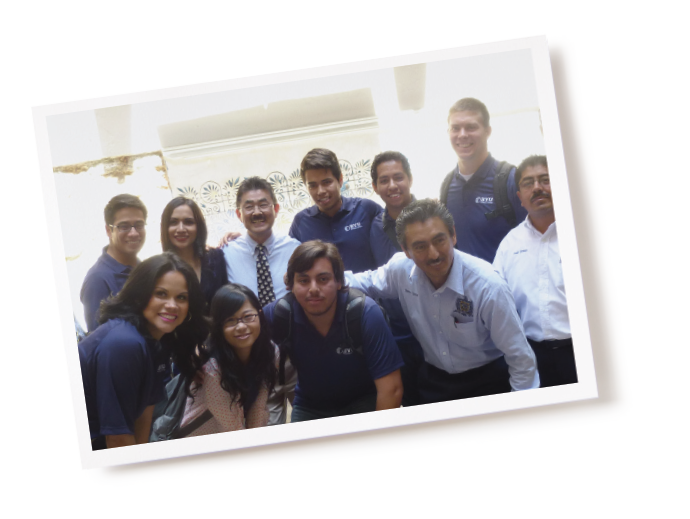 Rollin H. Hotchkiss (BS '76) and Mitsuru Saito (BS '81), both professors of civil and environmental engineering, take students annually to study Guanajuato's flows of water and traffic. They team up with peers at the local university to analyze problems, create computer models, and suggest improvements.
The projects are important, Saito says, but the students' experience should go beyond: "Mexico is quite often misunderstood by Americans. My main goal is to help build friendship between two groups of students and eventually between two countries."
For Your Itinerary
REVOLUTIONARY VILLAGES: San Miguel de Allende and Dolores Hidalgo, the birthplace of the Mexican Revolution (1810–21), are neighbors to Guanajuato. In spite of its importance in Mexican history, San Miguel de Allende is a city where English is common, with nearly 10 percent of the city's population made up of American retirees.
EL PÍPILA: From Jardín de la Unión (the central plaza), hike up one of two steep, scenic routes to the statue of local Mexican Revolution hero Juan José de los Reyes Martínez Amaro, nicknamed El Pípila after the turkey hen for his freckled face and peculiar laugh. Or BYU study abroad coordinator Chelita Pate suggests riding the funicular that moves slowly up the hill behind the lavish local theater, Teatro Juárez: "You can see the city from up high. The houses and roofs are so picturesque and bright—orange and green and blue—and you know you are in Mexico."
MUSEUMS: Migenes and Hotchkiss both recommend visiting the museum—and birthplace—of prominent 20th-century mural artist Diego Rivera. BYU students also often haunt the Museo de las Momias, where more than 100 mummies are on display; the bodies were disinterred between 1870 and 1950 to make space in nearby cemeteries.
CRISTO REY STATUE: Ten miles west of Guanajuato, a 65-foot bronze statue titled Christ the King stands atop the state's highest peak (8,460 feet). Each January you find tired, faithful pilgrims along the road, making their annual ascent to the top.
Authentic Guanajuato
LA FIESTA: "In Guanajuato, it's about the nightlife," says Hotchkiss. "When the sun goes down, the party begins in the central plaza—food all over, theater, concerts—it's really culturally rich." BYU study abroad coordinator Chelita Pate says it's loud and chaotic, but a lot of fun. There are "so many musicians that you can hardly hear one because everybody's playing at the same time," she says. "People of all ages stroll the park, sit, listen, and enjoy the music; some of the older people come to dance."
A LOTTA ENCHILADAS: Guanajuato has many styles of enchiladas, including enchiladas divorciadas. "One has red sauce, the other has green sauce," says Hotchkiss. "And they also sell tamales. . . . I can't get enough of those."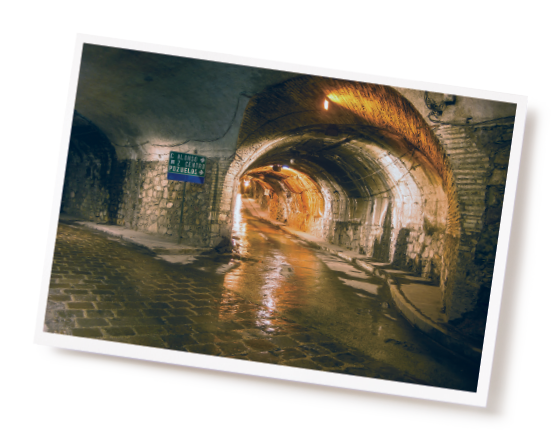 Tunnels and Traffic
The city of Guananjuato sprawls along a ravine at 6,600 feet in the Mexican sierra. But its appeal is more than dirt-deep. Since the 16th century, miners seeking silver and gold here have added another dimension. "There must be hundreds of kilometers of tunnels that go north-south-east-west and connect everything in town," says Migenes. Many city's tunnels—including former water tunnels have become alleys and one-way streets, "which gives a Spanish taste to the city's architecture," he says.
The tunnels pose an interesting dilemma for motorists during a rainstorm: "Should you go in?" Hotchkiss says there are poles outside of each tunnel with lines painted green, yellow, and red. "You are supposed to look at the water level on this pole, and if it's green you can go; if it's yellow, you're on your own; if it's red, you're going to die," Hotchkiss laughs. "We tried to confirm the accuracy of those with rainfall and runoff modeling."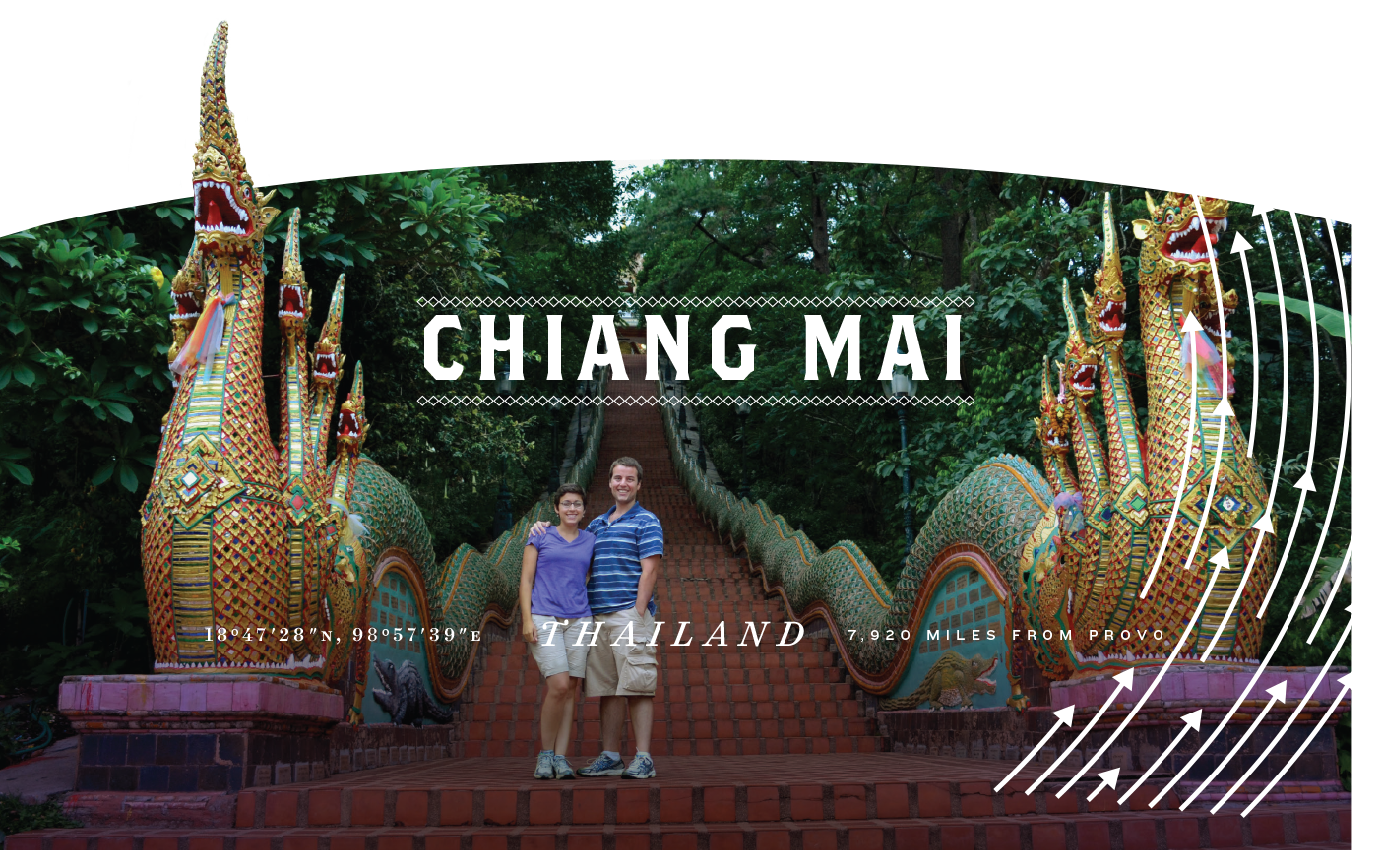 Chiang Mai, Thailand
By Sara D. Smith (BA '10)
Visitors to Thailand—known as the Land of Smiles for its friendly people—often make the mistake of spending all their time in Bangkok, says Jacob R. Hickman (BS '05), director of a BYU cultural anthropology field school in Thailand's Nan Province. He urges visitors not to forget to head up to Chiang Mai, the second-biggest city in the country and the cultural center of northern Thailand. "It's my favorite city anywhere in the world," he says.
Chiang Mai is a mix of old and new. The center of the city is surrounded by imperial walls and a moat from the ancient Lanna Kingdom. City building codes limit development of the historical city center and keep it from turning into the "urban sprawl that you have in places like Bangkok and other modern Asian cities," says Hickman, "but it still has modern amenities. It has a very hybrid feel."
Northern Thailand is distinct linguistically and culturally from other regions and is ethnically diverse, with a large population of the Hmong, an ethnic minority group spread throughout southeast Asia. BYU finance and business students stop in Thailand as part of an international-investing internship touring Asian countries, while other students work on development projects in internships with NGOs. Anthropology students live, study, and conduct anthropological research in a Hmong village a few hours outside of Chiang Mai and present their findings at Chiang Mai University. "Part of doing good research in anthropology is getting a deep understanding of local culture so you can actually understand the topics you are studying from a well-grounded, local perspective," says Hickman.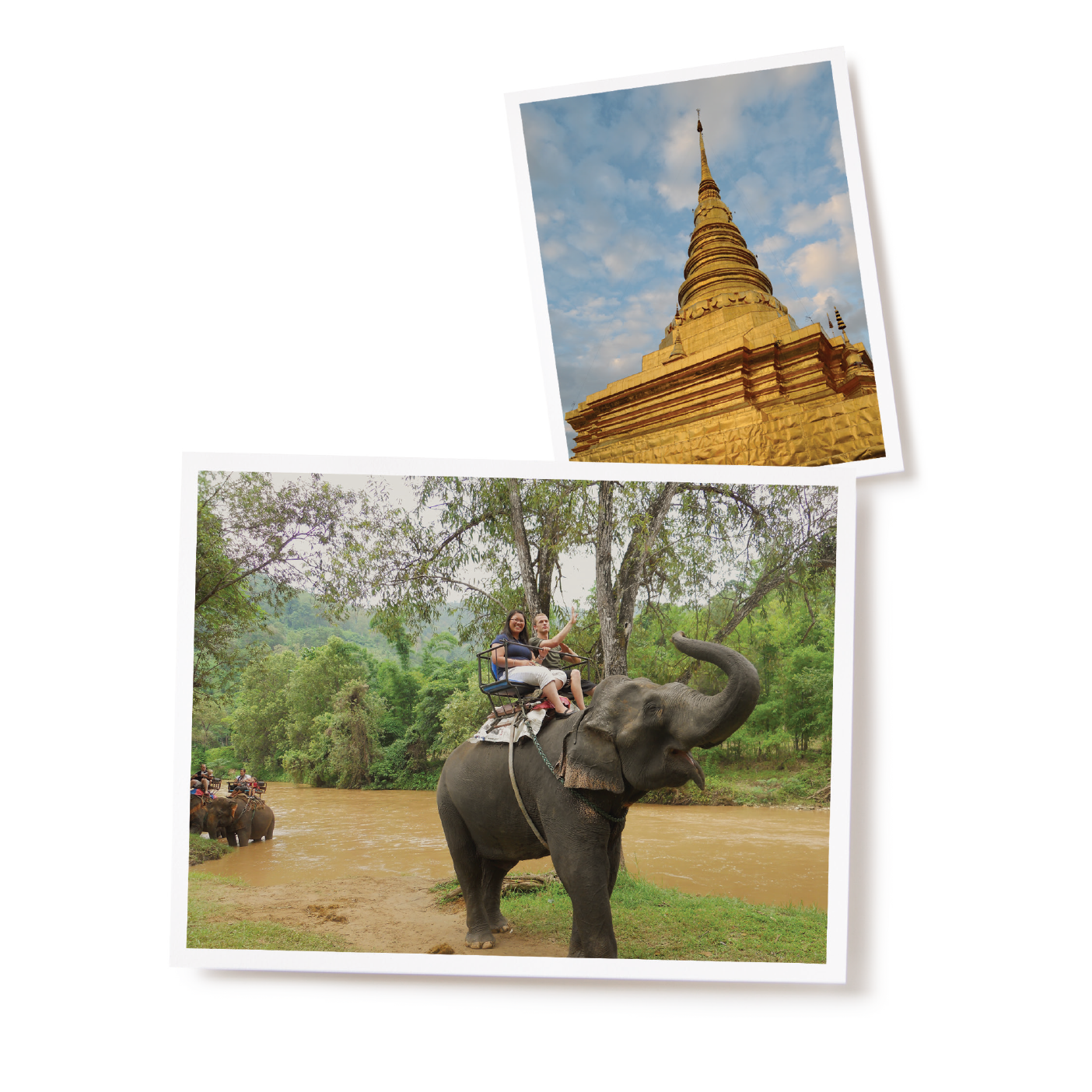 Experiencing Thailand
A DAY AT THE MARKET: Chiang Mai's night bazaar—"20 city blocks of . . . vendors selling anything imaginable," says Hickman—has a touristy feel. For a more local experience, he recommends the daytime Warorot street market, where locals shop for fresh food. "There's a little Hmong section of the market," says Hickman, "where Hmong people sell old textiles that they gathered in Hmong villages in China. You can buy baby carriers and things with intricate needlework that's 50 or 60 years old."
TRY THE BEEF WATERFALL: "The best places to eat don't have names," says Hickman. Taste the best cuisine for the best prices from street vendors and little hole-in-the-wall shops. Make sure to try nam tok (beef waterfall), grilled meat with chili powder, cilantro, lime, shallots, and fish sauce served with sticky rice.
Travelers Tips
AVOID THE TOURIST TRAPS: Touristy areas tend to attract more unsavory sides of the city, like theft and prostitution. Meyers recommends booking a hotel away from attractions geared toward westerners.
GETTING AROUND: Transportation in Chiang Mai is cheap and simple. With a songtaew—a covered pickup truck that fits 10—you "can pretty much get anywhere in the city for about 20 Thai baht, or 75 cents," says Fields. For more exposure to the sights, sounds, and smells of Chiang Mai streets, visitors might want to spend a little more for a ride in a tuk tuk—a covered three-wheel motorcycle.
For Your Itinerary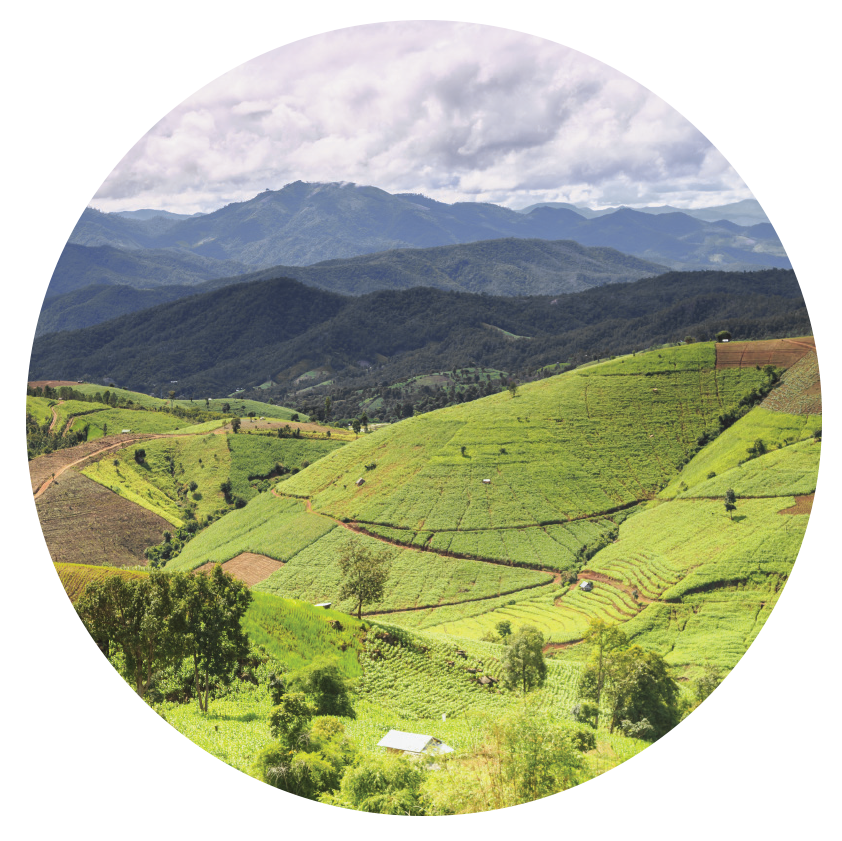 ELEPHANT EXPEDITIONS. Take a ride atop an elephant through the jungles surrounding the city. Some elephant touring companies include a raft ride and quality time with the animals. Anthropology student Seth M. Meyers ('15) played tug-of-war with a baby elephant's trunk and watched the animals do tricks and even paint pictures with their trunks. One painted an elephant—"a self-portrait, I guess," he says.
NIGHT SAFARI. For more close encounters with exotic animals, check out the Chiang Mai Night Safari, a favorite of Hickman's children. A nicely curated nocturnal zoo—one of three in the world—it offers tram rides through animal habitats. "Animals come right up to the tram, and you can feed the giraffes," says Hickman.
TEMPLE SUNRISE. Hickman takes his students up to the Wat Doi Suthep temple at sunrise. This Buddhist temple, one of many dotting Chiang Mai, sits atop a mountain overlooking the city. Hickman recommends arriving at 4 or 5 a.m. to watch the monks perform their morning rites as the city slowly awakes. "There's usually lots of tourists there," says Lindsey B. Fields ('14), "but in the morning it was completely empty except for the monks. We watched the sun rise above the fog and the whole city stretched out in front of us."
Hmong Religion
The Hmong people aren't associated with any particular nation. This historically semi-nomadic ethnic group—with its own language, customs, and religion—spread from southwest China to expand across Vietnam, Laos, and Thailand during the 19th century. There's now even a large population in the United States.
Unlike the Thai, whose traditional religion is Buddhism, the Hmong traditionally practice a form of shamanism and feel a deep connection with ancestral and local spirits. Hickman and his students research how Hmong people are affected by two relatively new religious influences: Christianity and a Hmong messianic religion that includes prophets, scriptures, and a sacred writing system: "The movement is designed to usher in the utopia that will be the physical salvation for Hmong people, bringing them economically on par with the rest of the world," explains Hickman. "It's a religious revitalization movement much like early Mormonism."
Fields and other anthropology students spent one night in huts outside a temple site established by a Hmong revitalization movement in the mountains of northern Thailand. In the morning, the students joined the faithful as they gave alms to their god. "You could feel that this was a special, sacred place to these people," Fields says. "It made me realize that we are not as different as I thought we were—it gave me a new perspective on my faith."
---