Vacations that go awry—which is all of them—are the best kind.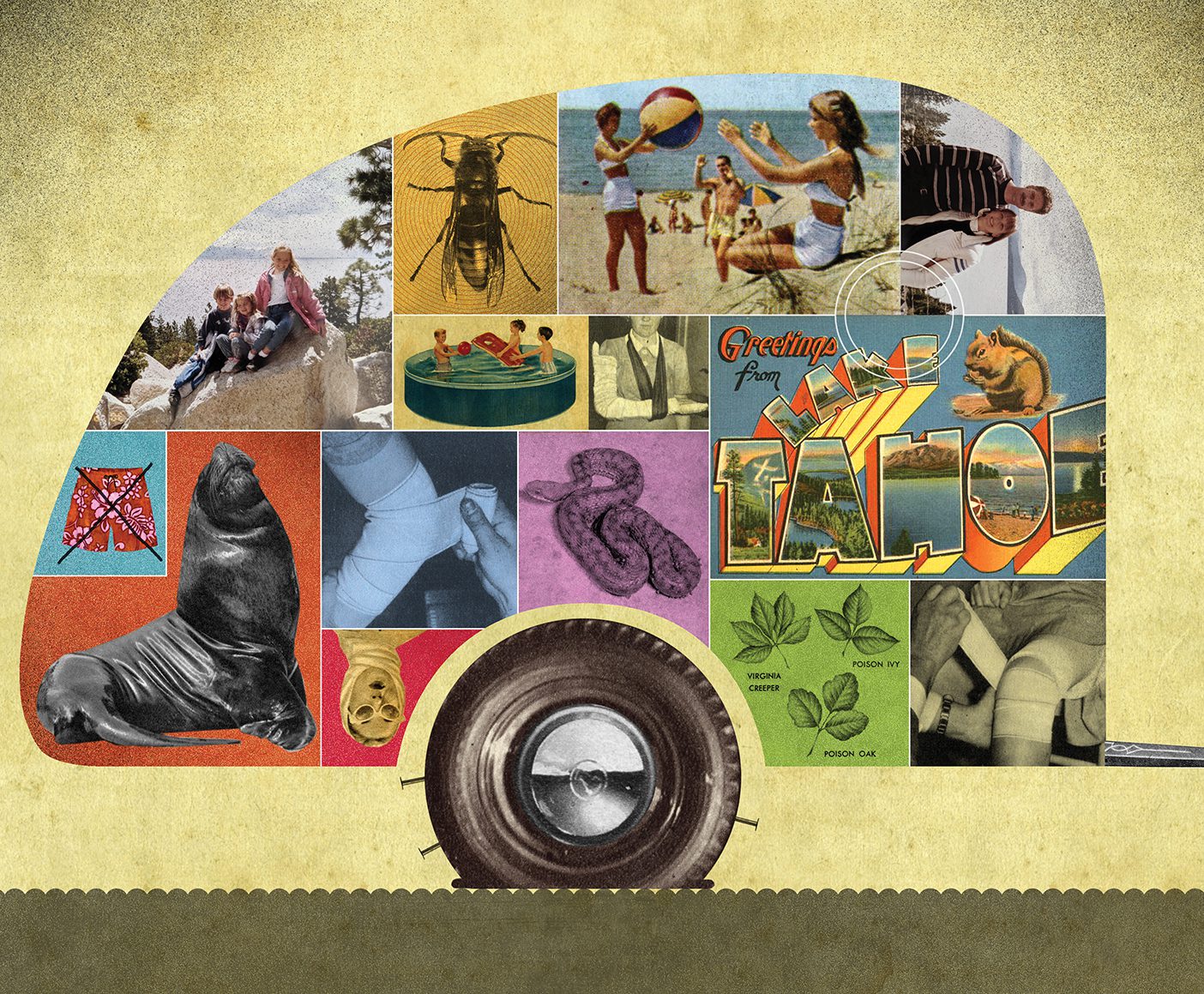 We looked a lot like the family on the brochure—until we hit the boulder. It was large and lurking just below the water's placid surface, the kind of rock that specializes in sneaking up on amateurs and making rented boats' security deposits vanish. A quick headcount from my parents revealed my sisters and I hadn't been thrown from our aluminum boat. And a quick inspection of the hull found no water flooding in. But, unable to dislodge the boat ourselves, we found ourselves aground more than 100 yards from the Lake Tahoe shoreline. And so we tightened our life vests and waited for a benevolent boater to pass by and tow us off—the danger of the moment replaced with boredom.
Unfortunately, our boating accident would prove to be more trend than isolated incident.
Growing up, misadventures became the one constant of our family vacations. There was the winter vacation where an attempt to harvest an icicle for a snowman's nose ended with my head cracked open and a trip to the ER. There was the summer beach trip where boogie boards and sandcastles were overshadowed by my getting bit in the thigh by a seal. Yes, a seal. And there was the thrill-seeking trip to a theme park that ended before it started—it was closed. Worse, we'd make the same mistake the next year, renting a cabin for a spring ski vacation only to find out when we got there that the local resort had shut down for the season. Wherever we went, misfortune seemed to follow.
Over the years, our mishaps became more and more a part of our family identity. Conversations at gatherings with friends and family often found their way to the topic. And with each retelling, the stories took on their regular shape; my parents ping-ponging back and forth with a precision that appeared to have been scripted, down to the moment my mom would say, "You're telling it wrong," and take over the narrative.
As the idea that we couldn't go on a trip together without something going wildly wrong took hold, even the minor mishaps would be added to the canon of accidents. Mom stepping on a bee during spring break. Going camping and forgetting the tent. Dad losing most of his swimsuit attempting to exit a fishing boat. (I guess Dad did have a checkered history on the water.)
Just how unusual our accidents truly were is hard to say. One can imagine most vacations—filled with people in new places trying new activities—are magnets for blunders big and small. What is clear is that our slipups always became the most memorable part of our travels.
That hour stuck on a boulder in Lake Tahoe isn't just the thing I most remember, it's the only thing I could tell you actually happened on that trip. If it wasn't for the seal who tried to break my femur, that beach trip would have blended and faded into the others. And I'll never build a snowman without thinking about the icicle that took me down—or my mom comforting me in the hospital as we waited for the doctor to patch up the gash.
In the years that have passed, time has shifted the emotions of the stories too. Accidents that were once annoying, embarrassing, expensive, or even painful have transformed into something else entirely. They're now the things we laugh about. The amusing anecdotes we recollect and remember. And if collecting those kinds of experiences isn't the reason to set off on trips together in the first place, what is?
Now with kids of our own, my wife and I find ourselves planning family trips. We spend lots of time considering and debating all sorts of destinations and activities, trying to predict the best path. What will the kids enjoy? What will they remember? What will go smoothly? Maybe those questions matter less than we think.
After all, my own childhood suggests there's no better tradition than vacationing with grand plans that inevitably go totally wrong.
James Littlejohn is an author and advertising creative director from California.
---
Share a Family Story
In Letters from Home Y Magazine publishes essays by alumni about family-life experiences—as parents, spouses, grandparents, children. Essays should be 700 words and written in first-person voice. Y Magazine will pay $350 for essays published in Letters from Home. Send submissions to lettersfromhome@byu.edu.