How to design quality, values-added activities with your family.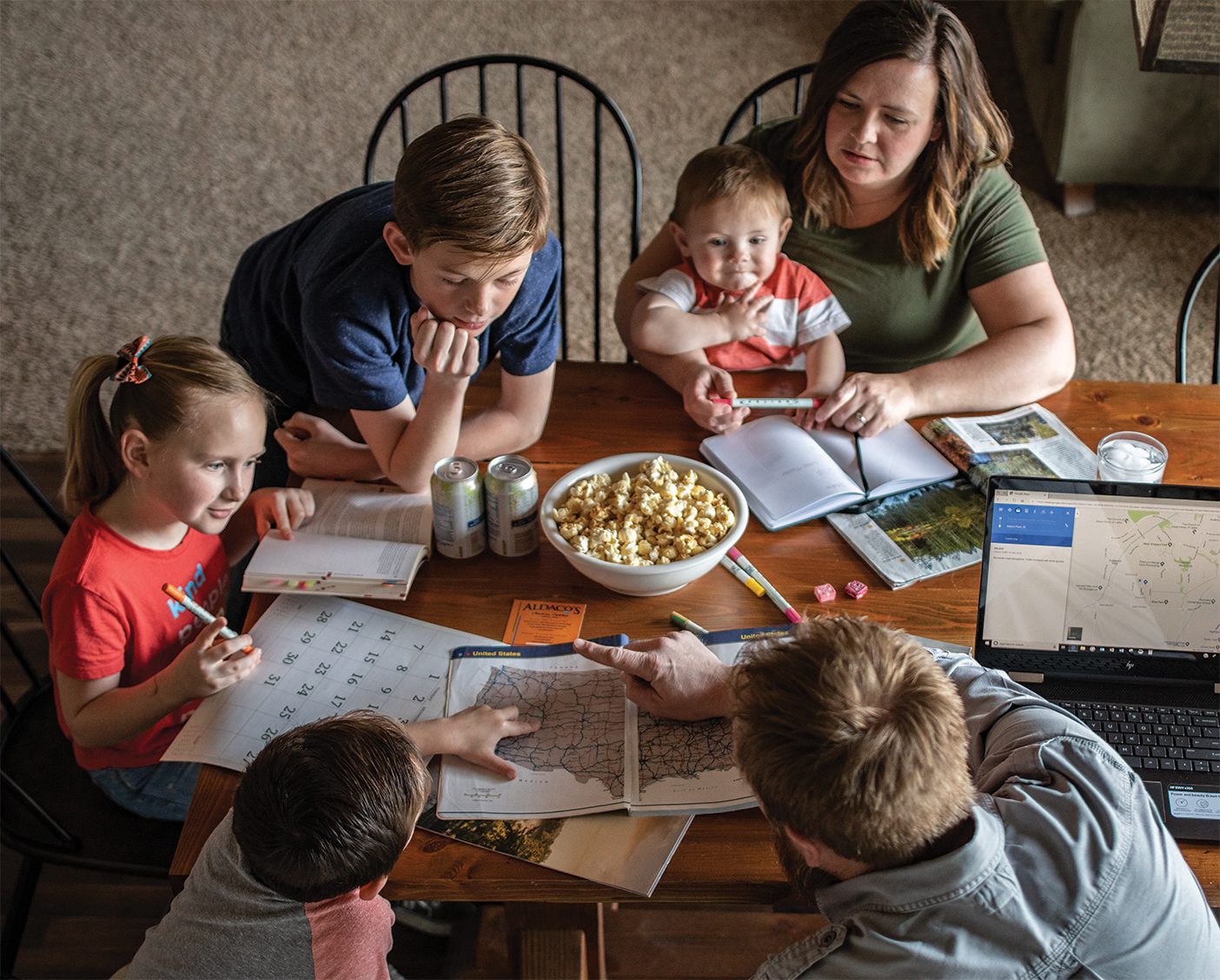 Winter is still in full force on a January day in the small Virginia community where Lesley Butterfield Harrop ('03) lives, but she's already started pondering her children's summer break. She wants their time off to be purposeful, with lots of bonding and memory-making family moments. As a single mom of four young children, one with autism, she has to plan carefully to make sure meaningful—and affordable—family recreation happens.
"Museums often have free days every quarter, and so do play gyms, historical sites, and sometimes national and state parks," Harrop says. "We pencil in these dates on a giant calendar in our mudroom so the kids can see exactly what's coming up. My autistic son thrives on routine and needs to prepare for the many transitions that come up when school is out, so the calendar really helps with that."
Her strategy fits well with the research around family recreation, according to Patti A. Freeman (BS '88), professor of experience design and management in the Marriott School of Business. She says long breaks from school can be challenging for parents and kids, but planning ahead can make extended leisure something that both parents and children look forward to—and something that strengthens their family.
"Research suggests participating in family recreation helps family members feel closer and more cohesive and also can help them be more flexible and adaptable," says Freeman.
She recommends that parents help their families get the most from summer break—and other leisure time—by putting time into planning, choosing activities that mesh with their values, and keeping many activities simple and low cost.
Planning Takes Intention
Most families probably don't begin planning day-to-day summer activities as far in advance as does Harrop, but starting to plan by spring or so is a good idea. "Planning makes a difference because it adds intentionality to the break. The word break may imply a nothingness or empty time, but the time can be used to intentionally learn something new, to go someplace new, or to have a new experience," says Freeman. "The point is to be intentional and do the planning. It won't just happen on its own—at least not at my house."
Freeman likes the council approach to planning, where each family member has a chance to express interests and preferences. Parents can take suggestions, consult as a couple, then make decisions about major activities. For minor activities, children might take turns deciding what everyone will do together. "Sometimes we have let our children plan an at-home day where each gets to decide on an activity. Other times we've had reasons to go with the preference of a certain child. So I think a variety of approaches can work," she says.
Every year toward the end of school, Harrop gathers her four children, ages 9, 8, 6, and 4, for a summer-planning family night. "We get all the summer resource magazines from local community organizations and spread them out on our big kitchen table and use magic markers to circle the things we're interested in. By the end of the evening, we have a very full calendar and a fun-packed summer to look forward to," she says.
Values-Added Activities
As families plan quality recreation, they can talk about what matters to them most and how they can integrate family values into their fun. "I think quality can be defined as being enjoyable and purposeful," says Freeman.
If parents hope for a higher purpose around an activity, such as family members talking more together, they can design activities with that aim in mind. "If I want my family to communicate more, sitting down and watching a movie together will not do that on its own. But if we choose a movie that is likely to provoke discussion and we talk about the movie after, then that purpose can be achieved," says Freeman.
Quality activity doesn't have to mean everything is planned. Some self-directed time is good for children, says Freeman, and so is having some downtime. "We don't help children learn how to cope with boredom if we program them constantly. They need to learn how to use a chunk of time in a useful way that is their own thinking," she says.
Quality activity can also be quiet activity. The school district for Freeman's children has set a goal for students and their families to read 20 minutes together every night: "Every child. Every family. Every night." Freeman and her husband, Eric Andersen, gather with their children to read personal books individually and the scriptures together. "It is so nice to have 20 minutes of quiet as we all sit and read," Freeman says.
One of Harrop's guiding principles for choosing quality activities is whether an option will address a developmental need for one or more of her children. "We do a lot of gross-motor activities like swimming, soccer, hiking, and dance," says Harrop. "But equally important are the cognitive, language, social, emotional, and fine motor skills. We frequently choose things that overlap in these areas, like nature walks where we learn how to say the names of plants and flowers, collect leaves, and learn how to interact with the environment."
Harrop also looks for activities that can enhance spiritual, psychological, and emotional well-being. The local YMCA teaches yoga and meditation, which helps the Harrop children learn calming strategies.
Keeping It Simple
Harrop hopes someday she can afford more expensive summer enrichment—such as traveling abroad—but for now she is content staying closer to home. One simple tool she uses often to enrich any activity is the family Question Jar, a big Mason jar full of open-ended prompts such as, "Describe a time you felt brave" and "If you could meet anyone from history, who would it be?"
On an outing last summer, Harrop took the jar along, and it led to a remarkable conversation: "I got to know my children in wonderful and unique ways that I never would have thought. They also got to know me and hear stories I normally wouldn't think to share. These moments were so memorable because we connected in a way we don't experience every day."
Freeman says that aiming simply for fun is also a perfectly legitimate reason for family recreation. "Everything we do doesn't have to have a lofty purpose. Simple fun teaches us a great deal," she says.
Last summer, Harrop arranged a simple activity that ideally combined fun, learning, and motor-skill development—a 6-week, 1.5-hour horseback riding lesson that she split among her children to make it affordable. "It was amazing to see my children learn to control and command an animal much bigger than them. They had a confidence in their eyes as they led the horse and it followed them," she says.
An even simpler activity that summer led to some sublime and memorable moments that the Harrop family still talks about. On riding lesson days, they packed a picnic lunch and decided spontaneously what they would do the rest of the day. Sometimes they ate outside the local library on the grass and visited with other people who were also picnicking. Other times they went to a park to eat, then watched the fish swim in the stream nearby.
"They were simple days, full of simple moments, unremarkable when compared to fancy vacations and expensive outings, but that is what made them so cherished," she says. "It was just us, as a family, really loving to spend time together and getting to know more about each other without needing much else."
Family Fun: Advice and Tips
Freeman offers additional ideas for designing family experiences:
• Create simple time together in your own yard if you have one—water fights, badminton, impromptu skits, gardening, and so on.
• Learn a new lifelong activity together, such as rock climbing, mountain biking, or dancing.
• Go to a different park each week so children don't get tired of the same playground.
• Make sure Mom doesn't do more than her share of planning and organizing; this tends to make the activity less enjoyable for her.
• Be alert for conflict around planning and during activities. Some parents might need to boost their communication skills to prevent recreation from increasing family tension.
Sue Bergin is a writer and Marriott School adjunct instructor.