---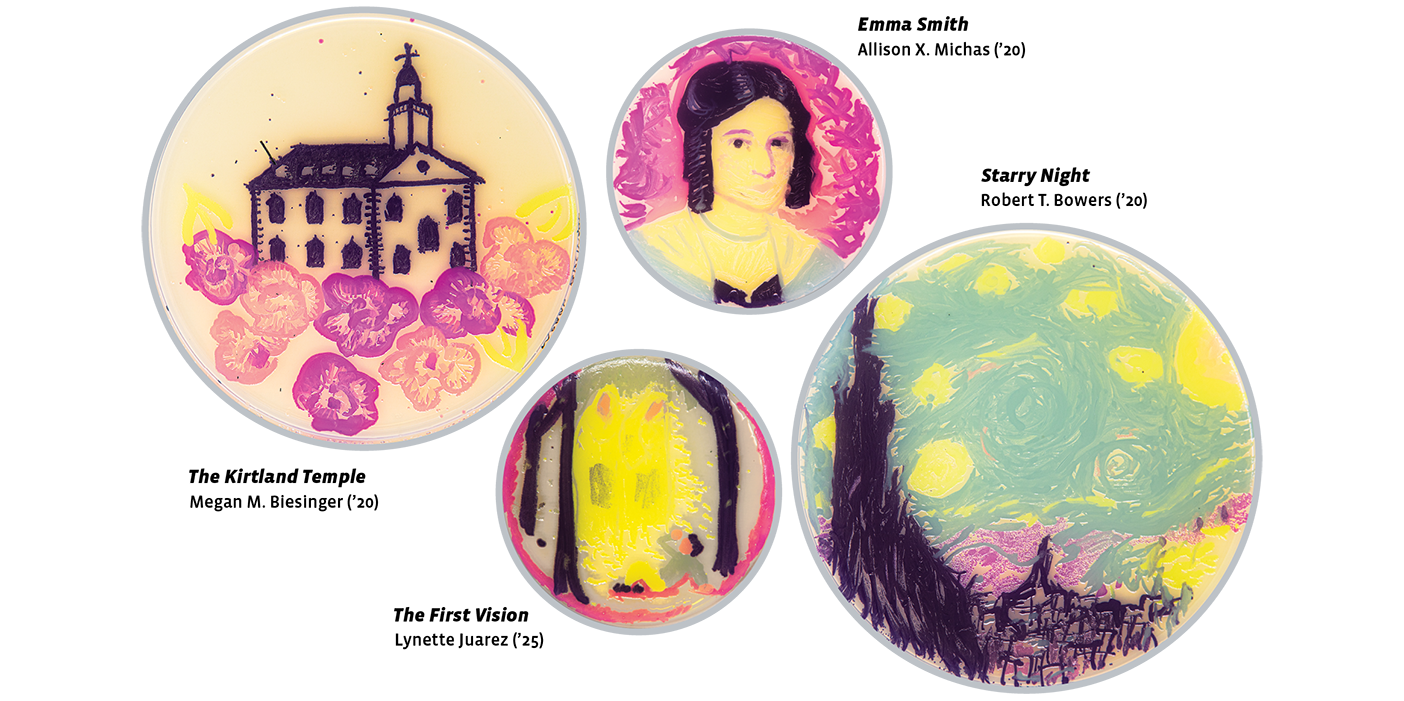 A petri dish can be a canvas. All it takes is a little agar—the jelly-like substance scientists use to stimulate microbial growth—and a palette of bacteria. The dark violet in Emma Smith's microbial portrait here: it's E. coli strain DH5a/pVIO. The bright pink background: E. coli strain DH5a/pPINK.
This petri-dish portrait of the "elect lady" won first place in the 2020 BYU microbiology and molecular biology (MMBio) Agar Art Competition, now in its third year.
"BYU's focus is to get different clubs meeting together for some kind of interdisciplinary activity," says MMBio professor Robert P. Black (BS '87, MS '91), who invited the BYU Art Beat Club to join biology students in this year's competition, which had a Restoration theme. Participation doubled; more than 100 pieces of art were submitted, most in theme, along with others of the BYU logo, animals, flowers, and even a rendition of Van Gogh's The Starry Night.
Students use paintbrushes attached to bacteria-filled test tubes to paint the agar petri dishes. Like using a clear or white crayon on an Easter egg, the bacteria can't be seen at first; the color has to grow overnight in the incubator. Artists had six colors at their disposal, as well as the option to add the green fluorescent protein (GFP), which causes bacteria to glow in the dark.
"GFP is a common tool for helping scientists understand processes happening inside of a bacteria or cell," explains MMBio student Rachel U. Skabelund (BS '20).
"The competition highlights amazing things we are able to do with science and a little bit of creativity," she adds. "It's definitely a unique medium since you're working with living organisms."