For more than a decade, BYU's School of Accountancy has ranked among the nation's top accounting programs. Here's how.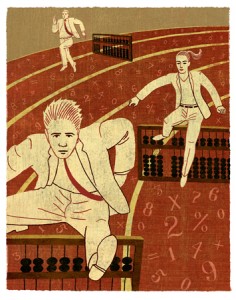 Joni K. Lusty (MAcc '99) tightens her helmet strap then wraps her wind-chilled knuckles around the rope handle of a 16-foot whitewater raft. She scoots over to make room for the 10 other passengers, who aren't wearing life jackets either. In fact, they're wearing snow pants. After all, it's March in Utah and these adventurers aren't staring down rapids. They're perched halfway up the hill of the world's highest-altitude ski jump at the Utah Olympic Park in Park City.
The buzzer sounds, and, with a shove from behind, the laden raft begins its descent. It picks up speed as the rubber slides down the snow-packed slope and, to its passengers' delight, catches air on a bump midway down. As the raft slows to a halt and the hoots and hollers subside, these thrill seekers have officially proven that whoever said accountants don't know how to have fun couldn't be more wrong. And that makes Lusty smile.
Lusty is the mastermind behind the action-packed day, which she's dubbed EY Extreme. The event is designed to help BYU accounting students get personally acquainted with her firm, Ernst & Young. The "Big Four" accounting company brings nearly 100 employees to the event, including global chairman and CEO Jim Turley. "The students love hearing from Jim more than the rides," Lusty says. "Because, even though we're having fun, students come because they care about their future."
Lusty knows this from experience—she's spent five years 
trying to attract BYU's brightest accounting grads. But the 
competition can be fierce, even in a slow economy. "Every year the ante rises," she says. "When you think of corporate giveaways, you usually think of pens and highlighters, but at BYU accounting recruiting events you'll see firms giving out sweatshirts, gym bags, and gift cards." During recruiting season the Tanner Building is buzzing with free lunches, soda bars, concerts, and more.
"The students are worth it," says Lusty, whose firm last year recruited more graduates from BYU than from any other university in the country. Manny Fernandez, national managing partner of university relations and recruiting for KPMG, another Big Four firm, says his recruiters are always thinking of new ways to attract BYU talent. "It's consistently one of the highest-ranked programs in the nation," he says, "so we have to be at the top of our game."
Ranked among the nation's top three programs since 1995, BYU's School of Accountancy is the only top-ranked program without a PhD program. In the December 2008 Public Accounting Report, BYU's graduate accounting program unseated the school that had held the top spot for more than a decade, making BYU the no. 1 graduate accounting program in the nation.
Accounting for the program's success can be difficult, even for accountants. It stems from a variety of factors that build on each other, making it hard to tell where credit for the program's success begins or ends. But there's no doubt it is closely tied to reputation, which has been years in the making.
It's a reputation built by faculty developing and teaching some of the most innovative curriculum in the nation, a program tightly connected to the profession, and top-performing students and alumni throughout the world.
DOWN TO THE CORE
In 1990 Kevin D. Stocks (MAcc '78) and six other accounting professors gathered in the Tanner Building. "We said, 'The program works, but if we're going to take it to the next level, we need to change,'" says Stocks, who now serves as director of the School of Accountancy. They took a blank sheet and began listing the most important elements of accounting curriculum. "We focused solely on curriculum and decided faculty would have to work around it," recalls Stocks. The list became the framework for what is now known as the junior core.
Conventionally, a college course is divided into several sections taught by various professors, each free to design the curriculum independently. In contrast, BYU's junior core—a two-semester lockstep program—offers every junior accounting student the same curriculum, no matter who is teaching. Each semester features 12 credit hours allocated into three-hour blocks each day. Students stay in the same classroom while professors rotate in and out.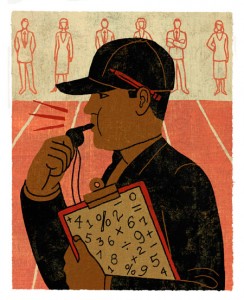 This approach to curriculum is very unconventional, says Fred Mittelstaedt, department chair of the Accounting Department at Notre Dame University. "Most schools just wouldn't be able to pull it off. It is very unique about the BYU experience."
So unique, in fact, that shortly after the core's conception, the BYU School of Accountancy was awarded the 1993 Outstanding Innovations Award in Accounting Education by the American Accounting Association. Subsequently, in 2007, the school again received the same award for its PhD Prep Program (see "PhD Prep School," p. 45), making BYU the only university to win this award twice. "I attribute both awards to the collegiality and innovation of our faculty," says Stocks. "They're willing to try new things and give up traditional ways to do it."
Stocks says teaching in the junior core can be "inhibiting and challenging" because faculty have to constantly coordinate with each other but also "exhilarating and exciting" because of the synergy that comes with collaboration. "What they accomplish together is far better than what any one faculty member could do by him- or herself," he adds.
Shannon L. Charles, an assistant professor of accounting who has taught the junior core for eight years, says both students and faculty benefit from the core's team nature. Students are divided into groups of five or six and work with that team the entire year. "They develop a very nice social network," says Charles. Kevin S. Sommerfeldt (MAcc '09) is grateful for the friendships he made through the junior core. "We spent hours together, often late into the night, to solve a problem or prepare a presentation," he recalls.
Requiring students to work in teams is one of many curriculum strategies to help simulate the workplace. "Our curriculum lets us not only teach the technical topical matter but the professional matters that are important," says Stocks. "We give students a professional orientation, which is what really prepares them to function well in the workplace." For example, junior core students participate in professional days throughout both semesters. Faculty and guest speakers diverge from topical matter and discuss professional topics such as etiquette, ethics, or how to give oral presentations.
In addition, the program involves as many students as possible in national competitions. "We expect them to do well, and they do," says Stocks. BYU students have placed first or second for the past nine years at the Deloitte Tax Case Study National Competition. In 2009 BYU took first place in both the graduate and undergraduate competitions.
It's only natural BYU accounting students do well in competitions; they're used to competing. Chad C. Nielson (MAcc '99) sums up his memory of the junior core in two words: "extremely competitive." But BYU students aren't scared of a little competition, at least not the 350 to 400 who compete for the 265 undergraduate accounting slots each year. At the graduate level, there are 160 slots, which are filled mostly by students moving up through the junior core.
Nearly 20 years after helping create the junior core, Stocks has a standard answer for students who ask about the program. "This is the best accounting training you can get in the country. It is also probably the most difficult because of the lockstep nature of the program and tough competition."
But for those who make the cut and complete BYU's accountancy program, says Stocks, the junior core is critical to their success: "We make sure it prepares our graduates for the accounting world as it is now and will be in the future," he says.
PROFESSIONAL REALITY CHECK
Matt S. Owen (BS '84), vice president of management audit at Disney, wraps up his last meeting of the day and rushes to the Burbank Airport. A couple states away, Manny Fernandez at KPMG in Denver is printing his boarding pass. Rhonda S. Powell (MAcc '88), a tax partner at Moss Adams LLP, is driving in the Seattle rain to catch her flight.
Owen, Fernandez, and Powell are three of about 15 professionals who twice a year attend the BYU School of Accountancy's advisory board meetings, where they will be quizzed about what's going on in the industry and about possible updates to the curriculum.
In essence, these accountants come to campus to give the school a professional reality check. The advisory board is just one of the many efforts of the accountants program to stay 
connected to industry. BYU accounting professors have extensive industry experience and engage heavily in professional activities and associations. They follow the lead of W. Steve Albrecht (BS '71) and Stocks, who are, respectively, a past president and the current president-elect of the American Accounting Association. Faculty also enjoy generous support from industry leaders in the form of fellowships and professorships.
"Our faculty know what developments are occurring in the field of accounting, so we can bring these developments into the classroom a couple of years before they appear in the textbooks," says accounting professor Earl K. Stice (BS '81). "Our graduates are sometimes better informed about current developments than their managers."
Powell says Moss Adams is so impressed with the expertise of BYU faculty that the firm calls on BYU tax professors for its company-wide training. "We invite them to our headquarters for two week-long seminars," she says. "The education they provide is outstanding."
On the flip side, Stocks recognizes the program would not be so highly regarded without the industry's support. For example, a couple of years ago he received a call from a master's of accountancy professor lamenting that accounting students had not quite mastered communication skills. It took only one phone call before a small firm in California agreed to send a partner-level employee to speak at BYU on the issue.
"This willingness to serve our students is manifest in multiple instances each semester," says Stocks. "We also receive tremendous support in the form of materials and training."
Albrecht, who headed the School of Accountancy for 9 years, also recognizes the generous support and outreach of recruiters. "Recruiter interest creates all kinds of opportunities for students," he says. Recruiters come to campus to interact with students, speak in classes, participate with BYU clubs, hire interns, and serve on panels as well as on the advisory board. "External support is what really keeps us connected 
and makes our program great," says Albrecht.
OUT OF THE BLOCKS
When Powell joined Moss Adams four years ago, she also became involved with company recruiting, which gave her the opportunity to introduce the firm to her alma mater.
Powell says that as her colleagues get to know BYU grads, they often approach her and say, "Wow, these are some fantastic students we can really challenge. They come out of the blocks with the skills necessary to excel in public accounting."
Moss Adams discovered that BYU accounting students are remarkably well prepared for the workplace and are mature, driven, and ethical. Notre Dame accounting director Mittelstaedt says they are known for being "strong, pleasant, motivated, pragmatic, good problem solvers, and focused."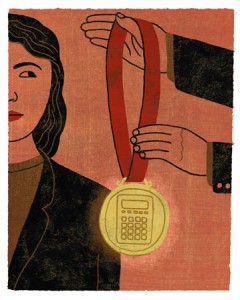 Words like pragmatic and mature may make these students sound like stereotypical accountants, but that is hardly the case. As director of recruiting for BYU accounting students, William J. Brady's (BA '73) job allows him to really get to know the students he coaches.
"I used to assume all accountants are similar," he says, "But these past years have proven my assumptions entirely wrong. I've had students who worked as whitewater-rafting guides, dancers, bricklayers, firefighters, secretaries, clerks, cashiers, surfers, and landscapers."
It's this diversity of personalities that livens up the classroom. Jacquelyn Slade ('10) describes a time when a fellow student broke a cardinal rule by letting his phone ring during a lecture. The student stood up and answered: "Hello? Yes, come on in," and then someone brought in boxes of Krispy Kreme donuts for everybody. "It was pretty audacious of the student," says Slade, "but he managed to pull it off."
Dynamic students help program rankings remain high and keep recruiters flocking to campus. And sometimes the students know this a little too well, which is why faculty remind them that humility goes a long way. Stocks tells graduates, "You represent BYU and you need to be the best you can be—in a humble sort of way. Be competent and professional, not arrogant and unprofessional."
Kristen Green Valentine (MAcc '09), who had two job offers from prestigious firms, says she feels privileged to graduate from such a high-quality school. "I give all the credit to the faculty and alumni. Because of them, I feel a tremendous responsibility to live up to the reputation of the program."
Valentine joins the ranks of nearly 16,000 BYU accounting alumni who are building that reputation. "The best action we can take to promote the quality of our program is to send our students out," says Stocks.
But BYU accounting alumni don't just graduate and say "thank you very much," says Stocks; they want to give back to the university and its programs. Lusty agrees. She says alumni at Ernst & Young leap at the chance to visit BYU campus with her on recruiting visits.
"Alumni truly enjoy reaching out, mentoring, and coaching BYU students," she explains. And although she loves plunging down ski slopes in rubber rafts, that isn't what keeps her coming back to Provo. "It's being able to associate with my BYU peers and witness firsthand the growth and success of the BYU accounting program."
---
Feedback: Send comments on this article to magazine@byu.edu.
---
PhD PREP SCHØOL
During Kristen Green Valentine's (MAcc '09) first semester in the master's of accountancy program (MAcc), she wrote an original research proposal on mark-to-market accounting. Little did she know that, during the 2008 banking crisis less than a year later, it would become one of the business world's hottest topics. Her proposal led to a mentored research grant and coauthorship of research articles. Having an interest in teaching, Valentine decided to enroll in BYU's PhD Prep Program, which honed both her accounting research and teaching skills. "The program really stretched me, but it was definitely one of the most rewarding experiences I've ever had."
The School of Accountancy designed the PhD Prep Track for MAcc students interested in pursuing the top doctoral studies in accounting. "We don't offer a doctoral program in accounting, but we do have the ability to provide students with excellent preparation to join the best PhD programs," says professor 
Theodore E. Christensen (MS '91). "The prep program also 
provides a unique opportunity for us to help solve a major problem in our profession—a shortage of new PhDs in accounting."
The School of Accountancy has become the nation's largest single provider of students into accounting PhD programs, placing close to 70 alumni in top programs during the last 12 years. The PhD Prep Program received the 2007 Outstanding Innovations Award in Accounting Education from the American Accounting Association. "It is gratifying to think of the positive influence so many of our alumni will have on dozens of colleagues and thousands of students at universities all over the country," says professor Douglas F. Prawitt (MAcc '88), coordinator of the PhD Prep Program.
Valentine looks forward to a future in academia. "My professors were the best mentors possible," she says. "They had a genuine interest in my future, which I will someday pass on to my own students."
—J. Melody Peay Murdock (BA '00)
---
ACCØUNTING BY THE NUMB3RS
+ Bookkeeping was first taught at Brigham Young Academy in the 1880s—making accounting one of the oldest subjects taught on campus.
+ The School of Accountancy has 29 full-time and nine part-time faculty members.
+ Over the past 20 years, accounting faculty have published many textbooks; more than 4 million copies have been used at hundreds of universities.
+ BYU students have placed first or second for the past nine years in the Deloitte Tax Case Study National Competition's undergraduate division. In 2009 BYU swept top honors in the undergraduate and graduate competitions.
+ Each year more than 75 companies and firms recruit BYU accounting students, 95 percent of whom land jobs within three months of graduation.
+ BYU graduates will represent about 10 percent of those entering accounting PhD programs this year.
—J. Melody Peay Murdock (BA '00)