---
In leaving campus to explore the workplace, students get lessons in life.
Studying Transit in Transit
By Hannah Weight Holt (BS '03), Aloha, Ore.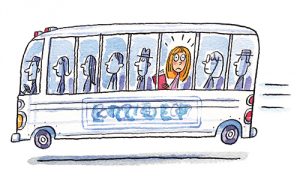 On my first day as a student intern, I rode the bus to work with a binder full of information about my company on my lap. Like a true student, I was cramming up until the last possible moment. I arrived at the transfer station, boarded my next bus, and was so busy that I didn't even look out the window. Fifteen minutes passed, and I finally looked up. We were traveling in the wrong direction. I had boarded the wrong bus!
I exited at the next stop but learned another bus wouldn't come for more than an hour. Panic set in. I removed my heels and started running in the right direction. I eventually ran past a man working in his front yard. The children's toys in his driveway reassured me, so I asked the stranger for a ride. My good Samaritan drove me to the next transfer station.
I arrived to work sweaty, windblown, and more than an hour late. Thankfully, my manager didn't fire me. He even hired me for another summer. This was remarkable, considering it was a transportation-planning company.
D.C. Vermin
Richard D. Sopp (BA '82, JD '86), El Dorado Hills, Calif.
I served an internship with the Department of the Interior through the Washington Seminar Program in 1981. It was exciting to be in Washington during the first few months of the "Reagan Revolution." The briefings we received from government officials were fascinating, and we learned a lot about the workings of government. We would see events happening around the city and then go home and watch them again on the network news.
Our living accommodations were significantly less thrilling. Presidential Gardens was an old hotel that had been converted into apartments. In addition to my three roommates and me, a colony of cockroaches inhabited our apartment.
One evening a roommate trapped a big cockroach under a bowl on our kitchen floor. We left the bowl there thinking it would be amusing to hear the reaction of our roommates when they turned over the bowl. We were disappointed when both came home but there were no sounds of surprise. The next morning when I went into the kitchen for breakfast, there were three more bowls turned over on the kitchen floor, creating our own cockroach zoo.
The Cog and the Curmudgeon
By Julia Selden Ditto (BA '01), Spokane, Wash.
My summer internship at Newsweek magazine was a dream come true. I lived in New York City and got to sit in on meetings where editors, columnists, and other reporters hashed out the events of the week. It was thrilling for a journalism major like me.
But as a lowly intern in the unglamorous letters-to-the-editor department, I sometimes felt like an insignificant cog in a big machine. My job was to sift through the hundreds of letters and e-mails the magazine received each day and determine which ones we should consider for publication.
One day as I was checking e-mails, I noticed two messages from the same reader. In the first he commented on a recent article. In the second he very grumpily let it be known that he did not appreciate receiving Newsweek's auto-reply in response to his first e-mail and that he was disappointed that the magazine didn't take people's comments seriously enough to have them reviewed by a real human.
I e-mailed him back, candidly reassuring him that his letter was indeed read and thoughtfully considered by a human. His reply:
"What a nice surprise! There really are people who read our outpourings and respond with good humor. I apologize for my cynical attitude. . . . You made my day."
Little did this "certified curmudgeon" know that he had made my day in showing me that, insignificant cog or not, I could make a positive impact on someone's perception of the magazine.
The Teacher's All Wet 
By Jessica M. Bridenstine (BS '09), Provo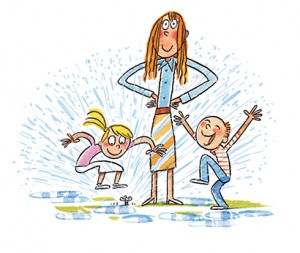 Anyone who has embarked on a BYU internship can remember the lectures telling us that we represent not only ourselves but BYU and, by extension, the Church. I was eager to make a good impression as an intern in a fifth-grade class.
One day at recess time the sprinklers on the far end of the playground unexpectedly turned on. As a mature, professional teacher, I marched over to keep the kids out of the mud. As I was mid-stride and mid-sentence, a geyser of water exploded right at my feet. I was nearly knocked over by the blast of water and got soaking wet. Instead of directing the children out of the water, I burst into giggles as my class laughed and jumped through it. They couldn't take me—sopping wet and giggling—very seriously.
To my chagrin, the incident got back to not only my mentor but the district supervisor. At the time I was terribly embarrassed, but now in my fifth year of teaching I can laugh about my less-than-professional impression.
Home on the Range
By Kari Blair Whiting (BS '99), Bluffdale, Utah
The summer after my husband, Todd, and I were married, it was time for him to pick an internship. He was majoring in construction management, so we decided to join a nonprofit organization to help build cabins for a camp in Smoot, Wyo. We didn't quite know what we were getting into.
We lived in an old trailer without electricity for the whole summer. For water we had a 1,100-gallon tank that sat on a flatbed trailer we pulled behind an old truck. The truck's driver-side door was wired shut, so we climbed in through the window.
In our trailer, the microwave became the only place for food that bugs couldn't get into. Many mornings I'd find ants floating in the milk of my cereal. Often we'd hear scurrying under a cabinet, a snap, and then silence. Each morning Todd would empty the mousetrap and reset it. Every time I climbed into bed, I was nervous that I'd find a little critter joining me.
We did enjoy many Dutch oven dinners, though, and we spent several nights playing games together by an oil lamp. Twelve years later we look back on that time with the fondest of memories. We could have made a lot more money working separately all day and coming home to an actual apartment, but instead we were together in nature—no electronics, laughing a lot, and building our relationship.
A Good Question
By L. Derek Gerber (BS '97), Spokane Valley, Wash.
Physical therapy schools require prospective students to obtain volunteer hours. The summer of 1996, I stayed in Provo to log these hours at a clinic. My typical duties consisted of doing laundry, cleaning treatment rooms, and assisting in patient care. This gave me the opportunity to become acquainted with patients.
A few weeks before this internship, I had started dating a girl named Theresa. We hit it off, and things were progressing quickly. But we hadn't dated for long, and I felt cautious. I barely knew her. We had a DTR (define the relationship) talk, and I told her I thought we should continue dating and wait to see where things led.
The next day at the clinic, I discussed the events of my weekend with one of the patients, relating the gist of the DTR from the night before. As I rambled, the patient interrupted me and asked the question, "What are you waiting for?" I pondered this question over the next few hours and into that night: "What am I waiting for?" Two days later I proposed, and, despite Theresa's utter surprise, she said yes. We have been married for 16 years.