Enjoy works about Eliza R. Snow, Thomas L. Kane, and cultural reinvention. 
If what we choose to read or not to read is, as some claim, a pretty fair indicator of the true nature of our character, here's a sweet character-building deal for you. Reading these three books will enhance your self-confidence; will boost your intellectual standing in your book group, in the car pool, or among elevator companions; and may even (momentarily) quicken the pulse of a nodding brother in church.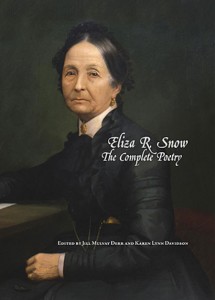 Jill Mulvay Derr and Karen Lynn Davidson (BA '64) are the compilers and editors of Eliza R. Snow: The Complete Poetry (BYU Press; 1,333 pp.; $44.95). Publication of Eliza Roxcy Snow's (1804–87) entire corpus of poetry is a major event in Mormon Studies, as readers can explore the first century of Mormonism as reflected by the mind and verse of "Zion's Poetess." At her death the New York Times rightly called Snow "one of the central figures of the Mormon galaxy" (Dec. 6, 1887). Unquestionably the most important woman of letters of 19th-century Mormonism, Snow was a stalwart leader, promoter of women's rights, and the premier female defender of the faith. She was a plural wife of both the Prophet Joseph Smith (sealed June 29, 1842) and his successor Brigham Young (married for time Oct. 3, 1844), and sister of Lorenzo Snow, the fifth president of the Church.
After her baptism, on April 5, 1835, Snow quickly rose to prominence as Mormonism's own female poet. For the rest of her life, and in a variety of poetic traditions, from neoclassicism (Alexander Pope) and romanticism (William Cullen Bryant) to popular sentimentality (Felicia Hemans and Lydia V. Sigourney), she penned "lofty, high-minded" (p. 1) poetry for every occasion or theme—funerals, birthdays, thank-you poems, abstract poems (on pity, friendship, love, honor, home, patriotism, faith in Jesus Christ), the 24th of July, missionary farewells, homecomings, departed Church leaders, or the latest outrage against her people by the U.S. government. Her poetic forms vary widely, from hymn texts (10 of which, including "O My Father," are in the hymnal currently used by the Church) and children's songs to epics and sentimental newspaper verse. The complete poems demonstrate that while Snow was capable of artistry, her poetry was generally driven by the impulse to affirm and testify of the divine truths of the Restoration. Regardless of the form or the occasion or even the poems' literary quality, the collective impression of these poetic acts is an impressive and valuable array of on-the-spot eyewitness accounts of the first six decades of the Mormon experience.
In this definitive edition of Snow's poetry, scholars Derr (Church history) and Davidson (literature and music) introduce readers to her life and assess both her role as an iconic leader and her accomplishment as a poet. The editors painstakingly collect, annotate, and explicate each of Snow's 507 extant poems written between 1825 and 1887, including the two collections of poems that she published in 1856 and 1877. Grouping the poems into nine chronological chapters, the editors provide carefully researched, well-written introductions to Snow's poetic intertwining of Mormon history and her personal life. By her death in 1887, at age 83, Eliza Snow was a legend among the Saints. In her early years she wrote a poem, "Forget Me Not," which ends with her epitaph pleading, simply, "I would not be forgotten quite" (p. 61). With this impressive scholarly achievement, Derr and Davidson have contributed to the fulfillment of Snow's hope.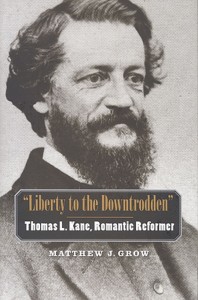 Matthew J. Grow (BA '01), assistant professor of history at the University of Southern Indiana, wrote "Liberty to the Downtrodden": Thomas L. Kane, Romantic Reformer (Yale University Press; 348 pp.; $40) as a doctoral dissertation, drawing on hitherto untapped archival sources to tell the story of Thomas L. Kane (1822–83) and his lifelong commitment as a "persistent advocate" (p. 283) of social reform in the United States. This fascinating biography reminds Latter-day Saints why Kane is revered as the "most important non-Mormon in Mormon history" (p. xx).
Hailing from a prosperous, politically influential Philadelphia family, Kane agitated against the death penalty, mistreatment of prisoners, and slavery (but vigorously opposed miscegenation, fearing the effects of racial mixing on racial purity); he advocated on behalf of peace, women's rights, inner-city schools, Catholic immigrants, and religious minorities—especially the much-persecuted Latter-day Saints.
Kane overcompensated for his diminutive physical stature, hypochondria, depression, and feeble health with a feisty, aggressive masculinity. He became a lawyer, a Civil War major general, and the romantic champion of the downtrodden, adhering to the heroic romantic ideals, code of honor, and chivalry still prevalent in the antebellum South. Prickly and hypersensitive, Kane took offense at any perceived slight of his honor, going so far as to challenge Col. Albert Sidney Johnston, commander of the Utah Expedition, to a duel (p. 177), withdrawing the challenge only after Johnston offered an apology.
It is his three-decade-long intervention on behalf of the Latter-day Saints that has elevated Kane to his legendary place in Mormon history. While many Latter-day Saints know about his successful negotiation of a peaceful solution to the 1857–58 Utah War, most are unaware of Kane's extensive aid to the maligned Saints both before and after the Utah War and the Civil War. Kane first became interested in the injustices being suffered by the Latter-day Saints in 1846 while attending an LDS conference in Philadelphia. Sympathetic with the plight of the downtrodden Mormons, Kane worked with LDS leaders to devise strategies for defending the religious freedom of the Saints, most of whom were encamped in makeshift refugee communities across Iowa and Nebraska. Armed with "full credentials" from President James K. Polk, Kane journeyed to the camps, where he met and persuaded an initially suspicious Brigham Young to accept the president's charge to raise a battalion for the Mexican War. On his return home, Kane's writings in newspapers and pamphlets were instrumental in turning public sentiment in favor of the Saints. Kane lobbied with President Polk to appoint Brigham Young as territorial governor, and he defended the Mormons' right to practice polygamy, though "he personally disdained it" (p. 268).
Although he resisted Brigham Young's attempts to convert him to Mormonism (Kane and his wife, Elizabeth, received patriarchal blessings from the Church patriarch [p. 264]), Kane remained over three decades a close advisor, confidant, and genuine friend of the Mormon leader. Kane and Young often conferred on their shared idealistic vision for Latter-day Saint higher education; on an economic model for a Zion community and the United Order; and about establishing Mormon settlements in Arizona as way stations between Utah and Mexico, in case U.S. pressures forced LDS colonization of Mexico (Kane visited Mexico in 1876 looking for land suitable for LDS colonies). In 1873 Kane prepared a will for Young that prudently separated LDS Church interests from Young's personal estate (p. 272). On learning of Young's death on Aug. 28, 1877, Kane rushed to Utah to assist in settling his friend's estate.
As Kane lay dying, in 1883, among his instructions to Elizabeth were that she "send the sweetest message you can make up to . . . all my dear Mormon friends" (p. 282). Another beloved Mormon friend, George Q. Cannon, said of Kane, "I thank the Lord for raising up and inspiring such a true, undaunted and undeviating Friend to Zion as he has been. He is always ready to do anything and everything in his power for us" (p. 279).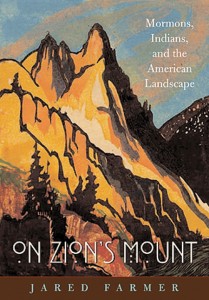 Jared Farmer's On Zion's Mount: Mormons, Indians, and the American Landscape (Harvard University Press; 455 pp.; $29.95) is spritely historical storytelling about reinvention and transformation and the curious cultural shifts which took place as displaced Mormon settlers undertook to make themselves "native" in a foreign land already inhabited by Ute Indians. In establishing their Zion in Utah, the Latter-day Saints reinvented themselves as modern Israel, fulfilling prophecy that the "desert would blossom as the rose." Like other American settlers, they reinvented Native Americans. They also adopted Book of Mormon and Indian place names for their settlements and invested the landscape with new Indian "lore."Farmer, who is an assistant professor of history at The State University of New York at Stony Brook, traces, by means of Utah Valley, how we venerate our invented history while altering or ignoring Native American pasts. He demonstrates how white settlers repeatedly followed this pattern in the settling of America and how made-up history often became accepted national history. In this engaging, witty book, Mt. Timpanogos becomes an intellectual summit from which to survey how Americans have gone about creating a usable past by investing the landscape with manufactured "Indian" meaning, whether it be Timpanogos, Squaw Peak, Plymouth Rock, or the mythical setting for Longfellow's beloved cultural invention, "The Song of Hiawatha."
---
Richard H. Cracroft is BYU's Nan Osmond Grass Professor in English, emeritus.