Tisha Klemetz started interpreting as a child and shows no signs of stopping.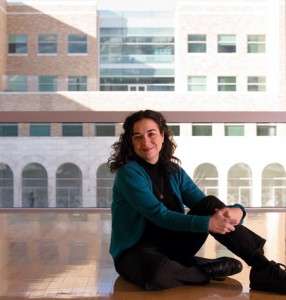 In fall 2005 Leticia Klemetz ('07) was approached and asked if she wanted to translate a children's Bible into Spanish. Her gut reaction was, "Now? Me? Why? I'm not ready for this!" But she was the perfect choice.

Translation is nothing new for Klemetz. "I've been doing it all my life," she admits. Born on the vibrant Spanish island of Mallorca, Klemetz spent her childhood learning foreign words from vacationing tourists and writing letters to more than 30 pen pals. Her mother is Spanish and her father is Scandinavian, which resulted in an unusual educational upbringing for Klemetz, who began attending a Swedish school when she was just 3 years old.

It was there that she had her first translating experience. "My mom doesn't speak Swedish, so whenever there was a parent-teacher meeting at school, I was there doing simultaneous interpretation for her, whispering in her ear whatever they were saying," she says.
Klemetz speaks Spanish, Swedish, and English fluently. After graduating from secondary school, where she learned German, she began taking Italian, and she has studied both French and Biblical Hebrew since coming to BYU.

Over the past seven years, Klemetz has worked for nearly 30 translation companies, converting nearly 900,000 words from English and Swedish into Spanish. She has the translation of nine books to her credit—among them Peter Pan, by J. M. Barrie. But when asked what her crowning project has been thus far, Klemetz does not hesitate to say, "the Bible."

Ever since she began studying Biblical Hebrew, Klemetz had dreamed about someday translating a Bible. Her dream came true when a publisher was looking for someone to translate a children's Bible into Spanish and Klemetz was recommended. After a little coaxing from a professor, she accepted the job and began translation in January 2006. The book is scheduled for publication by Spirit Press in fall 2007.

The Children's Bible Storybook is about one-sixth the length of the King James Bible and is geared toward Latin-American children ages 10–12. Klemetz enjoyed using her knowledge of Swedish and Hebrew to help her when the translation got muddy.

"Whenever there was something weird that didn't quite match King James or the Spanish Reina Valera, I looked it up in Swedish. If I found that it didn't match there either, I would go back to the original Hebrew," she says.

Majoring in linguistics and minoring in Scandinavian studies, Klemetz is also a member of the BYU Honors Program. After her graduation in April, Klemetz plans to head back to Europe, but not just to Spain. "I feel that I'm supposed to go to Sweden," she says. "I've never lived there, and I want to try it—at least for a few months."

Wherever future adventures take her, Klemetz knows that with a cell phone and the Internet she'll always be in the translation business.