---
In a twist on the old Buck Owen's song, "I've Got a Tiger by the Tail," BYU Student Alumni took a cougar by the tail for the cause of hunger and raised more than $3,000 as part of its 2012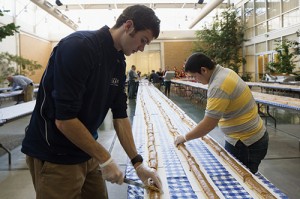 holiday food drive.
BYU Dining Services donated 1,400 feet of its popular maple pastry to create a tail extending a quarter of a mile (plus 100 additional feet for good measure) in the Wilkinson Student Center Garden Court. Anyone who donated a dollar received a five-inch piece, and all proceeds were given to Community Action Services and Food Bank of Utah County.
"Our goal [for the Cougar Tail event] was $3,400, and we exceeded it by $74," says Jared C. Colton ('13), president of Student Alumni. "We were busy all day, especially between classes. We also had parents, who had seen the event advertised in television or newspapers, bring their children for the event."
BYU teamed with Utah Valley University for this year's food drive, which raised $35,472.50 and received 263,706 pounds of food.
— Charlene Renberg Winters
(BA '73, MA '96)