---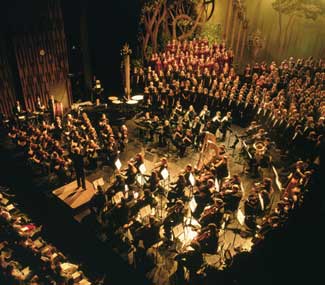 By Charles D. Cranney
The sonorous, reverent voice of poet Leslie Norris narrates the verse as pastoral scenes and peaceful cemeteries come into view and morning birds sing in the distance:

Thou gracious God, for blessings brought,
For all the sorrowing hours have taught,
For all we mourn, for all we keep,
The hands we clasp, the loved that sleep.

We thank Thee Father; let Thy grace
Our loving circle still embrace,
Thy mercy shed its heavenly store,
Thy peace be with us evermore.1 
The BYU Philharmonic Orchestra prelude begins. Suddenly a boom camera rises from below stage and soars over the combined choirs of BYU as they burst into song with Mack Wilberg's arrangement of "Praise to the Lord." So starts Songs of Praise and Remembrance: A Memorial Day Celebration,the last in a triptych of BYU celebratory programs shown nationally on PBS over the past decade.
The new program is scheduled to be broadcast around the Memorial Day holiday this year, and your local PBS station may well decide to show it. More than 200 stations carried the previous programs, A Thanksgiving of American Folk Hymnsand Celebration of Christmas.Audiences have resonated deeply with these performances, and hundreds have responded with heartwarming letters of praise and thanksgiving.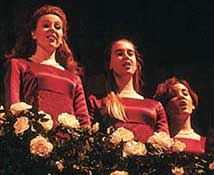 To see the singers emotionally involved made it more meaningful. I have never heard a more beautiful intertwining of lyrics, melody, singing, and arranging before. I lost all control of my emotions and wept for an hour.
—FROM WISCONSIN

It's not just the power of music that has touched people, suggests series director David T. Warner, a former BYU assistant professor of music and now cultural arts activities director for the Priesthood Department of the LDS Church. It's something much deeper.
"The students are moved by the teachers. The teachers are moved in their composing and conducting by the students. The technicians are moved by both. All are moved by the music and in response to the audience that will see it. The audience is moved because they've been reached out to. And the Spirit sanctifies the whole experience. So you can't really point to anything as a cause. You feel when you're participating in something like this that it's not only bigger than you but that it's a returning to something that's deeply familiar. This feeling of being knit together. This feeling of being one with one another."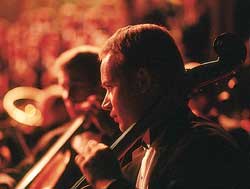 Dennis J. Packard, a BYU professor of philosophy whose forte is philosophy of film, served as consultant for the first broadcast and producer for the last two. His and Warner's study of great filmmakers, particularly those with religious conviction, has helped to create an underlying vision for the series.
Referring to the filmmaker Jean Renoir, who said, "I can only make a film with a group of my friends," Packard comments that "when there are those friends, there is energy that occurs between people working together." Watching Packard and Warner, one senses that little of their time is spent pushing their creative vision. Instead, they try to be inspirational friends and fellow citizens with everyone involved, creating an atmosphere of anticipation and energy, allowing the finest work and vision to come from all, magnified by the Spirit.
"I've seen films produced where, for example, the sound technician and various others are bored. They're unengaged," says Packard. "The way David and I like to work is with everybody on their toes, watching and rooting for the people that are on. It becomes very intense."
Such filming is not easy, says Wilberg, former BYU professor of music and now associate conductor of the Mormon Tabernacle Choir. "It's a lot of work," he says. "It was emotionally challenging."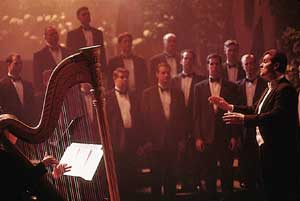 This is the first "fan letter" I have ever written, but I am compelled to do so. . . . My wife and I listened twice in succession. Some simple terms can be used to describe our reaction: goose bumps, spiritual elevation, tears, or, in the words of younger folks, awesome.

—FROM CALIFORNIA

"The first thing we did," says Packard, "was select music that would be significant and motivating to the singers and the audience. We didn't start with a theme, but let the theme emerge out of the music."
"We're doing a lot of music that has been particularly successful and meaningful over the years," says Wilberg, "and we have a desire to share that with a wider audience." Wilberg and Ronald J. Staheli, music professor and director of University Singers, have been the guiding musical force for the three productions and have composed most of the choral arrangements. Those arrangements, many now favorites of choruses across the nation, were empowering to theBYU students during the rigorous production days.
I am now 72 years old and have heard professional orchestras and choral groups all my life, but I have never heard such professional excellence and such sincere dedication as I heard in this performance. Truly, this rare experience was uplifting for the soul.
—FROM GEORGIA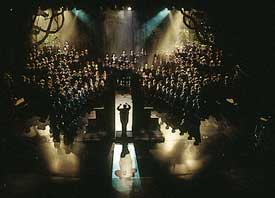 During the filming of Songs of Praise and Remembrance,tenor Robert Lochhead of the University Singers explained how one particular song helped him stay centered on the message. "This whole week we're putting in 20 to 30 hours—on top of jobs and school and finals. It's a lot of work. Sometimes it's a challenge doing it over and over again. It's tough because you have to do everything every time—eyes, gestures, posture," says Lochhead, whose wife, Erin, is also in University Singers. "But it is easy for me on 'Peace Like a River.' Erin and I both have uncles who are young and dying of cancer. There is a joy transcending the pain because of the hope of life and salvation after death. That hope and belief overcomes the pain and sorrow. Every time I sing it, I feel like I'm communicating to the audience."
Professor Staheli arranged "Peace Like a River," a traditional hymn, shortly after his son and two friends, all newly returned from missions, lost their lives in a tragic car accident.
"If music is going to be a compelling force at all," Staheli says, "it has to have a real spiritual quality, a spiritual depth about it—even if the music is not sacred in nature. For that reason I strive to get the students to internalize as well and as early as possible the meaning of the music and the meaning of the text. "Then it will become something compelling rather than something just to titillate the ear."
The sound is as if it were written by God, arranged by the Holy Spirit, and sung by the angels on high.

—FROM NEW MEXICO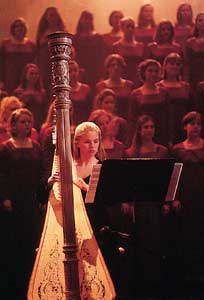 At a special fireside just 10 days before filming Songs of Praise and Remembrance,the performers resolved to prepare themselves spiritually as a group of unified believers. So now, as the viewers see and hear the combined choirs and orchestra of BYU, beautifully adorned both physically and spiritually, they may well repeat the words of Emily in David Copperfield:"When I find what you are . . . , I think of what God must be, and can cry to him."  
---
EDITOR's NOTE: KBYU's Web site [https://www.kbyu.org/songsofpraise] lists a national broadcast schedule for Songs of Praise and Remembrance, or you can contact your local PBS station for scheduling details. Further information, including media clips of the performance, can be found on the Internet [https://celebration.byu.edu].

NOTES
1. Adapted from Oliver Wendell Holmes, "Thou gracious God whose mercy lends," English hymn.
2. Charles Dickens, David Copperfield(New York: Random House, 1950), p. 828.