---
Behind the scenes or center stage, Jerry Elison has shaped Utah Valley theater for six decades.
During the Great Depression, Jerry H. Elison (BA '52, MEd '63) frequently searched for pennies in sofa cushions and the seats of the family car. Whenever he collected 10 copper coins, he used them to attend high school musicals with his classmates.
"We didn't really have money, and if I could not scrape up a dime, I would be forlorn and have to stay home," he explains. "I cannot remember a time when I didn't love theater."
Neither can anyone who knows him. Even as a child Elison produced shows. He recruited neighborhood children to play the parts and then took the show on the road—to his elementary school. At BYU he studied dramatic arts, play production, and English under the guidance of the legendary Kathryn Bassett Pardoe (ND '34), whom he adored.
Elison and his wife, Barbara Neeley (BA '56), taught in Idaho schools until 1958, when they returned to Utah for Elison's master's degree. He taught in Utah elementary schools for 18 years and junior high and high schools for 23 years. He became the first public school teacher nominated for the Utah Educators Hall of Fame.
At Orem High School he brought debate teacher Sydney Samuelson Riggs (BA '68, MA '69, BA '91) into the theater program, and after presenting Brigadoon to a sparse crowd for the Orem Boosters, they wheeled the set to the SCERA Center for the Arts, and the show proceeded to sell out. Three decades later Elison is still playing to full audiences there.
Spending much of his time in educational theater, Elison has cast thousands of children (and a generous number of adults as well) in hundreds of plays over six decades. Most recently, he directed Fiddler on the Roof at the SCERA in summer 2012. His cast of 60 was small for an Elison play.
"I like to give everyone an opportunity," he says. "I see theater as a wonderful way to make friendships and establish connections. I make sure everyone knows everyone else's name, because it matters."
"I have loved Mr. E., as people like to call him, since the 1960s, when I was in his drama class," says Lesa D. Pulham ('86), administrative services manager at the SCERA. "Not only is he absolutely delightful, I love how he puts entire families in his show. Many of them return year after year to audition. If we could afford more costumes, he would have even larger casts." Elison has been at the SCERA for 27 years and also worked and performed for Sundance Summer Theatre for 25 years, working with Jayne Luke (BA '76) and the late Dee R. Winterton ('64). He recently sang in The Secret Garden, crediting long hours of vocal coaching from his sister Ina Lou Elison Cheney (BM '56) for his ability to do it.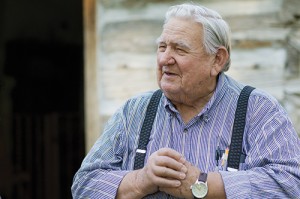 Elison holds a special place in the hearts of many children—even though some of those children are now early senior citizens. "It always breaks my heart to turn a child away," Elison explains, "so I try to find a way to use them."
One of those "children" is Eric A. Fielding (BA '74), BYU theatre professor emeritus and a freelance set designer. "I can trace my career in theater back to his sixth-grade classroom at Sharon Elementary. I was blessed to have been one of literally thousands of students whose lives were touched and transformed by Jerry. I thank him for encouraging and nurturing my interest in the arts and providing me with opportunities to get personally involved during that critical period when I was exploring possibilities for my life."
— Charlene Renberg Winters (BA '73, MA '96)