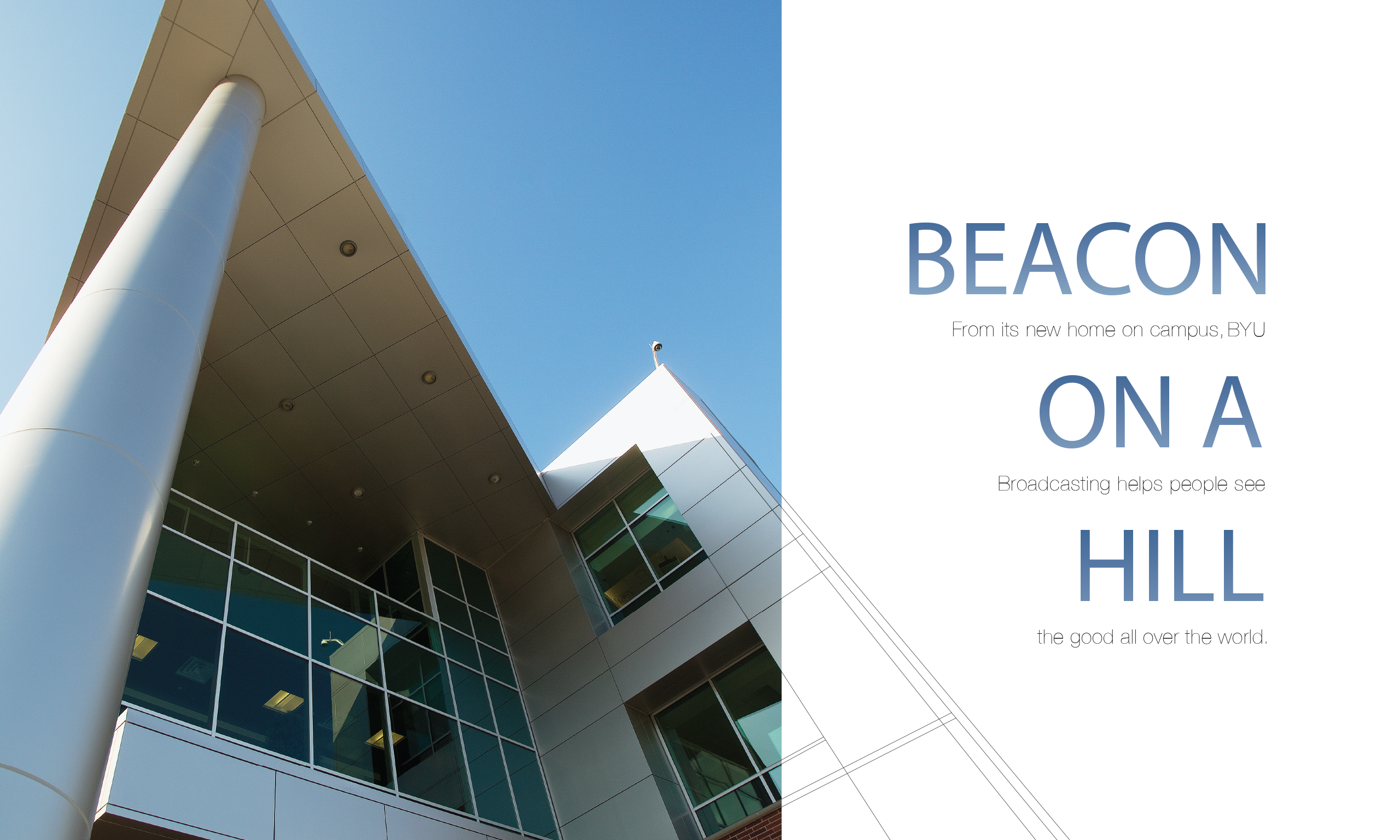 From its new home on BYU campus, BYUtv and its sister stations help people everywhere see the good in the world.
---
By Lena M. Harper (BA '07) in the Fall 2011 Issue
Backed into a low hill adjacent to the Marriott Center stands a modern structure of red brick, glinting metal, and curved glass. The sleek exterior catches the eyes of passersby on University Parkway. What goes on inside captures the attention of viewers worldwide.
Yet the five television channels and two radio stations that originate in the building are envisioned to do more than simply garner notice. The goal is to better lives by helping viewers "See the Good in the World"—BYUtv's new tagline. The motto—and the newly dedicated BYU Broadcasting Building—emanate from BYU Broadcasting's mission to inspire people everywhere to see, do, and be the good in the world. Whereas the old tagline, "Keeping You Connected," grounded BYUtv to campus, the new vision extends far beyond Provo, seeking a worldwide audience of all faiths and views.
The reach of BYUtv is already expanding. After more than 10 years the university's television station is on the charts—with enough viewership in recent years to show up in TV rating systems—and members of the Church aren't the only ones watching.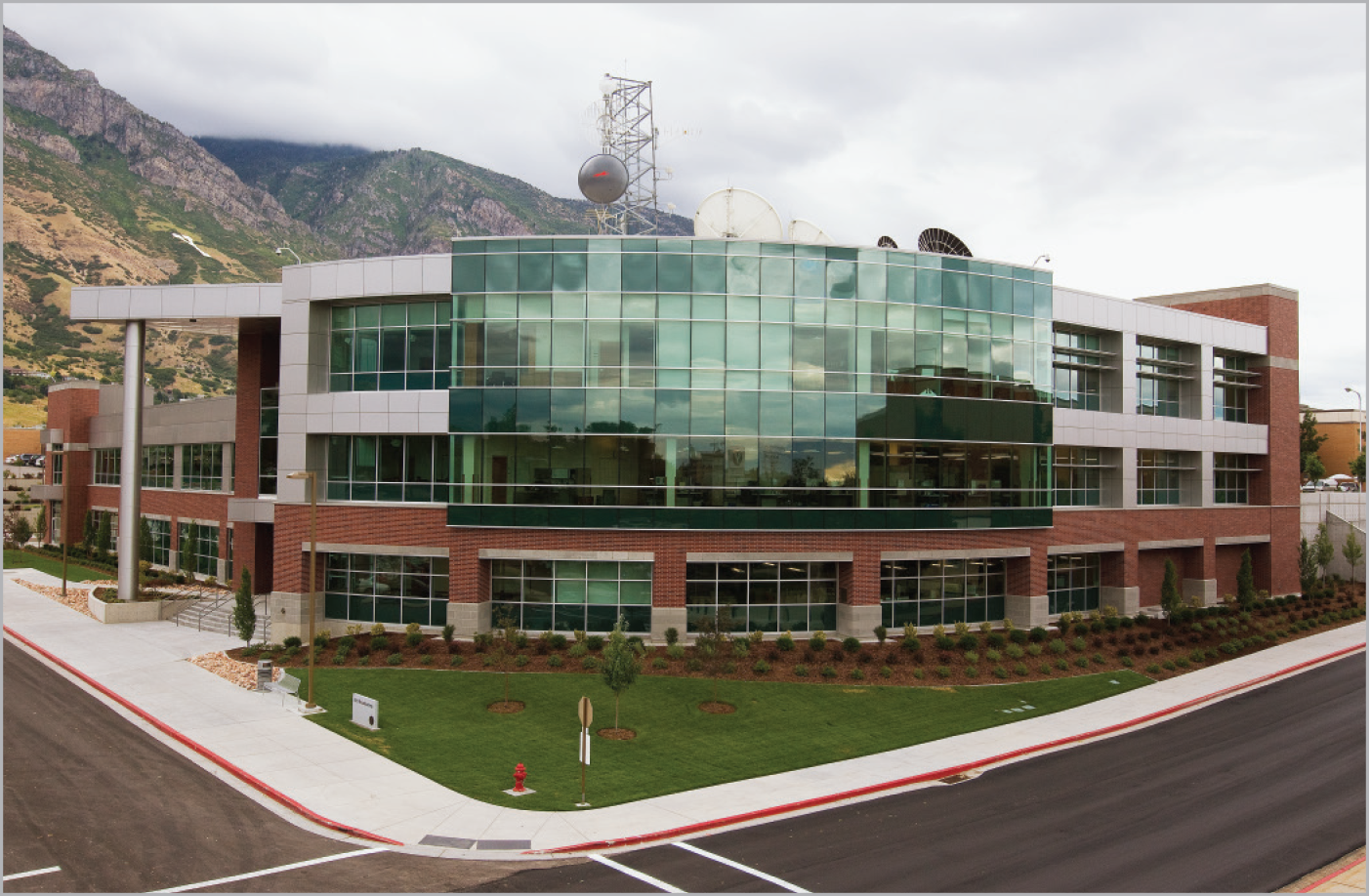 Consequently, BYU is creating new content that will appeal to a broader audience. "We may not always share doctrine with those of other faiths," says Derek A. Marquis (BA '88), managing director of BYU Broadcasting, "but we certainly share the same values."
This fall, BYUtv will start filling its prime time with 10 new and original value-driven television series—a feat made possible by the new building's top-of-the-line equipment, three recording studios, audio and video editing space, and production control rooms. Indeed, the building came about in a large measure because of the need for facilities that could support such programming development.
BYU Broadcasting is taking on a lot in its endeavor to create original content. Marquis says that other cable channels produce around 400 or 500 hours of new programming each year; BYU is aiming for about 1,000 hours. All the time, effort, and money involved in such a huge undertaking—not to mention the construction of a new 100,000-square-foot building—is justified, says Kevin J Worthen (BA '79), vice president of advancement at BYU. "People will continue to watch TV and consume media," he says. "If you can use it in such a way that it enlightens them and edifies them and makes them better rather than the opposite—which happens so often—it's clearly worth it."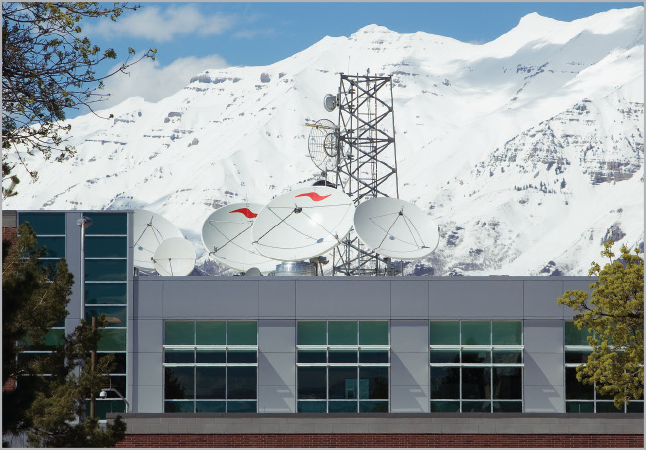 Looking Back, Stepping Forward
In 2000 Dish Network offered BYU Broadcasting its own satellite channel with more time for original content. For nearly 40 years BYU had broadcasted KBYU, a local PBS channel. Thrilled with the prospect of a nationwide audience and more airtime for BYU-related content, the university began broadcasting BYUtv out of an old warehouse in south Provo. Without facilities or staff to create much new content, BYU loaded the channel with preexisting BYU- and Church-related programs, from devotionals and general conference to concerts and sports. It was refreshing content, and it was warmly received by Church members and others nationwide.
However, some, like donors Rex G. ('62) and Ruth Methvin Maughan (BA '60), thought the channel had potential to reach and inspire a broader audience—it just needed more compelling content. But better content could only come with better facilities. President Cecil O. Samuelson asked the Maughans to head up the fund-raising for a new building. "We thought this could go all around the world," Rex says. "This is the way we're going to spread the gospel."
In preparation, Derek Marquis and Stephen M. Jones (BM '83), dean of the College of Fine Arts and Communications, along with a few others, visited successful broadcasting studios, including those of Discovery, Turner Broadcasting, and Atlanta Public Broadcasting. They selected features from each studio to create a tailored design that would allow for not only functionality but also growth and student mentoring. "In the end we felt that, without being extravagant, we could create a progressive, modern, and technologically solid facility that would last us a long time," says Jones.
Elder M. Russell Ballard presided over the groundbreaking for the building in May 2009. "I don't believe any of us really realize what we're starting here today," Elder Ballard said before the shoveling began. "In my vision and my feeling, this broadcasting effort from Brigham Young University has the potential of being the voice that will be heard around the world, that will be the voice of the Lord, that will take head-on the contest that is going on in the world between good and evil."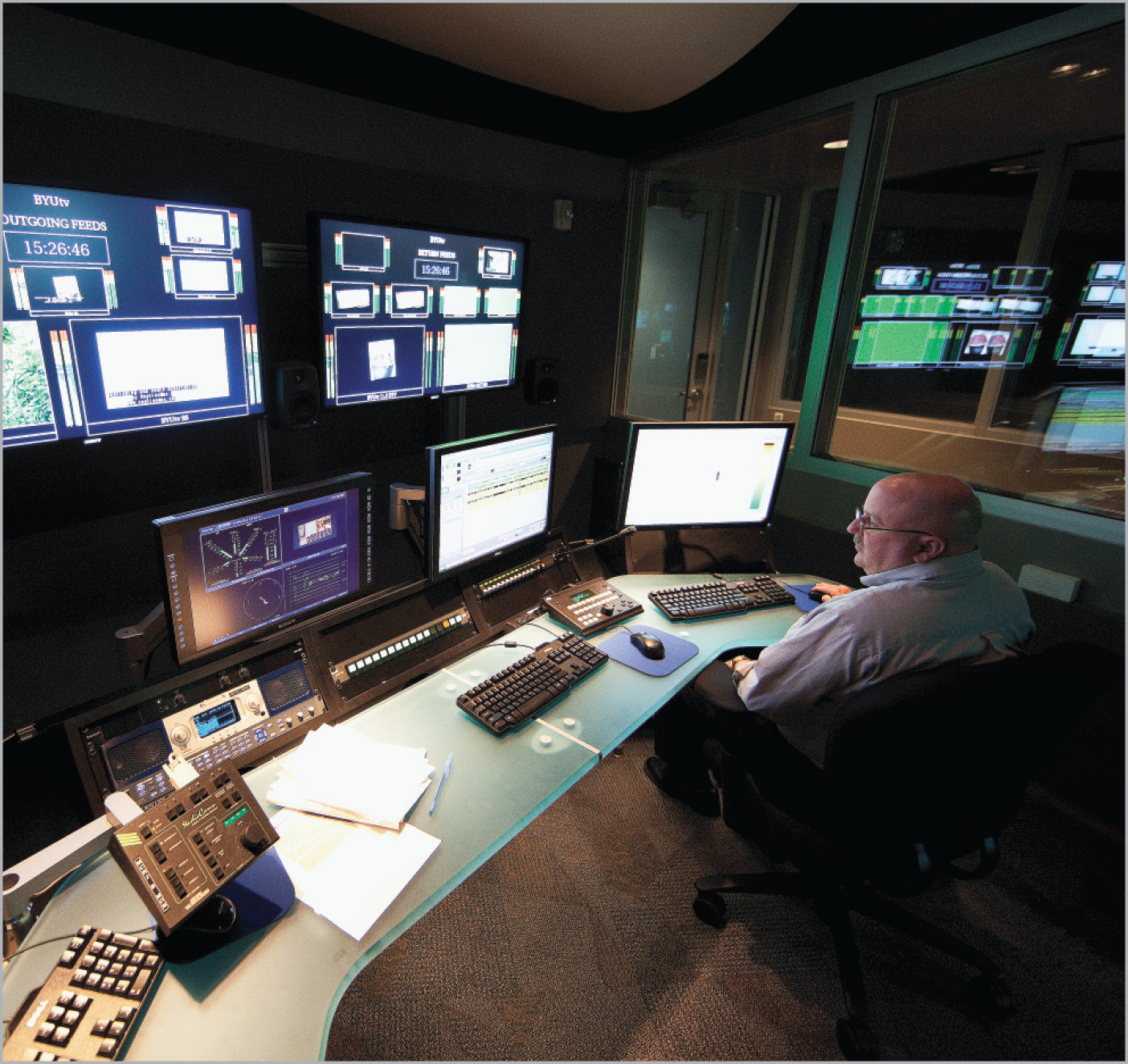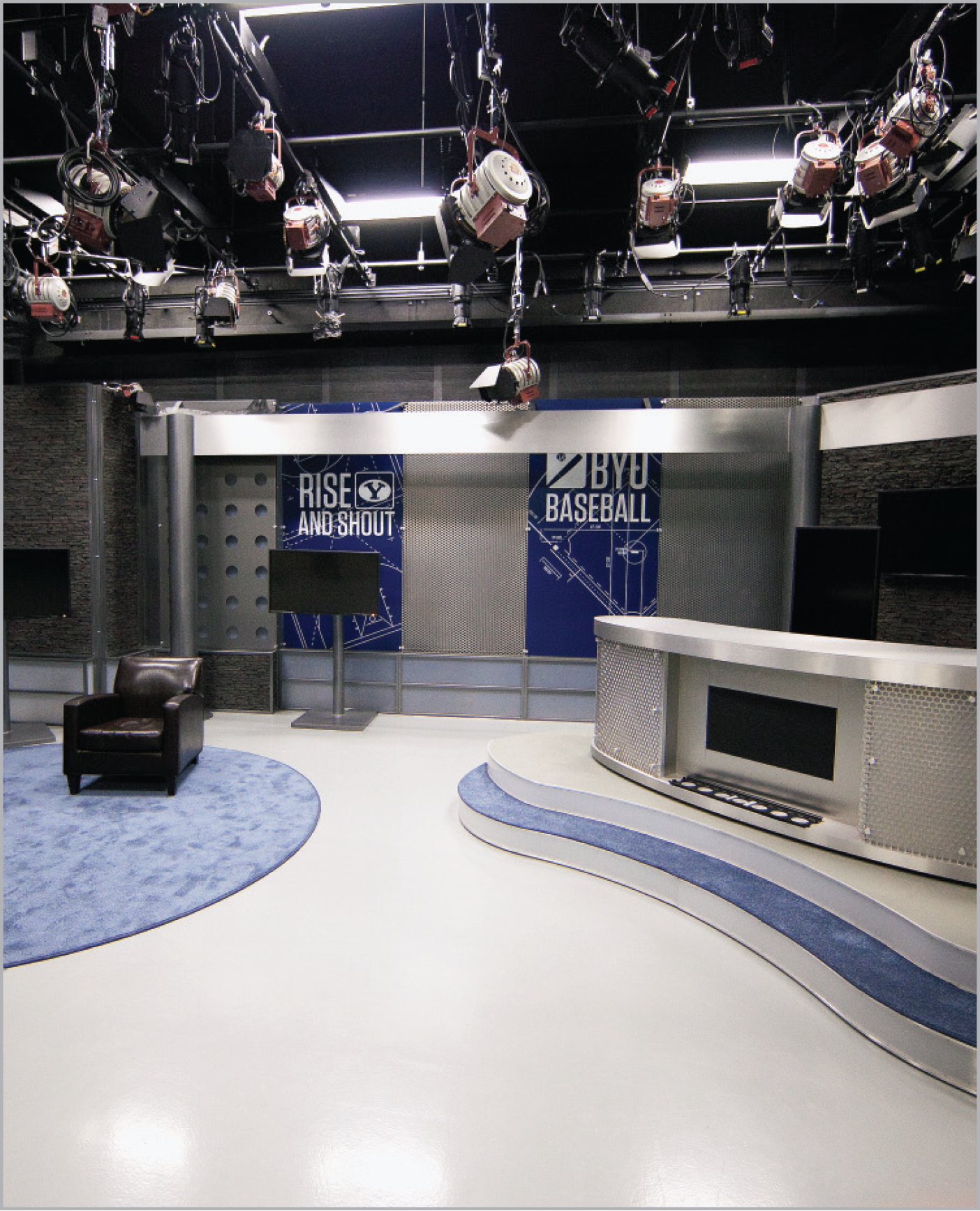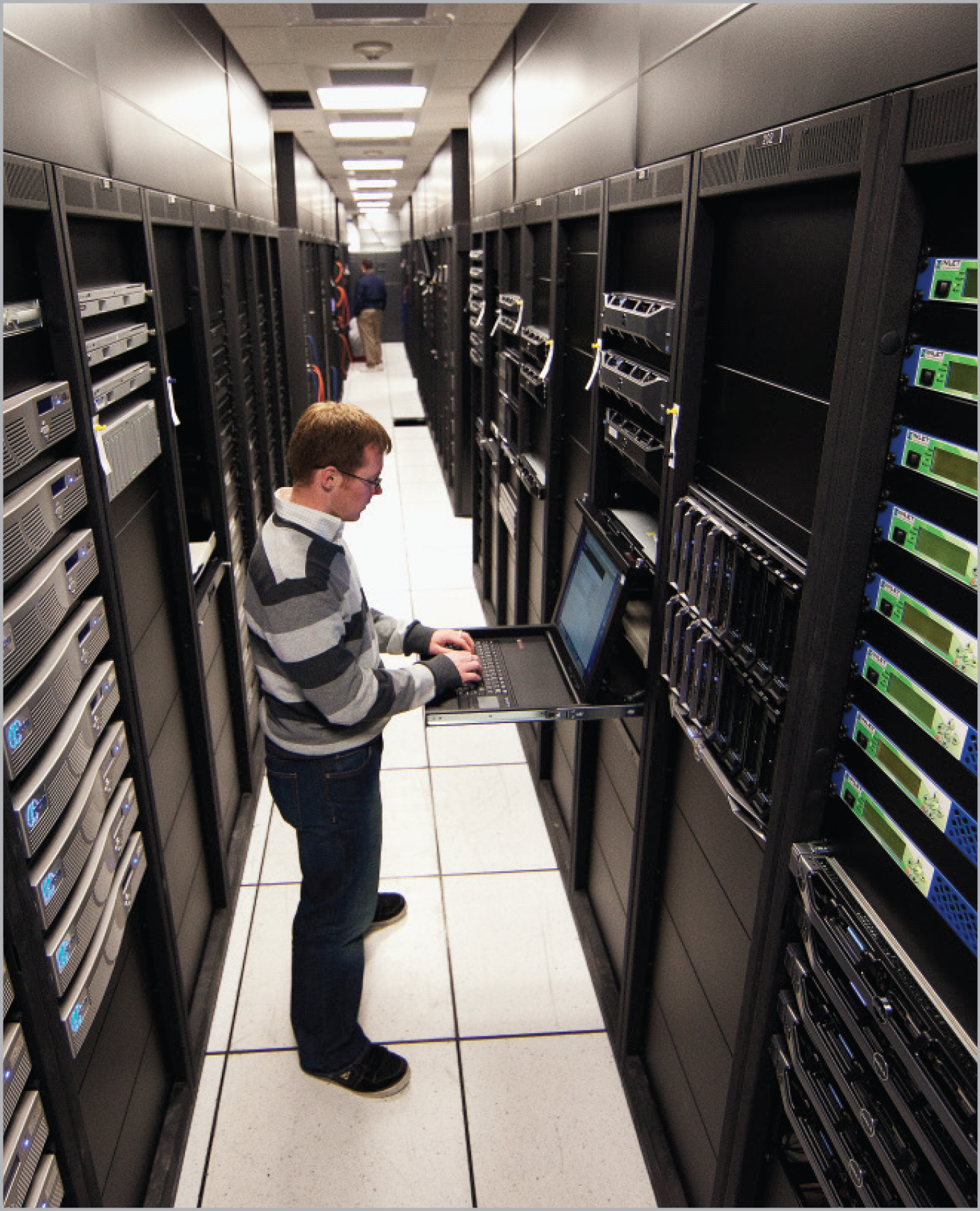 See the Goods
Less than two years after the groundbreaking, the Broadcasting Building came to life with the buzz of media and technology. The building's blueprints actually underscore the new See the Good tagline: designed with a theme of transparency and visibility, the structure invites visitors to see the good work going on inside.
The entrance opens up into a three-story atrium with a sleek staircase extending up into the space. Through a rounded glass wall to the right sits the master control room, where signals for BYUtv, BYU Television International, BYU Radio, and others are sent out. Patterned after the Discovery Channel's circular control room, it has become the fishbowl of the building, allowing visitors a glimpse of the building's heart. "There's something exciting about coming in the entrance and figuratively seeing the exit of the product at the same time," says Jones. Similarly revealing windows are found throughout the building, exposing recording studios, production control rooms, and production studios.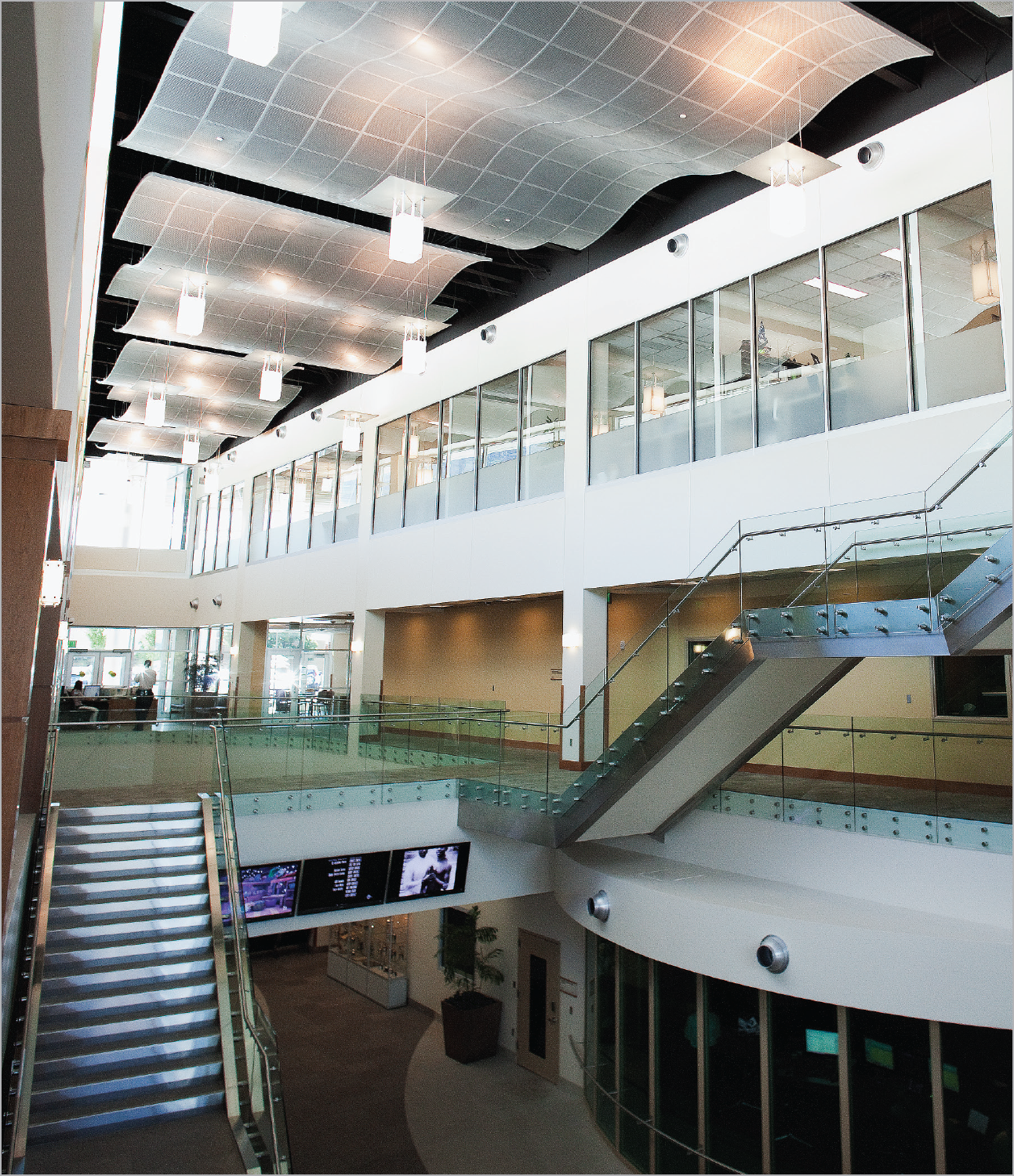 BYU Broadcasting is about more than just seeing—it's also about listening and participating. Up one flight of stairs is the home of BYU's radio stations, BYU Radio and Classical 89. BYU produces a wide variety of radio programming—including the talk show Thinking Aloud—in its on-air studios and in a performance studio big enough to accommodate a small choir or a few student musicians. "BYU Radio provides a platform for us to reveal and share the campus in a way that we can't on television," says Marquis, who started his career in radio.
The primarily online station launched in 2002 but was recently given a spot on SiriusXM Satellite Radio. BYU Radio is now available to a national audience of 20 million subscribers and will put out more than 5,000 hours of BYU-related content each year. "BYU has never had that kind of national exposure," says Marquis. "That's a big deal."
BYU sports broadcasts have also become a big deal. Owing to the new facilities, athletic conference changes, and a 51-foot-long HD production truck (which sleeps in a customized three-truck garage attached to the east side of the building), BYU fans and opponents will have unparalleled sports-viewing access. BYUtv will feature around 100 live sporting events in the next year, plus sports rebroadcasts (including ESPN-carried games) and sports-related content.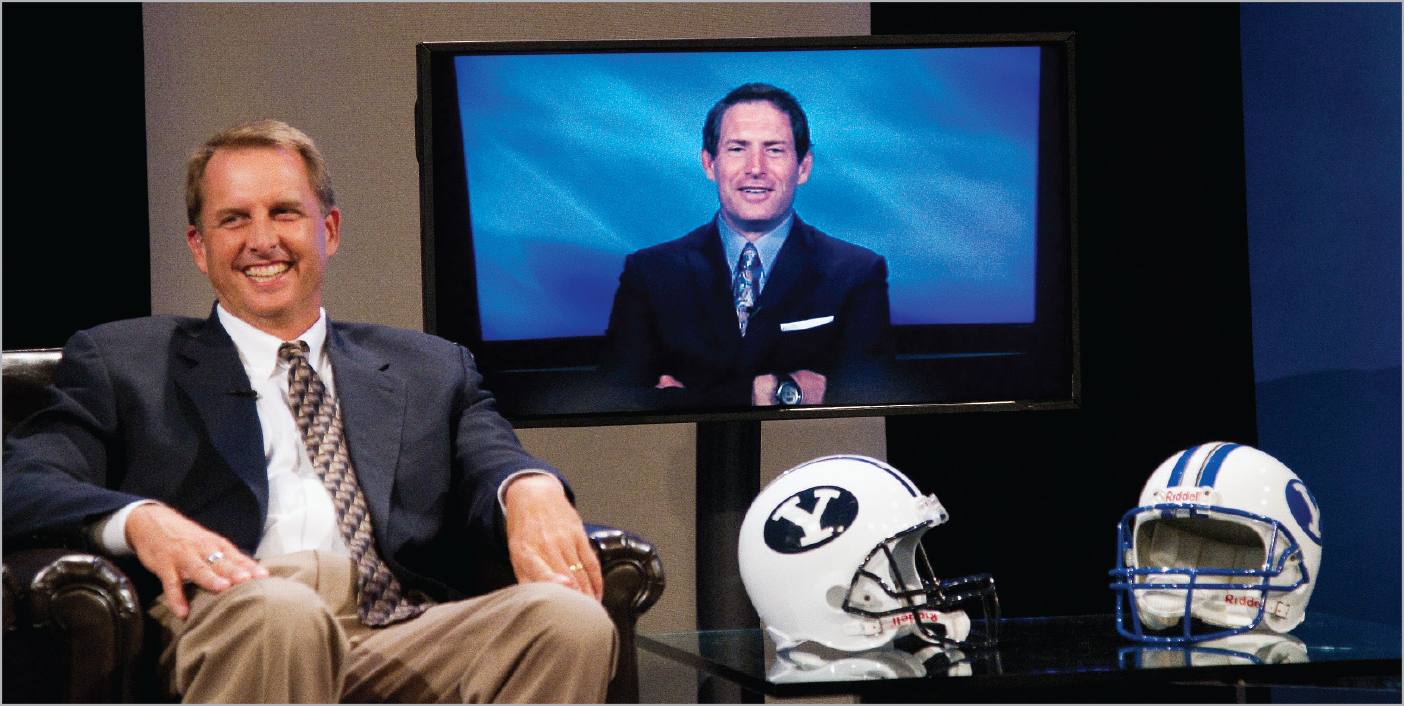 BYU sports are returning the favor by bringing in viewers. The announcement that BYU was going independent in football was what Scott H. Swofford (BA '79), director of content at BYU Broadcasting, calls a lightning strike for BYUtv. "It brings everyone to the channel," he says. "Pretty soon you build an audience because of that attractant that comes from sports." With the improving content, BYU Broadcasting hopes to keep those sports viewers. Swofford tells of one such viewer who left a comment on BYUtv's website. He wrote, "I loved the game. Hope my wife doesn't catch me watching the Food Nanny episode that follows."
All that BYU Broadcasting is doing would be impossible without its 250 student employees. They are secretaries, security officers, interns, camera crews, and film editors. The building was especially built with these students and the associated mentoring in mind. "There are spaces in the building where we could do the work that we're charged with doing in a smaller space," says Marquis, "but we made it intentionally larger in order to accommodate the number of students that need to have a mentoring experience."
In fact, students do a large portion of the day-to-day work in the studios. In mid-July CNN needed to interview Larry King for Betty Ford's funeral. The television and radio host was in Utah at the time, so BYU Broadcasting hosted King in the largest of its three production studios—capable of holding four separate, assembled sets—and provided the satellite uplink to CNN. For the broadcast, students operated the cameras and manned the control room, with the help of a few full-time employees.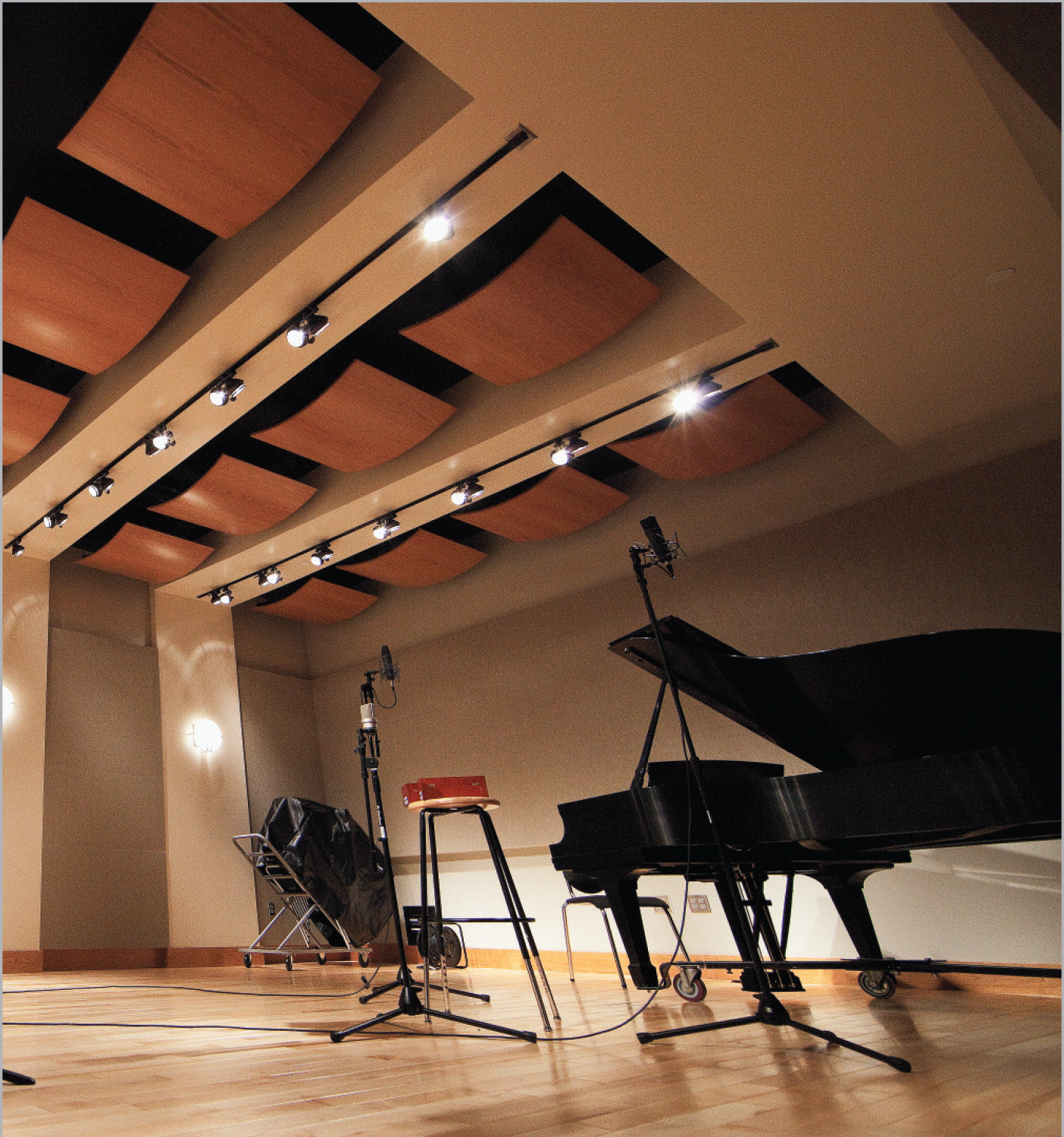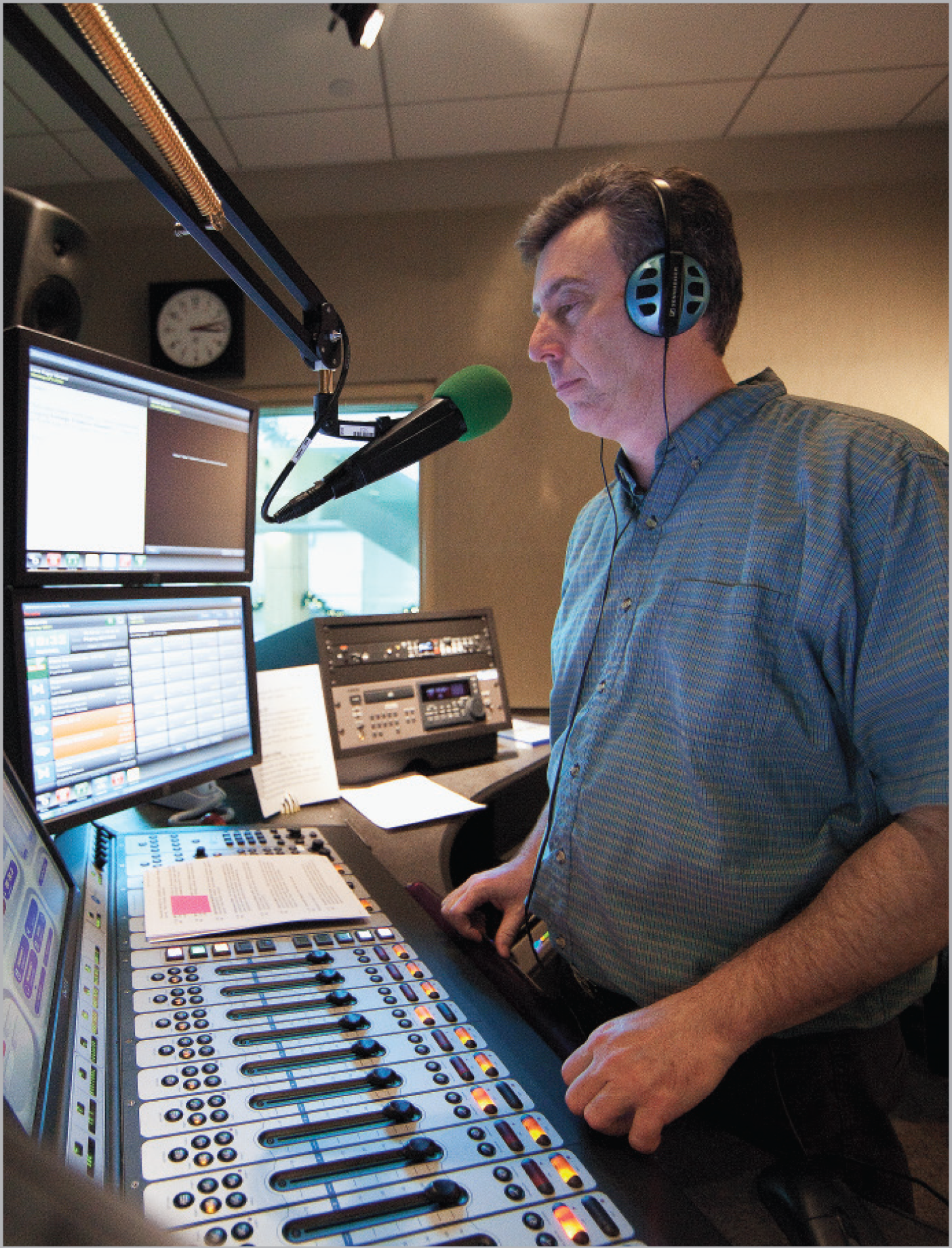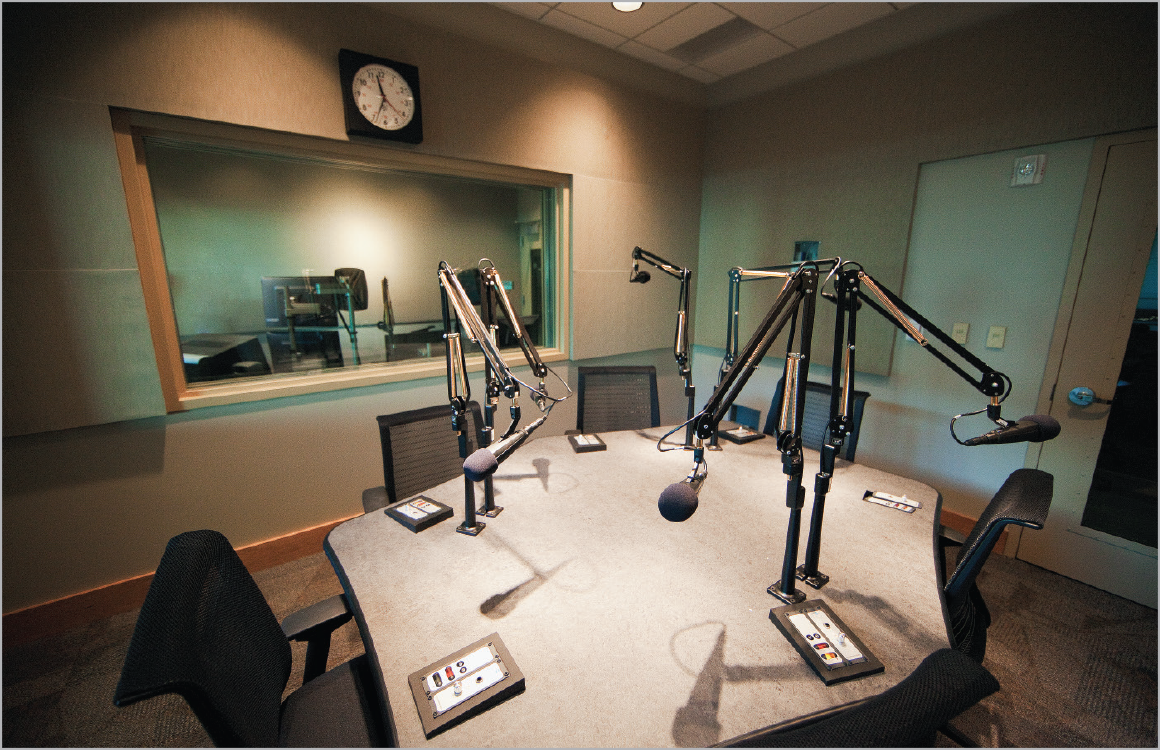 Opening Eyes to the Good
In the early afternoon of Aug. 12, the Broadcasting Building's Studio C filled quickly as donors, employees, and friends of the university gathered for the combined dedication of BYU's Information Technology Building and Broadcasting Building. BYU built the studio with retractable stadium seating to accommodate live audiences up to 250, with the intent of bringing a sense of vibrancy and interaction to whatever is occurring on the stage. As the program began, several camera operators moved discreetly on the set. Video and sound technicians and other crew members worked silently in a booth above the seating and in a control room down a back hallway, broadcasting the dedication to another room in the building and to a large audience in the Information Technology Building, an 81,510-square-foot building situated a half-mile to the west on University Avenue.
Onstage with President Cecil O. Samuelson were President Henry B. Eyring, First Counselor in the First Presidency of The Church of Jesus Christ of Latter-day Saints, and Elders Russell M. Nelson, former BYU president Dallin H. Oaks (BS '54), and M. Russell Ballard, each a member of the Quorum of the Twelve Apostles and the BYU Board of Trustees.
President Samuelson spoke about the good that will come from the new facilities. "The emergence of BYU Broadcasting has been dramatic and positive for the university but also for the Church," he said. "In addition it has become an important blessing for millions throughout the world who yearn and search for media content that is decent, praiseworthy, and uplifting."
At the end of his pre-dedication talk, President Eyring spoke of a responsibility and challenge that comes with new technology, especially for BYU: "If . . . our broadcasting equipment does not improve the lives of others, serve to [advance] God's children's education in both temporal and spiritual knowledge, and help bring them home to Him, we have missed the mark."
That ability to serve and improve lives is perhaps the greatest reason for the new building and the BYUtv content change. "Some years ago we began realizing that BYUtv could be a really valuable tool for talking to those not of our faith," says Swofford. Though Swofford is relatively new to BYU, he is not new to the challenge of tailoring content for a worldwide audience. He hails from the missionary department of the Church, where he oversaw the creation of the "I'm a Mormon" campaign. "We learned that if you're going to give a media message that dispels myths and exposes this culture to the outside world and makes it relevant, the greatest asset is the lives of our members."
With the help of Brigham Young University's newest beacon on a hill, BYU Broadcasting aims to do just that— dispel myths while helping viewers see the good in BYU, the Church, and the world. President Eyring echoed that objective when he said the BYU Broadcasting Building has been built "to take advantage of the wonderful and miraculous technology that will allow the university and the Church to reach the hearts and the minds of members and friends across the globe. Technology can and does bless lives."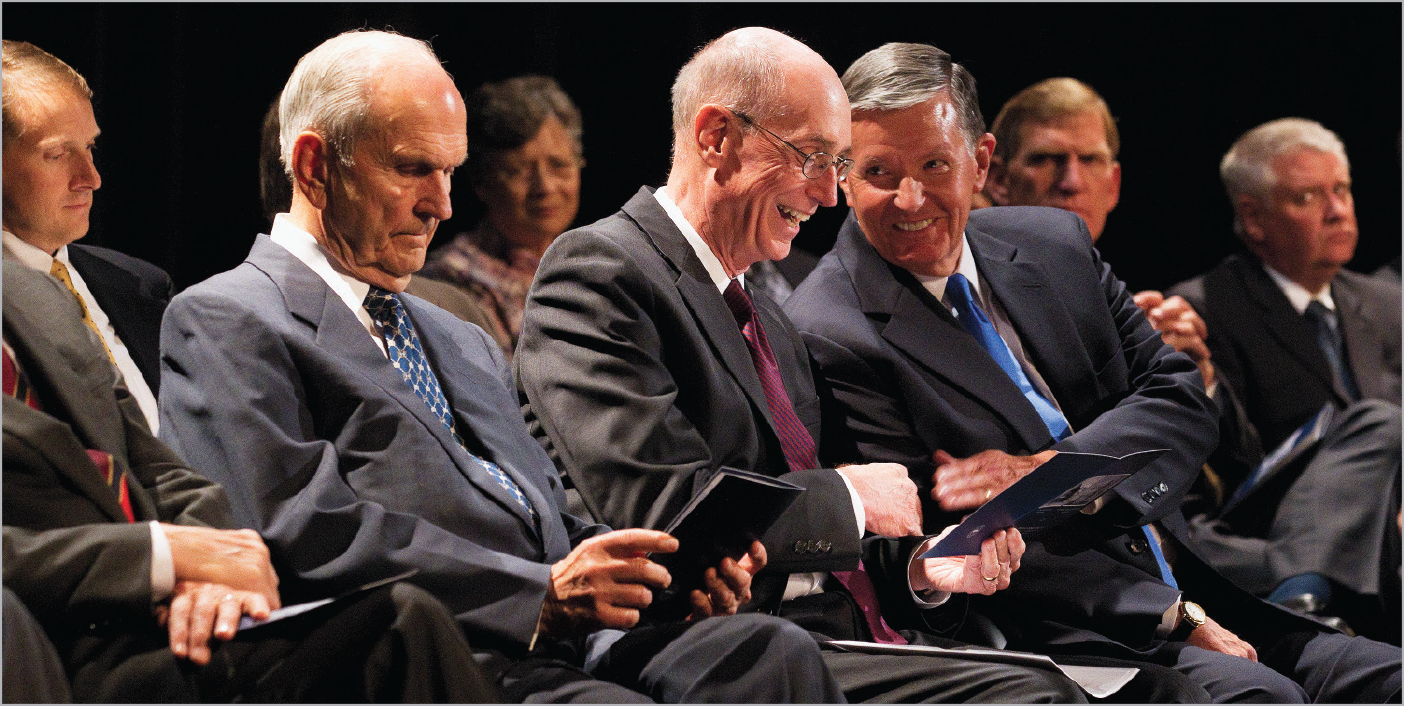 ---