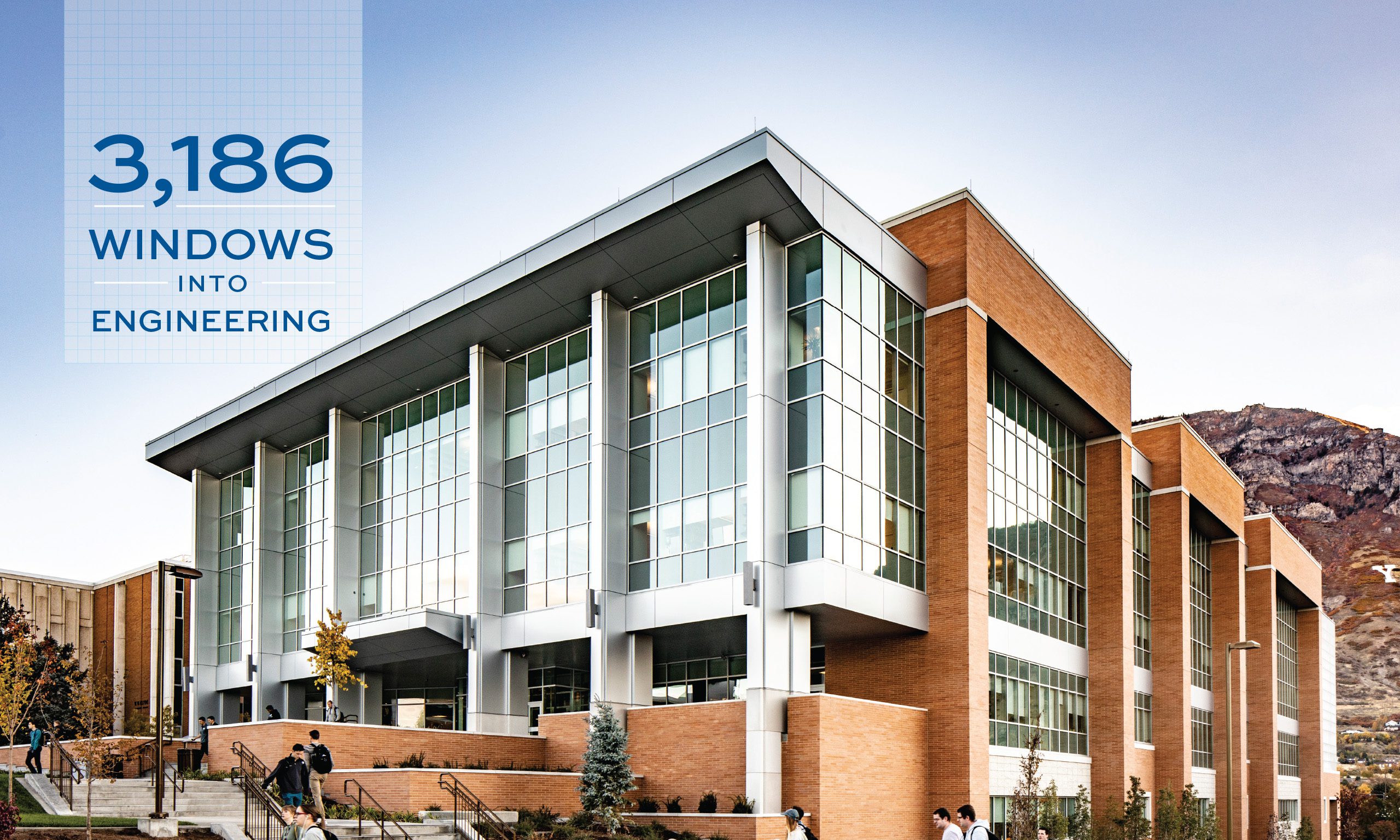 BYU's gleaming new Engineering Building brings innovation into the light.
---
By Peter B. Gardner (BA '98, MA '04) in the Winter 2019 Issue
Photography by Bradley H. Slade (BFA '94)
Sometimes it's tough to see beyond the cinder-block box of your office walls.
Windowless rooms deep within a dimly lit hallway labyrinth don't exactly invite expansive visions of the future. Big ideas cramped in outdated spaces were the norm for BYU faculty housed in several of the Ira A. Fulton College of Engineering's faithful, if aging, fleet of buildings: a structure enigmatically named B34 (originally built in 1952 to serve as a rifle range); the quirky combination of corridors and stairwells that is the Fletcher Building (1953); and the workhorse Clyde Building (1973). In the 46 years since the Clyde Building opened, the college's student population has tripled as its offerings and research labs have proliferated.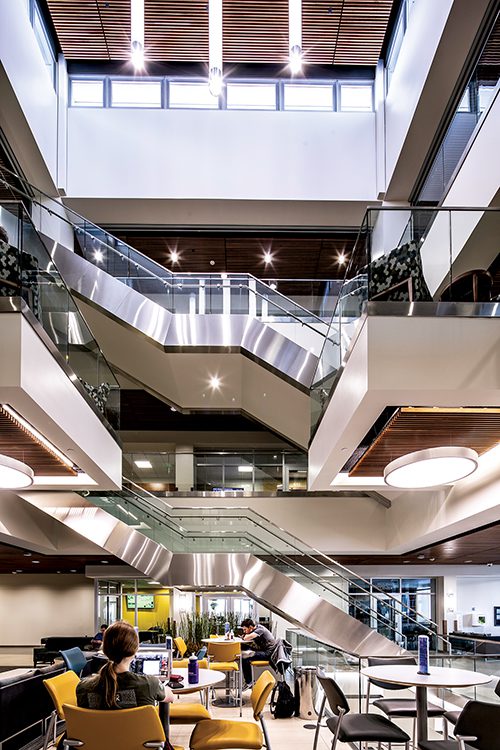 Beginning last fall, the Clyde Building is now linked at the hip (via sky bridge) with a gleaming new structure—a five-story, 180,000-square-foot building where inspiring views can't be avoided. Simply named the Engineering Building, the college's new donor-funded digs are all about looking out onto the world—and letting the world look in.
College assistant dean Jim L. Trent Jr. (BS '94) jokes that engineering faculty moving into their new homes are "like bats coming out," not quite sure what to do with light pouring into their offices through picture windows. And yet, good as the views are outside, Trent says he's especially stoked about a building design that exposes the brilliance within. "Engineering is a unique industry because it is so visual," he says, lamenting that much has long been hidden behind brick, concrete, and sheetrock. "Nobody ever sees it."
But in the new Engineering Building, the work of BYU's tinkerers, crafters, makers, programmers, and builders is on display for all to see.
Rooms with a View
Taking a stroll down the hallways of the Engineering Building's first level—dubbed the "innovation floor"—visitors are sure to get an eyeful.
In one corner a 10-foot-square window invites gawking at real-time drone research. With the agility of hummingbirds, BYU-programmed crafts flit up, back, side to side—each movement triangulated to the millimeter by a halo of ceiling-mounted infrared cameras. BYU researchers have trained their quadcopters to deftly—and autonomously—navigate obstacles using a simple camera, no need for GPS or other high-tech sensors. The research is good for unmanned aerial vehicles when GPS is spotty or jammed. And it's good for spectators, be they grad students watching from computers behind protective glass or youth groups on tour.
Doctoral student James S. Jackson (BS '15) says the new visibility is fun, if a little nerve-racking. "We are flying prototype code, and sometimes it doesn't behave as we expect"—which is to say, the drones crash.
Engineering professors Randal W. Beard and Timothy W. McLain (BS '86, MS '87) have been perfecting these moves in the Multiple Agent Intelligent Coordination and Control (MAGICC) Lab for years, but their Fletcher Building flight space—one-third the height of the new room—cramped their style and messed with air-flow patterns. The new space is letting them spread their wings—or, rather, quadcopter blades.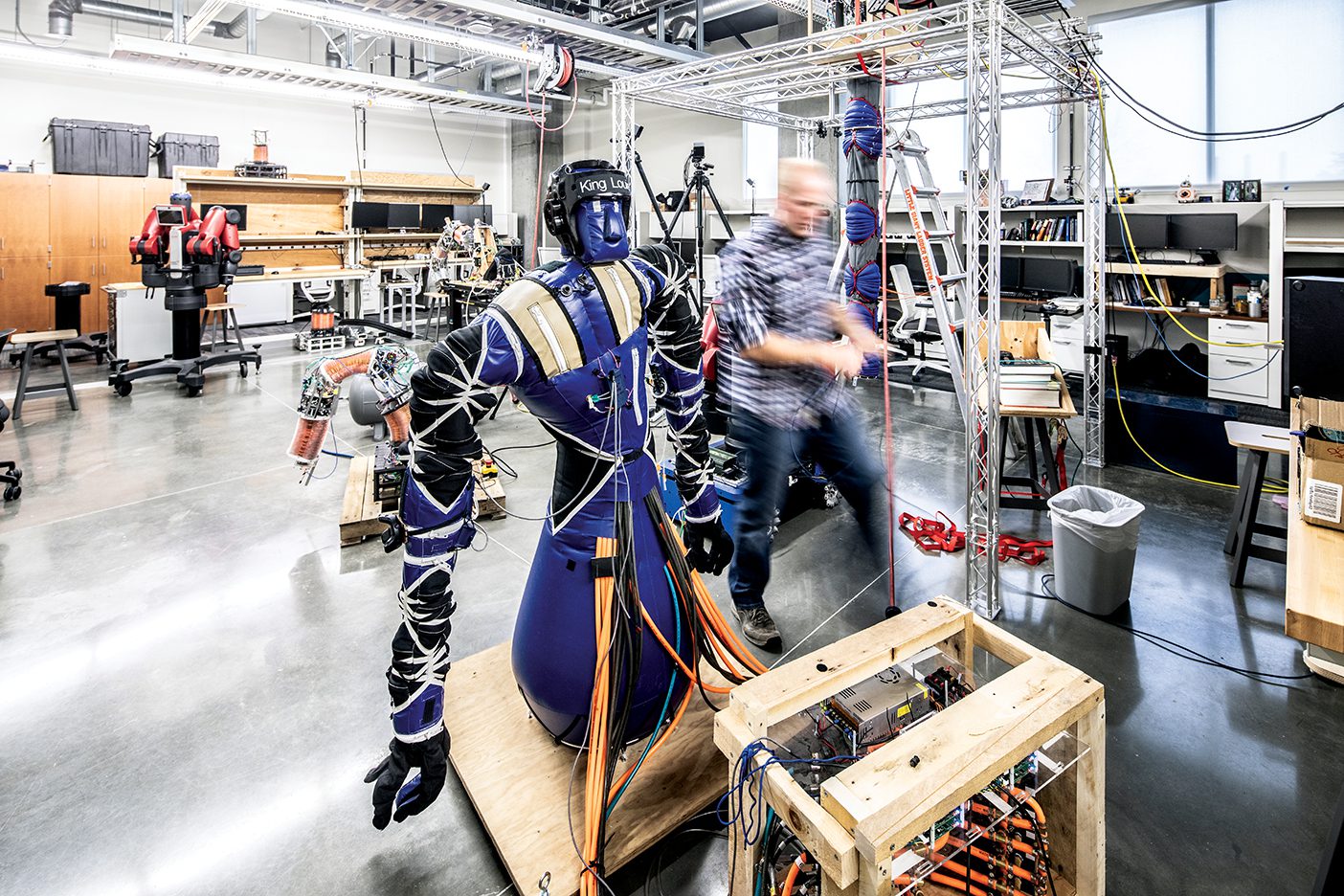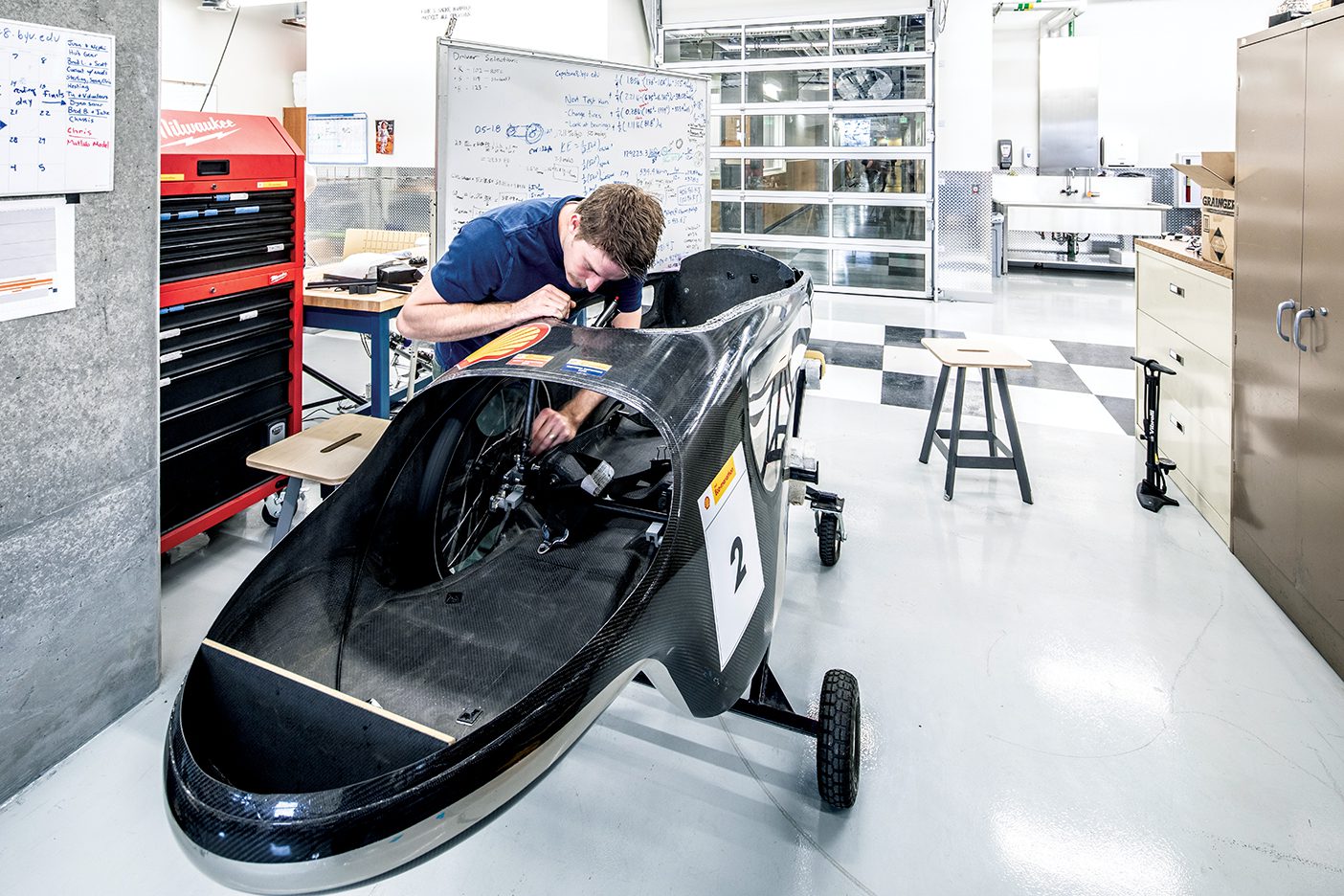 One door down the hallway King Louie flexes his long arms and Kaa writhes from the rafters. But don't be fooled—these robots, named after Jungle Book bad guys, are air-filled, fabric-encased softies. With NASA funding, BYU mechanical-engineering professor Marc D. Killpack (BS '07) and his students are giving these robotic arms a lighter touch—meaning one that "won't punch a hole through the side of the spaceship," says grad student Phillip E. Hyatt (BS '16).
He calls their new home "way bigger than our old space," which was an obscure, one-windowed basement room in the Fletcher Building. That site could accommodate only one of the lab's robots at a time, and when the researchers wanted to hang 6-footer Kaa from the ceiling, they had to knock out tiles for more height. Now all six of the lab's bots can be set up at once, with robotic-arm elbow room to spare.
To help Louie, Kaa, and their ilk sense their environment, team "sewboticists" stitch tactile pixels into cloth every centimeter to create a touch-sensitive "skin." It's a novel BYU approach, and its creation is on display for viewers. "It's fun," says Hyatt, "because . . . people look in here and then they smile because we have cool stuff."
More cool stuff is visible just down the hall, where people can observe BYU Racing student teams improving upon their supermileage vehicle's 1,985 mpg, prepping their off-road vehicle for the next race, or adding features to their Mars concept rover. The competitive spirit of these teams is reflected in a black-and-white checkered pattern painted on the floor.
The design of the whole first floor—from the exposed ceilings to a less-polished finish on the furnishings to the garage-style doors (see-through, of course) for the labs—is distinctly industrial. And that's intentional, says Trent, meant to shout out that this is a creative place where you can roll up your sleeves and build stuff.
Indeed, the large prototyping lab on the floor—with laser and water cutters, machining tools, 3-D printers, you name it—makes it possible to build components for labs, student capstone projects, or other urgent needs. Like the time one of Killpack's robots broke its wrist and needed a replacement arm—$30,000 from the supplier. Instead, the team walked across the hall and built a new part for about $5.
Faculty, student teams, and clubs can reserve additional spaces, from project bays to group project rooms where students can shepherd concepts from early diagrams to fully realized prototypes.
The whole floor has one purpose, says Trent: for students and faculty to "be creative and use this maker space. We hope that we'll be known as the place for innovation and creativity."
Let's Build Together
With interactive teaching rooms and showcase labs for each of the college's departments, there's no shortage of interesting new spaces in the Engineering Building—or in its less-conspicuous counterpart, the Engineering Research Laboratory, located just behind and completed in 2017 using the same donated money. There, researchers hook up tricked-out engines to dynamometers to measure torque and horsepower; upstairs, twin tunnels—one for wind and another for water—test flow dynamics; on the other side of the building, a team is assembling a high-pressure reactor to explore cleaner coal combustion.
Moving the labs and offices to the two new buildings allowed the university to retire B34, and the Fletcher Building will soon follow; the Clyde Building will soldier on as a facility for high-tech labs and classrooms, while its office areas will be repurposed in coming years.
Exciting as improved labs and offices may be, college leaders say some of the most significant upgrades are ones that might easily be overlooked. You'll see them in 12 small team rooms (sporting murals of inspiring engineering feats, like the lunar landing and the Hoover Dam), in abundant conference rooms, in whiteboards on nearly every surface, and even in amenities like a café (named Harvey's after legendary BYU engineer Harvey Fletcher) and new sofas placed around the Fritz B. Burns Student Commons (a big step up from the step-down lounge of the Clyde).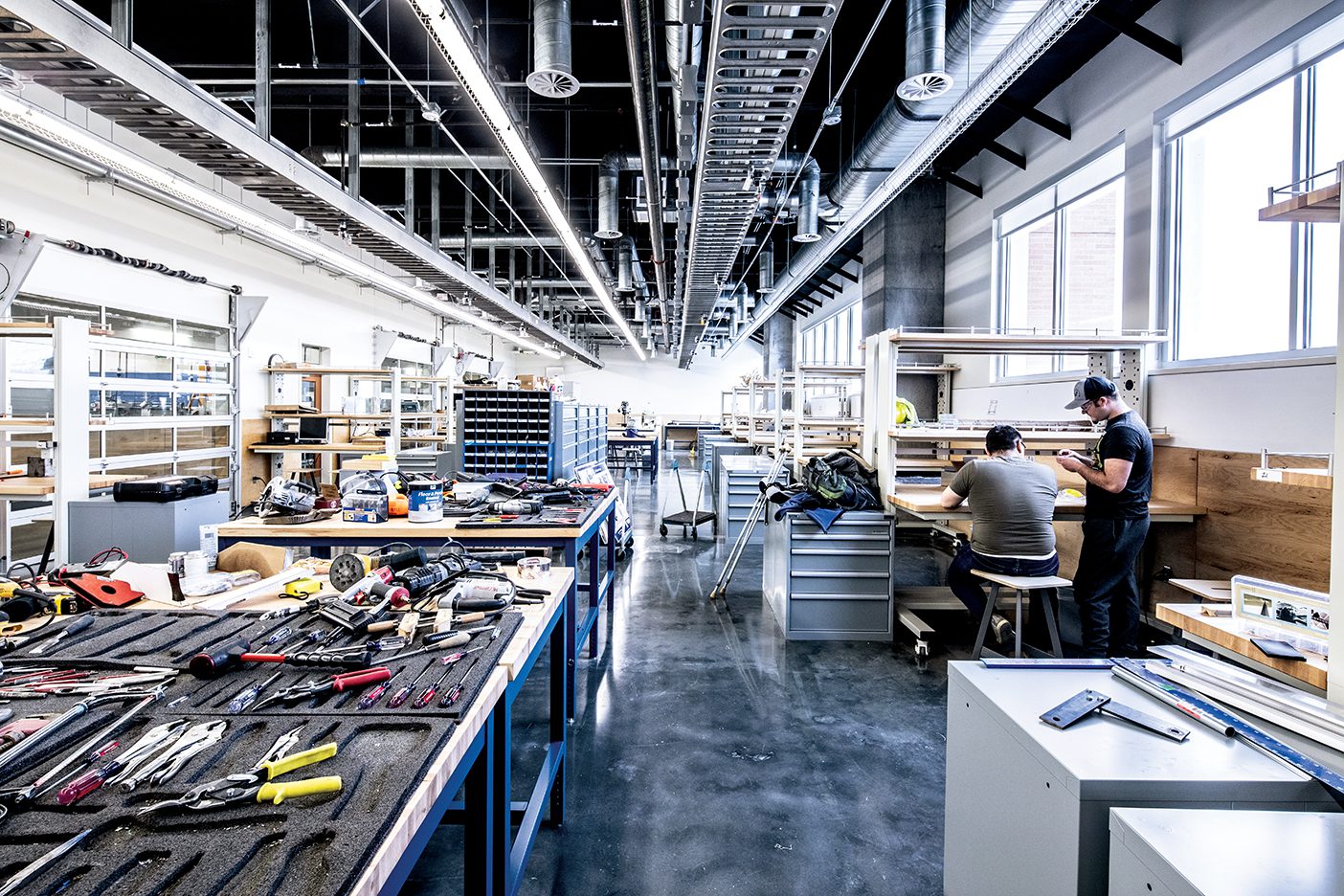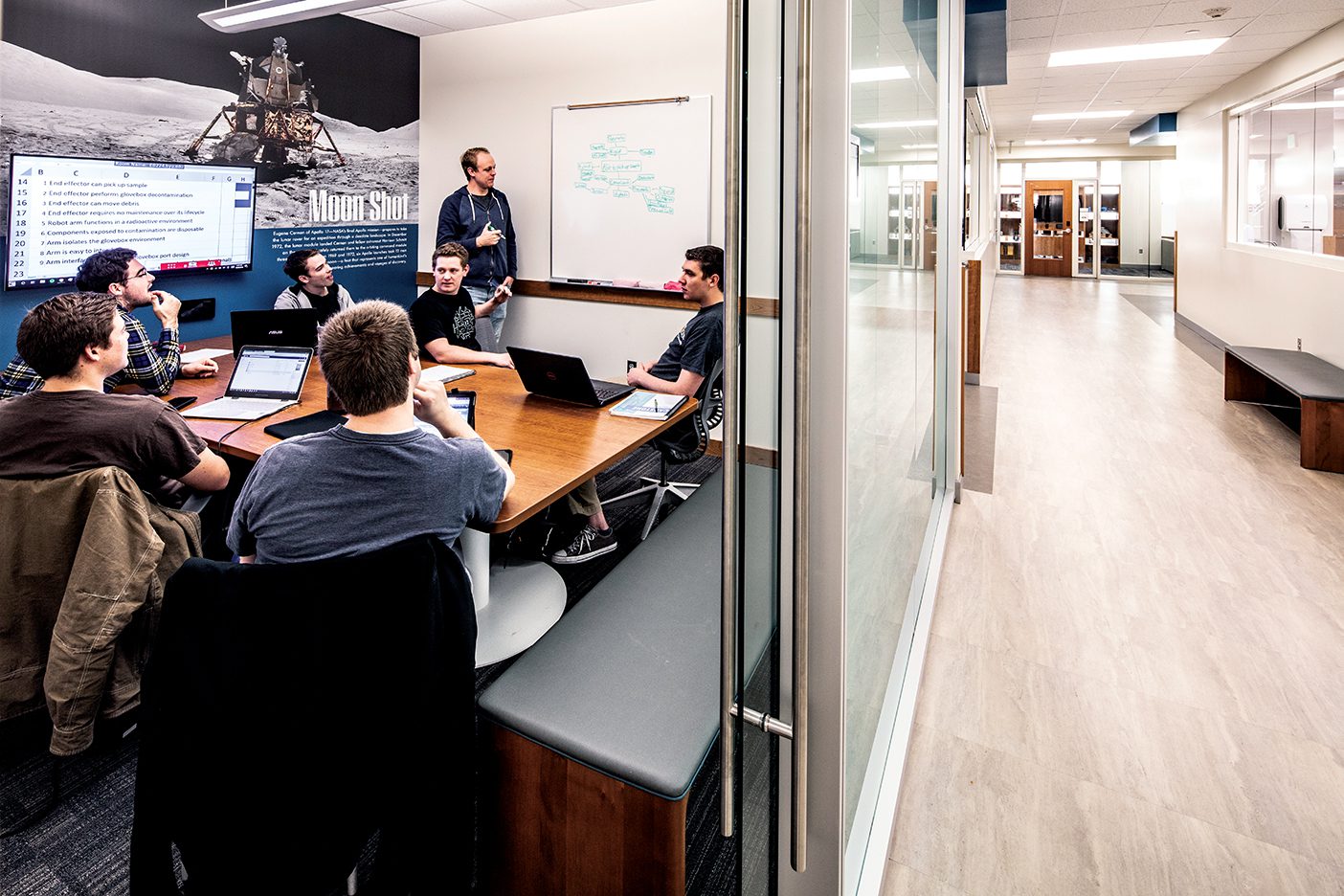 How do paninis and places to powwow and fancy furniture improve engineering? Trent says it's about changing perceptions of engineering as a solitary, siloed endeavor to an interactive, collaborative adventure involving diverse teams. The new building goes out of its way to invite faculty and students to bump into each other, to chat, to share ideas, and to form connections. Noting that the team rooms have been booked from day one and the commons are constantly alive with chatter, associate dean Larry L. Howell (BS '87) says, "We had a latent demand that just wasn't getting filled."
It's a vibe they hope will continue to grow and include an array of partners—from campus collaborators out of the Marriott School of Business and other colleges to off-campus governmental and industry entities in aerospace, transportation, and other fields.
"We want to collaborate, not just within our own disciplines but throughout the university," Trent says. "If someone has . . . desire to collaborate, to build something, to innovate, we want them to come over to our building and work with us."
The new Engineering Building, Howell says simply, "is a place where you come, work with students, and change the world."