---
1955 | Ronald T. Pace (BS '55, MS '58; Sandra Stewart ['55]; Provo) educated more than 6,000 students over the course of his career, developing and managing a self-sustaining equine science program for BYU. Pace worked alongside his wife, who was the school's trainer and riding instructor.
1959 | H. George Frederickson (BA '59, MPA University of California, Los Angeles '61, PhD University of Southern California '67; Mary Williams [BS '57]; Lawrence, Kan.) received the 2010 George Graham Award for his leadership in the National Academy of Public Administration on matters of governmental fairness and diversity. Frederickson was inducted into the Academy in 1979.
1961 | Michael D. Day (BA '61, MA San Jose State University '69, EdD Stanford '73; Virgie Dalley [EdD '96]; Provo) authored the ninth edition of Children and Their Art, the leading college textbook for art education. Day has served as senior author for the past three editions, which have been translated into and published in Chinese and Korean. Nan Greene Hunter (BA '61; Richard [BS '62]; Oakland, Calif.) and her husband were awarded the Distinguished Public Service Award by the Silicon Valley Chapter of the BYU Management Society for exemplary service to the community. She is matron of the Oakland California Temple.
1962 | Richard A. Hunter (BS '62; Nan Greene [BA '61]; Oakland, Calif.) and his wife were awarded the Distinguished Public Service Award by the Silicon Valley Chapter of the BYU Management Society for exemplary service to the community. He is president of the Oakland California Temple.
1969 | Kent A. Farnsworth (BA '69; Holly; Neosho, Mo.) published his third book, Grassroots School Reform: A Community Guide to Developing Globally Competitive Students. He has spent the last six years directing the Community College Leadership Program at the University of Missouri–St. Louis.
1975 | J. Michael McGuire (BA '75, JD University of the Pacific '83; Sharon; Rocklin, Calif.) is now a partner at Archer Norris. His practice centers on the California construction industry with a focus on mobile home park operations. Steven L. Palmer (BS '75; Kathryn Halliday ['76]; Salt Lake City) retired as president of agricultural operations for Intermountain Farmers Association, ending a 40-year career with the company.
1977 | Ronald B. Merrill (BS '77, JD Arizona State University '80; Karen Griffith [BA '77]; North Salt Lake, Utah) joined the Salt Lake City office of Holme Roberts & Owen as senior counsel in the firm's real estate, development, land use, and financing group.
1978 | Gary E. Pia (BA '78; South Pasadena, Calif.) has been appointed chair of the American Cancer Society's national investment committee, which provides volunteer expertise and advice on performance strategies. Greg E. Witt (MOB '78; Elain [MA '01]; Provo) was a National Outdoor Book Awards recipient in the outdoor adventure guidebook category for his guidebook Exploring Havasupai: A Guide to the Heart of the Grand Canyon.
1980 | John R. Lauck (BA '80, MBA '83; Alison Mills ['81]; Bountiful, Utah) is president and CEO of Children's Miracle Network Hospitals, a charity that raises funds for 170 children's hospitals across North America.
1982 | Layne B. Anderson ('82, BS Utah State University '81; Laura Ivie ['80]; Lindon, Utah) has been named president and CEO of Intermountain Farmers Association.
1983 | Terry G. Edwards (BS '83, MEM '84; Melynda; San Antonio) is director of the Air Force Center for Engineering and the Environment. As director, Edwards is also a member of the Senior Executive Service, a corps of civil servants who administer programs at the top levels of the federal government. Kelly R. Whiting (BS '83, MS University of Minnesota '97, PhD University of Minnesota '97; Patricia McVey [BA '82]; Defiance, Mo.) joined SmithBucklin as director of production research programs for the United Soybean Board's (USB) domestic program activities. Whiting will provide technical expertise on research activities for USB soybean production, focusing on increasing soybean yield and compositional quality.
1984 | Trey W. Hall (BA '84, MSA Northwestern University '85; Ann Morton [BS '83]; Plano, Texas) was inducted into Northwestern University Medill School of Journalism's Hall of Achievement, which honors those who have made significant contributions in their field. Hall has been chief marketing officer in several large progressive multinational retail companies.
1985 | Clay A. Jackson (BS '85; Nancy Nebeker [BS '86]; Fair Oaks, Calif.) has been named one of the Most Influential People in the workers compensation industry by editors of the Workers' Comp Executive. Michael P. McNevin (BS '85, MD University of Kentucky '89; Wendy Willes [BA '85]; Highlands Ranch, Colo.) has been selected to serve another six-year term as medical director of the Kaiser Ambulatory Surgery Center in Denver. David M. Tietjen (BS '85, MBA '88; Lisa Willardson [BA '95]; Layton, Utah) was named president of Argosy University–Salt Lake City. Tietjen will bring awareness to Argosy's blended degree program, which features in-class work and online education.
1986 | Deborah Daines Hafen (BA '86; Ned; Southfield, Mich.) received the Silver Beaver award for distinguished service to youth by the Great Lakes Council of the Boy Scouts of America. She also wrote and published a book on her grandparents' life experiences. Joel M. Racker (BS '86; Stacy Banderman [BA '88]; Highland, Utah) was elected president for the Western Association of Convention and Visitors Bureaus. Racker has also been named chair-elect for the Utah Tourism Industry Coalition for 2011–2012, and he is president and CEO of the Utah Valley Convention and Visitors Bureau.
1988 | Laura Rhoton McNeal (BA '88; Tom; Fallbrook, Calif.) was a finalist for the 2010 National Book Award in young people's literature for her book Dark Water.
1990 | Rhonda Grubbs (BS '90, JD Temple University '03; Blue Bell, Pa.) joined the Wisler Pearlstine firm as an associate. She is a member of the firm's labor and employment practice group.
1991 | James A. Tisch (BA '91; Kim; Gig Harbor, Wash.) is president and founder of Vote iQ, a nonpartisan educational, political, and social networking site built expressly for voters seeking to find out more about candidates and discuss politics.
1993 | Brad J. Wiskirchen (BA '93, JD Notre Dame '96; Koleen Jackson [BS '92]; Boise, Idaho) has been named director of the Salt Lake City branch of the Federal Reserve Bank of San Francisco. Wiskirchen is the CEO of Keynetics and its subsidiaries, ClickBank and Kount.
1994 | Jay H. Buckley (BA '94, MA '96, PhD University of Nebraska '01; Rebecca Daynes [BS '93]; Orem, Utah) earned the Lewis and Clark Trail Heritage Foundation's Meritorious Achievement Award for his book William Clark: Indian Diplomat. Conrad B. Kreutzer (BS '94; Jennifer Spencer [BA '91]; Carlsbad, Calif.) joined the KPMG audit, tax, and advisory firm as a partner. Kreutzer provides tax accounting services to West Coast clients. Robert L. McKay Jr. (BA '94, JD Columbia University '97; Lynae Bidstrup [BS '94]; Columbia, Md.) was hosted at China's Huaiyin Normal University as a guest lecturer and visiting scholar. He is associate general counsel at Constellation Energy. Kevin R. Olson (BM '94, MM '96, EdD National-Louis University '03; Julia; Logan, Utah) joined the music faculty at Utah State University after teaching for 13 years at Elmhurst College. He will also direct the Utah State University Youth Conservatory.
1995 | Brent T. Beazer (BS '95, MBA '10; Alexis Greenwell [BS '95]; Erda, Utah) accepted a position with AstraZeneca Pharmaceuticals as the specialty care/long term care/hospital district manager covering Utah and southern Nevada.
1996 | Valerie Atkisson (BFA '96, MFA School of Visual Arts '98; Salt Lake City) designed a popular Christmas card for Mormon Artists Group that she also transformed into a metallic nativity. From 2007 to 2010 she was the founder, manager, and editor of Art Bistro, a career/social networking site for artists and designers.
1997 | Gary E. Gudmundsen (BA '97, JD '00; Sara Marshall [BS '95]; Midland, Mich.), a veteran attorney, joined the Midland office of Braun Kendrick Finkbeiner. Shawn M. Lindsay (BA '97, JD Washburn University '01; Amanda Harris [BS '99]; Hillsboro, Ore.) has been sworn in as state representative for House District 30. Appointed to key committees for the 2011 legislative session, he is one of only two freshmen representatives to lead a committee.
1998 | Richard F. Heaton (BA '98, JD New York University '03; Elena Kazandjieva [BA '98]; Pearland, Texas), an attorney, was named Outstanding Associate or Assistant Corporate Counsel by the Houston Business Journal. Ryan W. McKinley (BS '98; Shawna Kidder [BS '95]; Edmond, Okla.) published a children's book, The Pirate Bride, which he coauthored with his daughter, Anna. G. Wesley D. Quinton (BA '98, JD Duke University '09, LLM Duke University '09; Leila; Salt Lake City) joined the Salt Lake office of the Holme Roberts & Owen firm as an attorney and lobbyist in the firm's state and local tax group.
1999 | Michael D. Henrie (BM '99, MM '01; Mary Stair [BS '99]; Elmendorf AFB, Alaska) serves as the volunteer program director for Project Healing Waters, which provides emotional healing for mentally or physically injured veterans through fly fishing. Staff Sgt. Henrie is also a member of the U.S. Air Force Band of the Pacific.
2002 | Jason A. Conforto (BA '02; Natalie Blackham [BA '00]; West Jordan, Utah) released the game Feast and Famine: Joseph in Egypt through Good Knight Games, a company he cofounded. Jason A. Howard (BS '02; Kendra; Las Vegas) has been promoted to preconstruction director for the Nevada/Utah division of McCarthy Building Companies. Luder F. Milton (BA '02, JD Washington and Lee University '05; Ginny; Richmond, Va.) joined the firm of Eckert Seamans' Utilities and Telecommunications practice as an associate.
2004 | Daniel K. Kruse (BS '04; Shauna; Pittsburgh) has been named one of ten 2010/2011 McGowan Fellows by the Chicago-based William G. McGowan Charitable Fund. The fellowship covers second-year tuition for exceptional MBA students. Kruse studies at Carnegie Mellon University.
2005 | Jeffrey B. Chugg Jr. (BA '05, JD Vanderbilt '08; Chemenne; Dallas) joined the Dallas-based technology law firm Munck Carter. He focuses his practice on representing businesses in labor and employment disputes and business litigation.
2006 | Regan K. Adamson (BA '06, JD Wake Forest University '10; Lindsay Romans [BA '07]; Winston Salem, N.C.) joined the law firm of Wall Esleeck Babcock as an associate. Lincoln E. Fielding (BS '06, JD Ohio State University '09; Mallory; Columbus, Ohio) has joined the law firm Meyer & Kerschner as an associate. The firm specializes in financial institution representation, civil litigation, and general corporate representation.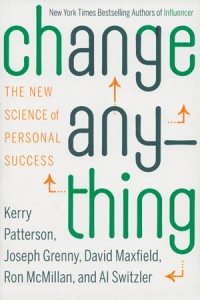 Kerry J. Patterson (BS '70, MOB '76; Louise Christensen ['87]; Provo), Al W. Switzler (BA '71, MA Kentucky University '73; Linda Brady [BS '71]; Highland, Utah), Ron McMillan (MOB '82; Rebecca Richards ['96]; Alpine, Utah), and Joseph W. Grenny (BA '89; Celia; Orem, Utah) coauthored and published Change Anything: The New Science of Personal Success. They are also cofounders of VitalSmarts, a Provo-based corporate training company, and previously coauthored three New York Times best sellers.