For Jeremy Telford, balloon twisting is more than making dogs and dolphins at a diner.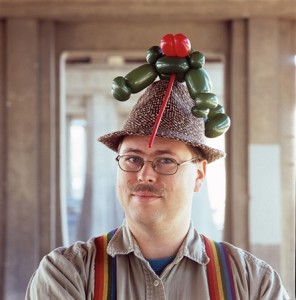 The museum door bursts open, yielding to a young blonde girl pulling her mother and siblings along. "See, see, see, see, see?" the girl shouts, pointing upward at a massive T. rex skeleton. But there's something unusual about this T. rex.
"Mom," one of the girl's brothers exclaims, "it's made out of balloons!"
The inflated creation—all 2,300 balloons of it—stands in the entry hall to Thanksgiving Point's Museum of Ancient Life in Lehi, Utah. A life-sized replica, the dino stretches 45 feet from teeth to tail and includes all 200-plus bones found in an actual T. rex skeleton.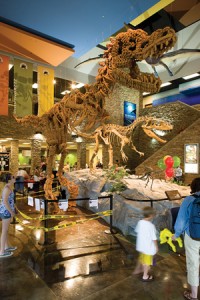 Below the balloon beast's menacing jaws, Jeremy Telford ('08), the dino's creator, gratefully accepts praise for the brown rubbery creature swaying gently in the air-conditioned breeze. "We're pretty proud of her," says the BYU recreation management major. Sporting a green vest and a frilly white shirt, Telford is on his way out, headed to yet another party. After all, Telford is a balloon guy, and parties are his business.
Telford took a long and circuitous route—like the moustache that curls upward from the corners of his mouth—into this line of work. The son of an accountant and an artist, he started at BYU as a computer science major, then tried animation, then illustration. "I've had a very long, illustrious career here at BYU," he says. "One of those types that they hope people don't have."
Along that meandering course, Telford took a fortuitous side excursion to the Y Juggle club, where he met Timothy J. "Paco" Hadley (BA '03) and Paco's juggling sister. Telford jokes that it was love at first toss, and at their wedding reception, Jeremy Telford and Kristin Hadley Telford (BS '02) got the in-laws together for a group juggle. Paco also introduced Telford to balloon twisting, and Telford found a new artistic outlet, a career, and, finally, a major.
Although balloon twisters aren't plentiful in the recreation management program, professor Gary K. Palmer (BS '66) says the program appeals to students, like Telford, interested in social recreation, event planning, and entertainment.
Telford plans to continue with his business—Balloon Guy Entertainment—after graduation, and he hopes that eventually balloon twisting how-to videos and books will support his artistic passion: large multi-balloon sculptures, like the 6-foot Elvis he created for a rock-and-roll convention or the 9-foot stegosaurus he made for a birthday party. Or the 45-foot T. rex he built for Thanksgiving Point.
The T. rex, incidentally, filled an academic purpose. In connection with a required internship, Telford had to complete several assignments, one of which included planning and executing a major project. Palmer says the T. rex was exceptional. It required planning, demanded team management (Telford recruited family, friends, and a paleontology graduate student), became a museum centerpiece, and effectively promoted an entertainment business.
But now, after a week on display, it's time for the T. rex to come down. After lowering it to the floor, three of Telford's balloon twisters start jumping and balloons start popping. Soon a brave child jumps on the tail, and more join in the fun until some 30 children are jumping gleefully. Brown rubber carnage litters the museum floor, and the balloon twisters are delighted. It's not often you get to kill a T. rex.
See Telford's creations and learn balloon-twisting basics at more.byu.edu/balloonguy.