---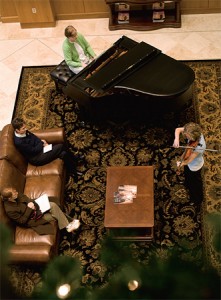 In October the Gordon B. Hinckley Alumni and Visitors Center began hosting Tunes and Tours, a series of recitals featuring music majors and other musical artists. The free event is open to anyone and occurs the second and fourth Mondays of each month from 5 to 7 p.m. The first hour is devoted primarily to a tour of the building's main floor, and a musical performance is held in the second hour.

Alumni Relations also recently initiated a free event called Music at Midday (right), which presents one-hour recitals by student musicians. The performances are each Friday at noon in the family room area of the Hinckley Center.

"We hope these events will become a tradition as we applaud the considerable talents of our music majors and make the center a warm, welcoming place for our alumni and friends," says Linda M. Palmer (BS '71), managing director of Alumni Relations.
---
OUR JOURNEY TOGETHER

Through several decades as a Church leader, President Gordon B. Hinckley had a profound impact on Brigham Young University and generations of students.

This seven-minute video presentation celebrates President Hinckley's decades of involvement with BYU. It was created for the groundbreaking ceremonies of the Gordon B. Hinckley Alumni and Visitors Center on June 23, 2006, the prophet's 96th birthday.

SMALL: 320×180 (8.1 MB)
LARGE: 640×360 (42 MB)
---
These are large files that could take a while to load, depending on your Internet connection. The slideshow is in QuickTime format. If you do not have QuickTime, please click here to download the free version of QuickTime.
You can also download this slideshow through the BYU Magazine podcast on iTunes. or from our feed site.