---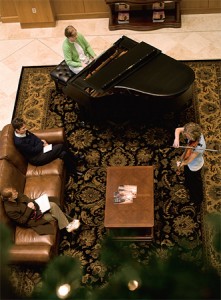 In October the Gordon B. Hinckley Alumni and Visitors Center began hosting Tunes and Tours, a series of recitals featuring music majors and other musical artists. The free event is open to anyone and occurs the second and fourth Mondays of each month from 5 to 7 p.m. The first hour is devoted primarily to a tour of the building's main floor, and a musical performance is held in the second hour.

Alumni Relations also recently initiated a free event called Music at Midday (right), which presents one-hour recitals by student musicians. The performances are each Friday at noon in the family room area of the Hinckley Center.

"We hope these events will become a tradition as we applaud the considerable talents of our music majors and make the center a warm, welcoming place for our alumni and friends," says Linda M. Palmer (BS '71), managing director of Alumni Relations.
---
OUR JOURNEY TOGETHER

Through several decades as a Church leader, President Gordon B. Hinckley had a profound impact on Brigham Young University and generations of students.