---
Vending Machine Exhibition and Art Sale
Oct. 30, 7 p.m. | B.F. Larsen Main Gallery
For one night only, the Department of Visual Arts gets to stock some vending machines, and you won't find chocolate milk. Two machines will dispense the original artwork of faculty and students, priced anywhere from $1 to $20. The machines will be stocked with fresh art throughout the night. All proceeds go to the local food bank.
More at visualarts.byu.edu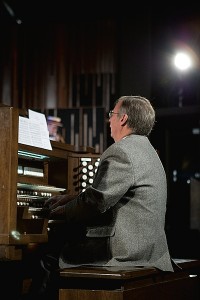 Classical 89 Silent Movie Night: The Phantom of the Opera (1925)
Oct. 31, 7:30 p.m. | de Jong Concert Hall
Theater organist extraordinaire professor Mike L. Ohman (BA '82) will accompany the screening of this famous haunted romance. Come dressed for the Halloween costume contest. No masks, please—Lon Chaney, the starring phantom in this black-and-white production, is enough of a fright.
web: classical89.org
LDS Lives
Check Web site for dates | BYU Television
Back with 14 new episodes, this season of LDS Lives is stacked. Learn about prominent Latter-day Saints, like David O. McKay, Janice Kapp Perry, and Janie Thompson, in addition to less familiar Saints, such as Berlin candy bomber Gail Halvorsen, or John Moses Browning, one of the finest firearms designers in U.S. history.
More at byutv.org
BYU Football Goes for the Boot
Oct. 3, Utah State; Nov. 22, Utah | Romney Stadium; Rice Eccles Stadium
Each year Utah's collegiate football teams compete for three pieces of hardware: the Old Wagon Wheel goes to the winner of the Cougar-Aggie contest; the Deseret Duel football trophy is vied for by the U and the Y; and the Beehive Boot—an antique pioneer boot—goes to the team with the best in-state record. BYU currently houses all three; will the Cougars retain them for another year?
More at byucougars.com
Aspen Grove Camps and Getaways
Check Web site for dates | Aspen Grove, Provo Canyon
Need a family retreat? Check out the Aspen Grove Family Camp and Conference Center's 2008–09 programs. Spend time with your spouse at the Marriage Weekend Getaway, or organize a ward or stake youth conference at Aspen Grove, where youth will enjoy cross-country skiing in the winter and hiking in the spring. Or bring the whole family: there are still a few spots remaining for Family Camp 2009.
More at aspen.byu.edu
Get your full list of BYU activities and events online at byunews.byu.edu/calendar or in your e-mail with MyBYU News (mynews.byu.edu).