---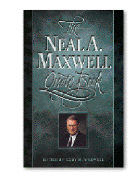 By Richard H. Cracroft
The best and most enduring gift I can receive at Christmastime–or any time, for that matter–is a good Book. Such a Book (not a mere book) invites me to delve, loosens the spirit, and sets it soaring. And when I return to mundane dailinesses, the whole me is better for the flight. Just as Cotton Mather, the Puritan divine, confessed that he liked to sweeten his mouth with a bit of John Calvin before retiring each evening, so I share with you a handful of Latter-day Saintly morsels that have recently sweetened my bedtime repast and that may well be the "good Book" your loved one is hungering for this Christmas.
Some of my recent favorites are by prophets, seers, and revelators. Since receiving the book last winter, I have returned, again and again, to my now dog-eared copy of The Neal A. Maxwell Quote Book, edited by Cory H. Maxwell (Salt Lake City: Bookcraft, 1997; 395 pp.; $19.95). The book packs in more than 1,500 quotations from Elder Maxwell's sermons and writings, couched in his memorable and effective style. I've also enjoyed feasting on Teachings of ordon B. Hinckley (Salt Lake City: Deseret Book Co., 1997; 754 pp.; $25.95). The thoroughly referenced entries are wonderfully applicable in the spiritual education of the Saints. I have found that reading such collections allows insight into the soul. These are works of great and spiritual men who, having overcome the world, possess the gift to get at the heart of this mortal matter of overcoming and enduring. President Boyd K. Packer demonstrates this same feat in Memorable Stories and Parables by Boyd K. Packer (Salt Lake City: Bookcraft, 1997; 104 pp.; $17.95). In this book illustrated by his own artwork, President Packer excerpts 26 pointed stories and parables from nearly four decades of sermons and writings to get at the heart of a number of important gospel principles. Elder Henry B. Eyring's To Draw Closer to God (Salt Lake City: Deseret Book Co., 1997; 196 pp.; $16.95) is a profound collection of discourses grouped into three well-written sections: "Hearing," "Heeding," and "Helping Others to Draw Closer to God."
For stocking stuffers, what could be better than a compact, 4-by-5-inch, two-talk pamphlet in the new Classic Talks Series (Salt Lake City: Deseret Book Co., 1998; 40­50 pp.; $4.95). So far, these handy pocket books have reprinted talks by Elder Bruce R. McConkie, President Spencer W. Kimball, and President Ezra Taft Benson.
Most any Saint worth his or her Liahona will delight in receiving The Teachings of Joseph Smith, edited by Larry E. Dahl and Donald Q. Cannon (Salt Lake City: Bookcraft, 1997; 771 pp.; $27.95). Dahl and Cannon have arranged the words of the Prophet Joseph topically (from "Aaron" to "Zion's Camp") and chronologically within each topic. This valuable resource allows quick access to the mind, thought, and vision of the Prophet Joseph Smith Jr.
Robert L. Millet's The Mormon Faith (Salt Lake City: Shadow Mountain, 1998; 222 pp.; $15.95) is a cogent and articulate explanation for non-Mormons of the doctrines, theology, and worship of Latter-day Saints. This is a good gift for non-Mormon or LDS friends needing a shot of vision. I especially enjoyed Millet's Alive in Christ: The Miracle of Spiritual Rebirth (Salt Lake City: Deseret Book Co., 1997; 211 pp.; $15.95). Millet sounds the call to experience "the mighty change," the "transformation of the human soul by and through the redeeming mercy and atoning power of Jesus Christ."
There is such a variety of good LDS-centered Books by BYU alumni (or alumni adopti) that I can do little more than list and recommend. A fine book for new converts or for any Faint en route to Saint is George D. Durrant's lively True to the Faith: Why You Need the Church and the Church Needs You (Salt Lake City: Bookcraft, 1998; 108 pp.; $14.95). JoAnn Hibbert Hamilton, in Personal Revelation: How to Recognize Promptings of the Spirit (American Fork, Utah: Covenant Communications, 1998; 177 pp.; $14.95), helps readers to recognize and act upon the often-unheeded promptings of the Spirit. In My Servant Brigham: Portrait of a Prophet (Salt Lake City: Bookcraft, 1997; 164 pp.; $19.95), Richard Neitzel Holzapfel and R. Q. Shupe succeed in making Brigham Young "real and personal" to readers, adding less familiar word and visual portraits, photographs, and artifacts–many published here for the first time.
The suppressed theologian in me found very interesting the Signature Mormon Classics reprint of B. H. Roberts' 1903 work The Mormon Doctrine of Deity: The Roberts-Van der Donckt Discussion (Salt Lake City: Signature Books, 1998; 328 pp.; $14.95). This reprint demonstrates Roberts' enormous contributions to explications of LDS theology.
Another study I have found to be a very useful reference work during this year's study of the Old Testament is Understanding Isaiah (Salt Lake City: Deseret Book Co., 1998; 659 pp.; $29.95), by Donald W. Parry, Jay A. Parry, and Tina M. Peterson. John E. Enslen traces relationships between the three testaments in his interesting study The Bible and The Book of Mormon: Connecting Links, second edition (Wetumpka, Ala: J. E. Enslen, 1997; 123 pp.; $9.95). BYU professor R. Lanier Britsch has written an important first history of the LDS Church in Southeast Asia, from India to Japan, in From the East: The History of the Latter-day Saints in Asia, 1851­1996 (Salt Lake City: Deseret Book Co., 1998; 631 pp.; $29.95).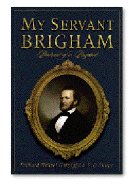 For me the surprise of the year is an unusual book, The Diary of a Frontline Chaplain (Sun Lakes, Ariz.: Silver Leaf Press, 1997; 196 pp.; $14.95), by Ben F. Mortensen, who served as an LDS chaplain during the Korean War. His diary, written as daily letters to his wife, Rene, treats the tedium and terror of life on the front lines from September 1952 to August 1953. Lieutenant Mortensen's lucid and candid account is packed with evidence of the difference that faith makes–especially among those who live in constant peril. He describes the terrible deaths of American soldiers and close LDS and non-Mormon friends, and he describes the daily work of a military chaplain, which includes not only pastoral care but administering first aid to unit members under fire and transporting them to helicopters. Mortensen teaches us stark human history from within the context of faith that God is nigh–even in wartime. Frontline Chaplain is a moving tribute to 54,246 American soldiers and some 2 million people, soldiers and civilians, who lost their lives in a generally forgotten war.
In contrast, here are two lighthearted books that will enrich your Christmas season. Lisa Ray Turner's The Twelve Disasters of Christmas (Salt Lake City: Bookcraft, 1997; 140 pp.; $7.95) is the very funny story of the 12 disasters that befall a 42-year-old mother well advanced in a late-in-life pregnancy on each of the 12 days before Christmas. This would be a fun book to read a chapter a day during the 12 days before Christmas. For those who celebrate the full 24 days before Christmas, I recommend the very different Christ-Centered Christmas (West Jordan, Utah: SVI, 1998; 276 pp.; $17.99), by Sharon Velluto and Suzanne Meredith. Beginning on Dec. 1 and continuing until Christmas Day, the authors present 24 short, Christ-centered daily devotionals supplemented by optional enrichment materials (games, flannel board figures, etc.) that can be adapted to the family's ages and interests.
A sure-to-please for the 12- to 18-year-old reader is Sharlee Mullins Glenn's Circle Dance (Salt Lake City: Bookcraft, 1998; 152 pp.; $9.95). A rite-of-passage story about growing up Mormon in contemporary and rural Uinta Basin, Glenn's novel will delight LDS teens and young adults. Britta Twichell, the 13ish narrator, grows up by extending the reach of her love, by coming to cherish family, and by realizing the meaning of human diversity–all while battling in vain to forestall the return of her little Ute foster sister Dori to her Native American mother.
An exciting gift for the football fan is Dick Harmon and Steve Cameron's Wild Blue Yonder: The High-Flying Story of BYU Football (Lenexa, Kan.: Addax, 1997; 224 pp.; $39.95). Featuring dozens of action shots by veteran team photographer Mark Philbrick, a foreword by Ty Detmer, a chapter on the team's returned Mormon missionaries, and another on team and individual records, Wild Blue Yonder follows the Cougars' exciting rise to gridiron prominence in a way that will make even LaVell smile and a "Utah Man, Sir" rise and shout.
An unusual gift for those planning to visit or revisit the Holy Land is Aviva Bar-Am's Easy Walks in Israel: Sites and Stories (Jerusalem: Yuval Press, 1997; 206 pp.; $19.95). Aviva Bar-Am, travel columnist for the Jerusalem Post and one of the area's leading travel writers, has put together "dozens of family outings, historical sites and nature trips." Of special interest to BYU alumni is her inclusion of a tour of the beautiful BYU Center for Near Eastern Studies on Mount Scopus. Aviva gives a thorough description of the BYU Center–from arches and windows to viewpoints and organ concerts.
That's it for this time. If you can't find it here, try a gift certificate! Best wishes for a literate and (thus) merry Christmas!
---
Richard H. Cracroft, professor of English and director of the Center for the Study of Christian Values in Literature, has taught American, Western, and LDS literature at BYU since 1963.