Alumni Career Placement helps potential employees and employers find each other.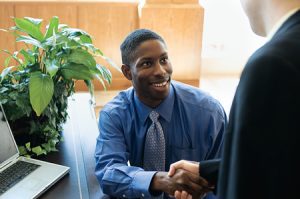 When Michael R. LaDow (BS '05) decided it was time for an employment change, he began his job search by applying for several positions listed at Internet job sites and sending four to five résumés a day. "I soon realized my ability to network was limited," LaDow says. "I was qualified for several positions, but never received a response—it was discouraging."
Then it occurred to him that the companies that interested him visited campus. "This reminded me that I'm an alum and have connections [at BYU]," LaDow says.
So he contacted Scott R. Greenhalgh (BS '86), manager of BYU's Alumni Career Placement office. "Scott gave me a list of 10 contacts and said, 'Tell them I sent you.' What a difference that was," LaDow says. With the help of Alumni Career Placement, LaDow found a management position.
LaDow's success depicts only one side of the story. Alumni Career Placement also helps employers find employees, as it did for Mark Castillo (BS '91), human resource director for Comcast, who needed to fill a sales manager position. "I turned to Scott, who told me about an alum to consider. We ended up hiring him."
Greenhalgh says people looking for work use three basic strategy types: inactive, reactive, and proactive. "An inactive search involves loading a résumé on an Internet job site and waiting for a taker. A reactive approach is finding a job from a job list; saying, 'I can do that'; and submitting a résumé. The proactive seeker decides on a particular company or industry and pursues a position," Greenhalgh explains. Alumni Career Placement has the tools to help alums regardless of their search strategy.
The tools for alumni begin on the placement Web site (alumni.byu.edu/placement), under the link for "current job listings." Users can search the listings by selecting options in various criteria. "We are putting upwards of 200 listings a week on this site," Greenhalgh says.
A tool for both employers and employees is ApplicantSearch, a software program that matches individuals to jobs. To participate, alums go online and create a profile of their job-related skills, education, language ability, and geographic preferences. Then they complete a scientific assessment of their thinking styles, behavioral characteristics, and occupational interests.
Employers, in turn, create a profile of job requirements and a success pattern based on their top performers in the position. ApplicantSearch then searches its database and produces a list of candidates who match the criteria and pattern for success in the job.
Helen Horton (BA '77) works for Performance Resources, one of the companies that helped to set BYU up with the ApplicantSearch system. "Candidates who match the job at a high level tend to produce more in their work, enjoy the job more, and stay longer," says Horton. Since the program's inception, more than 10,000 BYU alums have been placed on file.
Another high-tech tool is byu.erecruiting.com, through which alumni can create profiles on a central site where companies can search for potential recruits.
The alumni placement Web site also lists the dates and times of BYU career fairs as well as when companies plan to visit campus to interview.
As LaDow discovered, building relationships is a key to finding employment. Alumni Career Placement helps build those relationships through a career-networking list. This searchable online list helps individuals make contacts with BYU alumni in various careers and locations who can assist with job searching. "Job-seeking alums can contact working alums," Greenhalgh says. "In this arena it affords the opportunity to establish relationships, get advice, and find out about a company you are interested in."