Members of the BYU community weigh in on a question of the day.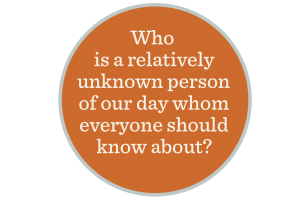 "Mari Evans (1919–2017) was a poet and self-taught musician in Indianapolis during the Black Arts Movement and the decades that followed. She was mentored by Langston Hughes. Later, she, too, mentored several generations of black men and women to be writers, teachers, and community leaders. Her poetry has been anthologized morethan 400 times. She edited Black Women Writers (1950–1980): A Critical Evaluation (1984), the first book treating contemporary black women writers as a field of critical study."
—Kristin L. Matthews (BA '95), associate professor of English
"Celeste Mergens is the founder and CEO of the international charity Days for Girls. This soft-spoken LDS woman has organized thousands of volunteer chapters and teams around the world to provide ingenious feminine hygiene kits to more than a half million girls and women in over 100 countries. Her goal is to give every girl and every women easy access to feminine hygiene by 2022."
—Camille Fronk Olson (MA '86, PhD '96), professor of ancient scripture
"In my opinion, Martin Seligman will one day be talked about in the way we now talk about Sigmund Freud. He has completely altered the field of human psychology. Because of him, psychology is no longer centered on repairing what is wrong but on building what is right. His work has changed and will continue to change literally millions of lives for decades and perhaps centuries to come."
—Hank R. Smith (PhD '14), assistant professor of ancient scripture
"Jean-Luc Marion is a prominent French historian of philosophy. A profound thinker, his research focuses on one of the most important relationship in the world—the relationship between human love and divine love. His writing is not an easy read, but it is an extremely rewarding read."
—Brent D. Slife, professor of psychology.