---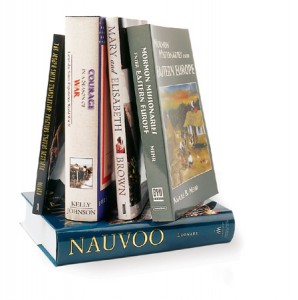 By Richard H. Cracroft, '63
LDS authors continue to build on the foundation of Mormon literary classics.

EXCLUDING the scriptures, which would you consider the three most important books written by Latter-day Saint authors about Mormonism in fiction, inspirational/devotional, biography, history, and doctrine?" Arnold K. Garr, '86, BYU associate department chair of Church history and doctrine, posed this question in a recent survey of Latter-day Saint scholars who teach, research, and write in the field of Mormonism. Here are some of the results of Garr's survey, which he published in the fall 2002 issue of BYU Studies: 

Fiction: 1) Gerald N. Lund, '65, The Work and the Glory series (9 vols.); 2) Maurine Whipple, The Giant Joshua; 3) Dean T. Hughes, Children of the Promise series (5 vols.); 4) Nephi Anderson,Added Upon: A Story.

Inspirational/Devotional: 1) Stephen E. Robinson, '71, Believing Christ; 2) Spencer W. Kimball, The Miracle of Forgiveness; 3) Gordon B. Hinckley, Standing for Something; 4) James E. Talmage,Jesus the Christ; 5) LeGrand Richards, A Marvelous Work and a Wonder. 

Biography: 1) Sheri L. Dew, '77, Go Forward with Faith: The Biography of Gordon B. Hinckley; 2) Lucy Mack Smith, The History of Joseph Smith by His Mother; 3) Edward L. Kimball and Andrew E. Kimball Jr., '71, Spencer W. Kimball; 4) Leonard J. Arrington, Brigham Young: American Moses. 

History: 1) Joseph Smith Jr., History of the Church, intro. and ed. B. H. Roberts; 2) B. H. Roberts, A Comprehensive History of the Church; 3) Leonard J. Arrington, Great Basin Kingdom: An Economic History of the Latter-day Saints, 1830–1900; 4) James B. Allen, '56, and Glen M. Leonard, The Story of the Latter-day Saints; 5) Richard L. Bushman, '55, Joseph Smith and the Beginnings of Mormonism. 

Doctrine: 1) Teachings of the Prophet Joseph Smith, ed. Joseph Fielding Smith Jr.; 2) Bruce R. McConkie, Mormon Doctrine; 3) James E. Talmage, Jesus the Christ; 4) Joseph Fielding Smith Jr.,Doctrines of Salvation (3 vols.), ed. Bruce R. McConkie; 5) The Encyclopedia of Mormonism (5 vols.), ed. Daniel H. Ludlow and others. 

So, what books would you add to the "most important" list? I pass on Elder Sterling W. Sill's sagacious comment, as quoted by Garr: "The influence of great books upon us is miraculous. They can make us into their own image, and you may judge a man more truly by the books . . . he reads than the company that he keeps" ("What Are the Most Important Mormon Books?" BYU Studies, vol. 41, no. 3 [2002], p. 41). Allow me, then, to suggest more good company in an armload of recent good books. 

I find it interesting that Glen M. Leonard's name, noted above, recurs on my list of "Best LDS Books of 2002″ as author of Nauvoo: A Place of Peace, A People of Promise (Salt Lake City: Deseret Book and BYU Press, 2002; 828 pp.; $39.95). Here is the long-awaited, definitive history of Nauvoo, the place that, after Salt Lake City, is "The Place" among Mormonism's most important settlements. This richly researched and beautifully written narrative tells the whole history—from the establishment and development of Nauvoo and its imposing temple to the increasing challenges for community peace and tranquility, the stunning deaths of Joseph and Hyrum, the question of leadership succession and transition, and the brief interlude of peace that culminated in expulsion from Nauvoo the Beautiful and the long, westering aftermath. This major work of Mormon history helps modern readers to understand the present as it elucidates the past. 

Kahlile B. Mehr, '73, in Mormon Missionaries Enter Eastern Europe, with Excerpts from Mischa Markow's Missionary Journals (ed. Matthew K. Heiss, Studies in Latter-day Saint History, vol. 4 [Provo: BYU Press; Salt Lake City: Deseret Book, 2002; 399 pp.; $18.95]), tells the extraordinary story of the "impossible" opening of central and eastern Europe to Mormonism. In the decade before 1987, when the Austria Vienna East Mission was organized and President Dennis B. Neuenschwander, '66, was given the charge to establish the Church in the Eastern Bloc countries, "special representatives" had prepared the way by operating in Greece, Yugoslavia, Hungary, and Poland, and the Church now seemed ready to move into what would soon become the former Soviet Union. Elder Russell M. Nelson responded to newly arrived Neuenschwander's question of whether Austria Vienna East missionaries should proselytize by saying, "The Lord is the master of the unlikely, and he expects the impossible" (p. 342). The rest of the story is the remarkable history of members living in these communist nations and of the missionaries called to face daunting obstacles in creating and maintaining small Latter-day Saint communities amidst terrific social ostracism. This is a gripping story of the unfolding of countless modern miracles on the Lord's front line. 

Paul H. Kelly, '62, and Lin H. Johnson, '44, in Courage in a Season of War: Latter-day Saints Experience World War II, with a foreword by Jack Weyland (Idaho Falls, Idaho: Kelly and Johnson, 2002; 552 pp.; $26.95), have collected accounts of some 83 men and 6 women of the more than 100,000 Latter-day Saints who served in World War II—a number that represents an astonishing 11.6 percent of the 860,000 members of the Church in the 1940s (p. xvi) engaged in the war effort. It begins with a fascinating chapter on the experiences of LDS missionaries in Europe at the beginning of hostilities and continues with riveting personal accounts of Latter-day Saints in both the European and Pacific theaters. The book also includes accounts of life among the Saints in war-ravaged Europe and among LDS prisoners of war. In addition, Kelly and Johnson recall stories of men and women who served in the continental United States and on the home front. They also include the experiences of LDS servicemen in the British navy and the German infantry. These unembellished accounts of LDS men and women at war are all the more interesting for the care the authors have taken to place the accounts in the contexts of the battles where the soldiers fought and some died. The result is the best book I have read about what Tom Brokaw has rightly called "the greatest generation." 

Finally, three BYU professors and a BYU alum have recently published important religious studies. In Mary and Elisabeth (American Fork, Utah: Covenant Communications, 2002; 122 pp.; $14.95), S. Kent Brown, '62, professor of ancient scripture, brings vividly to view the sacred lives and missions of Mary, the mother of the Savior, and Elisabeth, mother of John the Baptist. John F. Hall, '78, professor of classical languages and ancient history, in New Testament Witnesses of Christ: Peter, John, James, and Paul (American Fork, Utah: Covenant Communications, 2002; 291 pp.; $19.95) pieces together biographies of the "four great supports [pillars] of the edifice for which Jesus Christ Himself was the chief cornerstone" (p. 1; see Eph. 2:20). And W. Jeffrey Marsh, '83, associate professor of ancient scripture, guides readers, in The Joseph Smith Translation: Precious Truths Restored (American Fork, Utah: Covenant Communications, 2002; 188 pp.; $11.95), through the history, significance, and application of the revelations found in the Joseph Smith Translation of the Bible. Blake T. Ostler, '81, philosopher and attorney, in Exploring Mormon Thought: The Attributes of God (Salt Lake City: Greg Kofford Books, 2001; 531 pp.; $29.95), delves deeply and faithfully into Christian and Mormon notions about God to formulate a brilliant systematic Mormon Christology.


---
Richard H. Cracroft is a BYU professor emeritus of English.
OTHER CRACROFT PICKS
By Richard H. Cracroft, '63
Self-Help

• Jaynann Morgan Payne, '49, Where Is Our Hope for Peace? A Resource for LDS Families Coping With Suicide (Ogden, Utah: Hidden Treasures Institute, 2001; 198 pp.; $12.95)—insights into healing after a loved one commits suicide.

• Anne-Marie Wright, Bundle of Choices: The Option Overload of LDS Mothers Today (Salt Lake City: Greg Kofford Books, 2002; 231 pp; $14.95)—findings from interviews with 100 LDS mothers on finding balance.

• Douglas E. Brinley, '75, and Mark D. Ogletree, '87, First Comes Love (American Fork, Utah: Covenant Communications, 2002; 250 pp.; $18.95)—a handbook for young adult Latter-day Saints about dating, courtship, and marriage.

• Steven R. Hawks, '82, Making Peace with the Image in the Mirror: Spiritual Solutions for Self-Esteem and Inner Acceptance (Salt Lake City: Bookcraft, 2001; 225 pp.; $14.95)—how fixations with physical image can divert us from achieving self-fulfillment.

• Kurt W. Sandholtz, '83, C. Brooklyn Derr, '64, Kathy Buckner, '82, and Dawn S. Carlson, Beyond Juggling: Rebalancing Your Busy Life (San Francisco: Berrett Koehler Publishers, 2002; 237 pp.; $24.95)—tools for the overcommitted and overworked.

Novels 

• Dean T. Hughes, Troubled Waters, Hearts of the Children, vol. 2 (Salt Lake City: Bookcraft, 2002; 419 pp.; $22.95)—the Thomas grandchildren during the turbulent '60s.

• David G. Woolley, Power of Deliverance, The Promised Land, vol. 2 (American Fork, Utah: Covenant Communications, 2002; 629 pp.; $24.95)—a wonderfully believable read about the prophets Uriah, Jeremiah, and Lehi.

• Douglas J. Alder, Sons of Bear Lake, A Novel (Springville, Utah: Salt Press, 2003; 259 pp., $16.95)—a Depression-era family leaving a small community and testing their beliefs in the world.

• Jeff Call, '94, Mormonville (Springville, Cedar Fort, 2002; 302 pp.; $16.95)—about an investigative journalist in a small Utah Valley community for a year to expose whatever evils he can find.