---
Best of conference: M. Tyler Haws ('15) and Jennifer D. Hamson ('14) won WCC Player of the Year honors. Hamson also earned WCC Defensive Player of the Year.
Hidden for Formatting
Senior Bowl sightings: Cougars Cody T. Hoffman ('14), left, and Kyle Van Noy (BA '13), right, played in the 2014 Senior Bowl. Phil Savage, the event's executive director, rated Van Noy the no. 1 outside linebacker there.
Hidden for Formatting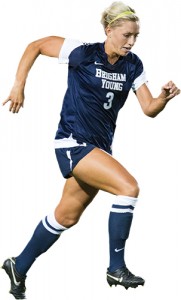 Soccer
Top pick for new league: Selected by the Western New York Flash, Cloee Colohan ('14) was picked 14th overall in the National Women's Soccer League draft.
Hidden for Formatting
All American with a mustache: Jared B. Ward ('14) won first-team All-America honors in both the 3,000 meters and the 5,000 meters. Ward took fourth in both events at nationals.

Swimming
Super fly: Freshman Lucas A. Aquino ('17) swam the 200 fly in 1:46:54, breaking a 30-year BYU record. The men's team won the MPSF Championship.