From one "eagle" to another, this MPA student is realizing his dreams and reaching his goals.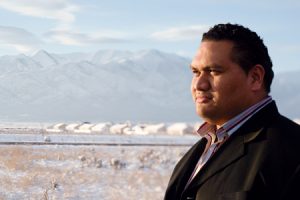 Faaifoaoolelagi (Ifo) M. Pili (BA '03) isn't hard to find among the throngs of students milling through the Tanner building at lunchtime. At 6'3″ and 310 lbs., he towers over most of his classmates in the MPA program, and at first sight, you think to yourself, "That guy could be an NFL lineman." Then the genial Pili extends his hand, complete with a jewel-encrusted Philadelphia Eagles NFC championship ring, and you realize—he was.

By the time Pili reached high school, he had two main goals: "I wanted to get a college education, and I wanted to play football," he says. So he left his home in American Samoa and moved to Orem, Utah, where he finished high school and was offered a scholarship to play football for BYU.

Pili was a standout defensive lineman during his time at the Y, and after his final season at BYU, he was signed into the NFL as an undrafted free agent by the Houston Texans and then later by the Philadelphia Eagles. Pili played with the Eagles through their 2004–05 season Super Bowl run. Following that season, he was picked up by the New England Patriots and released shortly thereafter due to injury.

Weary of being bounced from team to team and eager to finish the master's of public administration degree he had begun at BYU, Pili moved to Eagle Mountain, Utah, with his wife, Jenny Patterson Pili (BS '02), and their three daughters. Pili reentered the MPA program during winter semester 2006, and in the summer of that same year, he traded his jersey for a collared shirt and slacks when he accepted a position as an intern at Eagle Mountain City.

As an intern, Pili experienced many different facets of city management. In addition to his primary function as a management analyst, he also shoveled sewage and jackhammered cement. But just as Pili was settling into normal life, the New York Jets came calling with a job offer, and Pili had to make a decision almost on the spot.

"They usually give you a call at about noon and have a plane ticket for you at 5 the same day," he says with a laugh.

Pili weighed his options, consulted with his wife, and decided to stay put. "I had a calling in the bishopric in my ward, I was offered a position as a management analyst at Eagle Mountain, and I had committed to come back and finish my MPA program. It was time to settle down."

After his April 2007 graduation, Pili plans to continue working for Eagle Mountain and says he may one day follow a family path into elected government—his father is in the house of representatives in American Samoa, and his uncle is the congressman representing the territory.

Whatever the future brings, Pili is grateful for the discipline he learned from football and will always maintain that it is the greatest sport on earth.

"I don't think football will ever be out of my system," he says. "I've dedicated too much of my life to it. Sometimes you just want to go and tackle a quarterback! But my wife and I both feel that there is something else we need to accomplish now as a family. What that may be is yet to be determined, but I just feel there's something more."