---
SEEKING THE LIGHT

By Richard H. Cracroft

Five books to help guide you through this mortal journey.


In Light in the Wilderness: Explorations in the Spiritual Life (Digital Legend Press; 367 pp.; $17.95), M. Catherine Center Thomas (PhD '89), a BYU professor emeritus of ancient scripture, author of Spiritual Lightening (2002), and missionary (she recently completed her fourth Latter-day Saint mission with her husband, Gordon), leads readers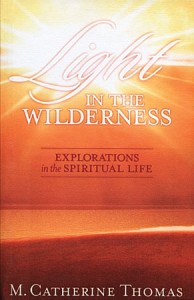 on an unforgettable journey through the Plan of Salvation. Thomas has written this book "in an exploratory spirit for fellow seekers who sense that there is always more to a gospel concept than meets the eye" (p. vi). She convinces fellow delvers that the light on our journey through the wilderness of mortality "is literal and that it manifests itself as it continually seeks access to our awareness. This book is about that Light" (p. xv) and about what we must do to obtain and continue in that light. Lifelong learning is what mortality is all about; Brigham Young taught that after one "has learned all his life he will then begin to see, that he has not yet entered upon the threshold of eternal things" (quoted in Thomas, p. v).
In sentences and paragraphs so richly and tightly packed that even Ralph Waldo Emerson would stare, Thomas undertakes to quicken readers' awareness of the light around them, and of the negative and positive influences vying for their attention and distraction. "Unbelief acts as a veil," she asserts, and "many spiritual realities remain hidden from Man's awareness until it is activated through belief and faith" (p. x). She says the way to spiritual awareness and, ultimately, to "the perfect day" (D&C 50:24) is through spiritual rebirth, through awakening the spiritual mind, the eternal man, from the slumber of the natural man.
To explore the challenging route to spiritual reality Thomas draws freshly and deeply on scripture and on the sermons of Joseph Smith, Brigham Young, Orson Pratt, Parley P. Pratt, Charles W. Penrose, F. Enzio Busche, and Hugh Nibley, among others. She opens to readers the experiences of such various light seekers and bearers as Jacques Lusseyran, Deepak Chopra, Sakyong Mipham, and Cardinal John Henry Newman and shares the poetry of John Milton, William Wordsworth, and William Blake. For, as Joseph Smith insisted, "one of the grand fundamental principles of Mormonism is to receive truth—let it come from where it may" (quoted in Thomas, p. xi).
With the "mighty change" taught and exemplified by Alma the Younger (see Alma 5:14), a change essential for spiritual maturity in every individual, we will overcome the spiritual blindness of the natural man, open our souls to a whole set of new perceptions, and become comfortable in the spiritual dimension of reality. And we shall be able to say, as Alma did to Shiblon, "Now, my son, I would not that ye should think that I know these things of myself, but it is the Spirit of God which is in me which maketh these things known unto me; for if I had not been born of God I should not have known these things" (Alma 38:6). This insightful study of how each may access fully the plan of salvation is not light reading; it is challenging but refreshing reading. Light in the Wilderness is one of the most thought-provoking LDS books I have read in a long while.
President Gordon B. Hinckley declared that "our entire case as members of The Church of Jesus Christ of Latter-day Saints rests on the validity of [Joseph Smith's] glorious First Vision" ("What Are People Asking About Us?" Ensign, Nov. 1998, p. 71). And Elder James E. Faust declared that the 1820 vision "is possibly the most singular event to occur on the earth since the Resurrection" of the Lord ("The Magnificent Vision Near Palmyra," Ensign, May 1984, pp. 67, 69). A Pillar of Light: The History and Message of the First Vision (Covenant; 268 pp.; $23.95), by Matthew B. Brown (BA '98), is a meticulous study of this foundational vision. It carefully sets the scene, examines the background story, then analyzes Joseph Smith's fragmentary 1832 account in detail and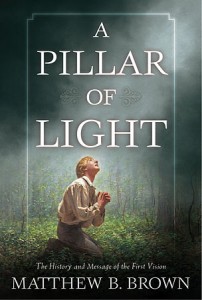 compares it to seven other accounts and to the statements from about 40 individuals who personally heard Joseph recount all or part of the vision. Addressing the criticism that the Church seldom publicized the First Vision during Brigham Young's presidency (1846–77), Brown provides a partial listing of 17 First Presidency and Quorum of the Twelve publications from that period that recited the First Vision. Other criticisms Brown takes on are claims of inconsistencies in the record and suggestions that the accounts of the vision became more elaborate as time went on. Brown shows Joseph Smith's consistency by comparing eight of the Prophet's recitations as recorded by his auditors. He concludes by examining six of the many important truths that Joseph learned through his great foundational vision.
BYU professor of Church history and doctrine Richard N. Holzapfel (BA '78) and BYU professors of ancient scripture Dana M. Pike (BS '78) and David R. Seely (BA '81) combined to create Jehovah and the World of the Old Testament: An Illustrated Reference for Latter-day Saints (Deseret Book; 397 pp.; $45.95). This large book is as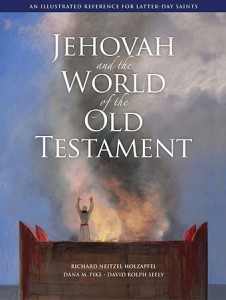 useful as it is beautiful—a richly illustrated, full-color reference guide to the cultures, languages, histories, and teachings of the Old Testament. This attractive guide contains original artwork, artifacts, maps, charts, timelines, and hundreds of photographs, all of which bring the very distant ancient world into our living rooms and supply much-needed contexts for our study of the Old Testament. The book is a smorgasbord of several hundred topics, featuring thorough, readable explanations of key personalities in the Old Testament, from Adam to Zilpah, and dozens of side-panels on topics, from "Priestly Vestments" to "Slavery," "Olive Oil," and the "Sons of Belial." It's all there and it's fascinating. This incomparable reference book is a companion volume to Jesus Christ and the World of the New Testament and is a basic tool for any Gospel Doctrine or Sunday School teacher or student.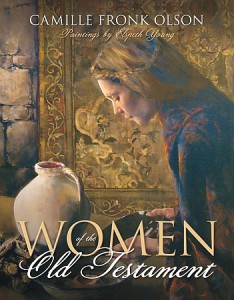 In Women of the Old Testament (Deseret Book; 341 pp.; $39.95), Camille Fronk Olson (MA '86), associate professor of ancient scripture, brings 20 remarkable women from the Old Testament to life. Olson carefully grounds their stories in photographs, maps, and carefully researched historical, geographical, and anthropological information; she also provides a treasury of exquisite full-color illustrations by Elspeth C. Young (BA '03), who first began painting biblical stories in 2002 while attending Olson's BYU course on women in scripture. Among the lives Olson highlights are those of Eve, the wives of the Patriarchs (Sarah, Hagar, Rebekah, Leah, and Rachel); the prophetesses Miriam, Deborah, Hannah, and Huldah; the widow of Zarephath. Very useful are the "Points to Ponder" discussion questions at the end of each chapter, appendices listing all of the names of women identified in the Old Testament, and a glossary of the meanings of their Hebrew names.
In The Undaunted: The Miracle of the Hole-in-the-Rock Pioneers (Deseret Book; 804 pp.; $34.95), Gerald N. Lund (BA '65) returns to the writing craft after six years of service as a General Authority and shows that he's still at the top of his game. While telling the astounding history of the Hole-in-the-Rock trek of 1879–80 and the establishment of the San Juan Mission in the colorful-but-desolate Four Corners region of southeastern Utah, he weaves in the lives and times of two fictional families, the Drapers and the McKennas (think of the ubiquitous Steed family of his epic series The Work and the Glory). In telling the backstory of the Drapers and McKennas, Lund transforms his historical novel into both a conversion novel and a love story. He follows the lives of young David Draper and his coal-miner father, John, as they forsake the grim coal mines of Yorkshire, England (which Lund portrays vividly), and emigrate to the United States, under the aegis of the Mormon Perpetual Emigration Fund. Several years later, David is hired by the McKennas of Cedar City, a prosperous and devout LDS family, who soon provide the driving spiritual force and romantic interests of his life. Amidst mounting troubles with the Indians and the influx of miners, ranchers, and outlaws into the Four Corners region, LDS leaders call the McKennas, Drapers, and some 250 other Latter-day Saints to colonize and civilize the region.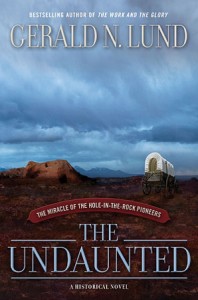 From this point the novel closely recreates the history of the Hole-in-the-Rock expedition, and Lund bases his account of this less-well-known pioneering adventure in the journals and memoirs of leaders and participants and in several histories of the trek. He creates a Lundian blend of reliable history and believable fiction, with chapter endnotes to differentiate between the two.
These 250 pioneers undertook, with 80 wagons and 1,500 head of livestock, to forge a wagon road across the wildest, roughest, most inhospitable terrain in southern Utah. Although they estimated that the trek of roughly 200 miles would take six weeks, it took, instead, six grueling months. Not only did they have to carve wagon roads across rocks to get to the Colorado River, but at Hole-in-the-Rock, they had to blast out sufficient rock to allow a passageway. They then widened a narrow ledge to create a passable road perched 1,000 terrifying feet above the river so that horses and mules could haul 80 wagons down the precipice, restrained by men and women handling ropes from above. After building a ferry to bring the wagons and livestock across the river, they had to blast and use handpicks to create yet another road to allow them to climb out of the gorge up to the plateau.
After grueling effort, and without losing a single man or beast, they eventually reached the San Juan River, where they would establish Bluff, Monticello, Blanding, and other Utah settlements. As David E. Miller, University of Utah professor of history, wrote in his definitive account of the expedition (1959), "In all the annals of the West, replete with examples of courage, tenacity, and ingenuity, there is no better example of the indomitable pioneer spirit than that of the Hole-in-the-Rock expedition of the San Juan Mission. No pioneer company . . . ever demonstrated more courage, faith, and devotion to a cause than this group" (quoted in Lund, p. vi). And Gerald Lund, in this fine book, once again gets it all just right: they were indeed "the undaunted."
---
Richard H. Cracroft is BYU's Nan Osmond Grass Professor in English, emeritus.