From its size to its smarts to its footwear selections, the Pachev family stands out.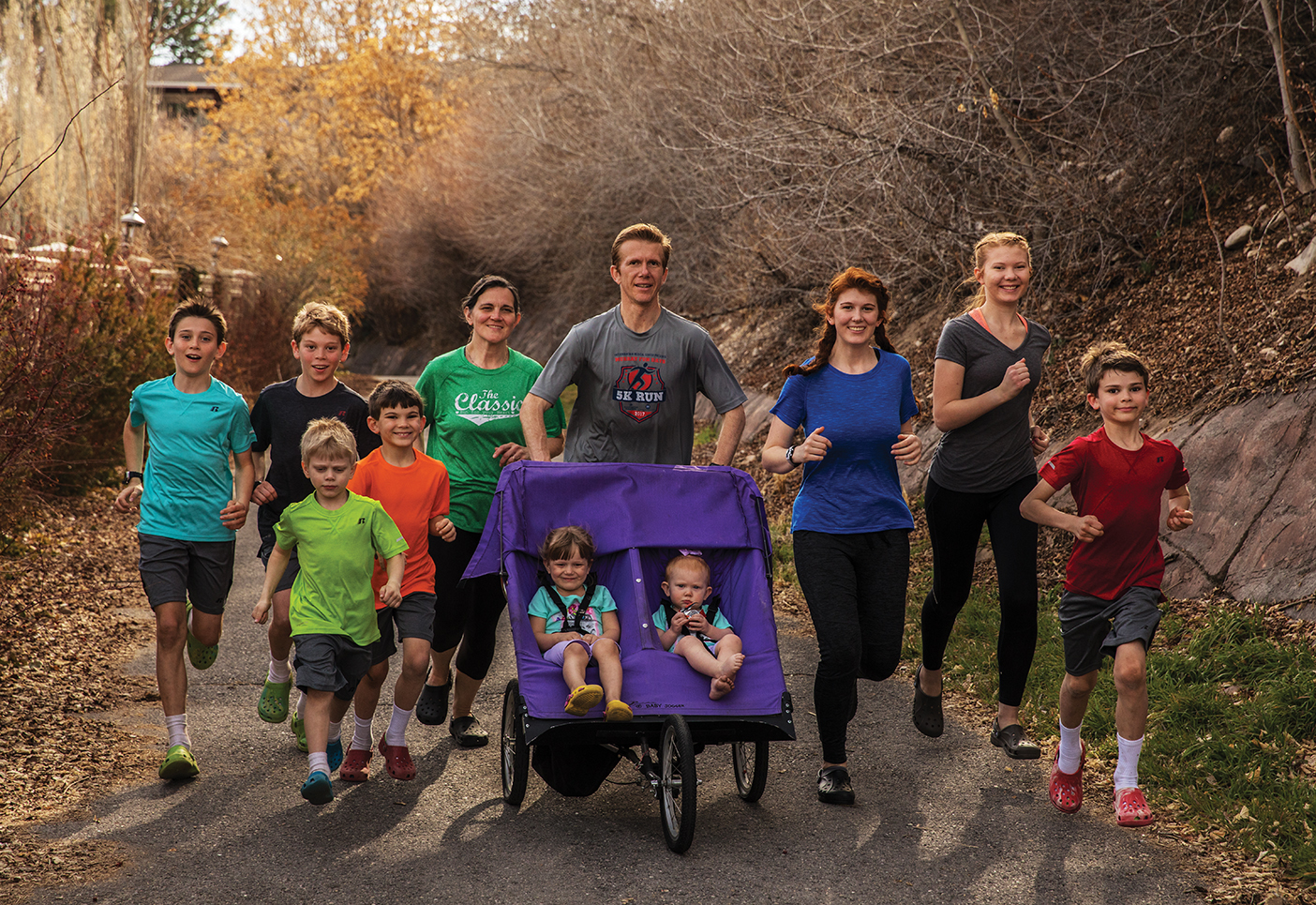 It's an inspiring, if unusual, sight: a pack of runners, ages 44 to 1, crowding a back road in Orem, Utah. Despite appearances, this isn't a local 5K; it's the Pachev family, 12 strong, out for a daily run. And among the rainbow of colors on their feet, there is not one pair of running shoes to be found. Instead, they are all shod in rubbery Crocs, which doesn't seem to slow their pace a bit. For this family, headed by Alexander I. "Sasha" (BS '98) and Sarah Matthews Pachev (BA '98), unorthodox footwear is just part of an unconventional approach to life.
Sasha grew up in Moscow, Russia, and by the time he was a young man he had developed an intense curiosity about English. While riding the bus one day, he noticed a foreigner speaking in English. Sasha introduced himself, and the man, named Eric, turned out to be a Latter-day Saint from America who was hoping to learn Russian. Soon Eric had Sasha reading from the Book of Mormon, and he taught Sasha English through gospel discussions. "I had a strong feeling that this was true," Sasha remembers. A few months later he was baptized.
Sasha found work as a trigonometry tutor for another American Latter-day Saint, Sarah Matthews, who had moved to Russia with her family for her dad's business. Sasha left to attend BYU and then serve a mission, but he didn't forget about Sarah. Upon his release, he acted quickly, says Sarah. "He got home from his mission, ate lunch, called my grandma and got my phone number, called me, took me on a walk around the [Provo Temple], and proposed," she says, adding, "He was kind of bold." Sasha's reasoning was simple: "When I got back, I knew that I had to act quickly, because otherwise she'd be gone." Sarah carefully considered Sasha's proposal, and now, 10 children later, she says "it was a match made in heaven."
A lifelong runner, Sasha convinced Sarah to make the sport an integral part of their family culture. Although running was not her passion, Sarah says the daily regimen has given her strength that she draws upon as she homeschools and trains their 10 children. "[Running daily] was really different for me [at first], but I soon learned to love the discipline, the achievement, and also what it could do for me as a mom," Sarah says. "Being a mom is an endurance game, really, and staying in shape gives me that edge that I need to stay healthy for my family."
When the Pachevs' oldest son, Benjamin (BS '16), was born, Sasha hoped to interest him in running too, but his early attempts fell flat. But when Benjamin was 5, he decided on his own that he was ready to run. Sasha recalls, "He kept up for a mile, at about a 12-minute pace, even though his shoes were on the wrong feet." Sasha dangled incentives to encourage progress. "After he was done he would watch a movie," Sasha says. "If he didn't break 10 minutes in a mile, then I would choose the movie, which would be a Russian movie, . . . [which] he did not like."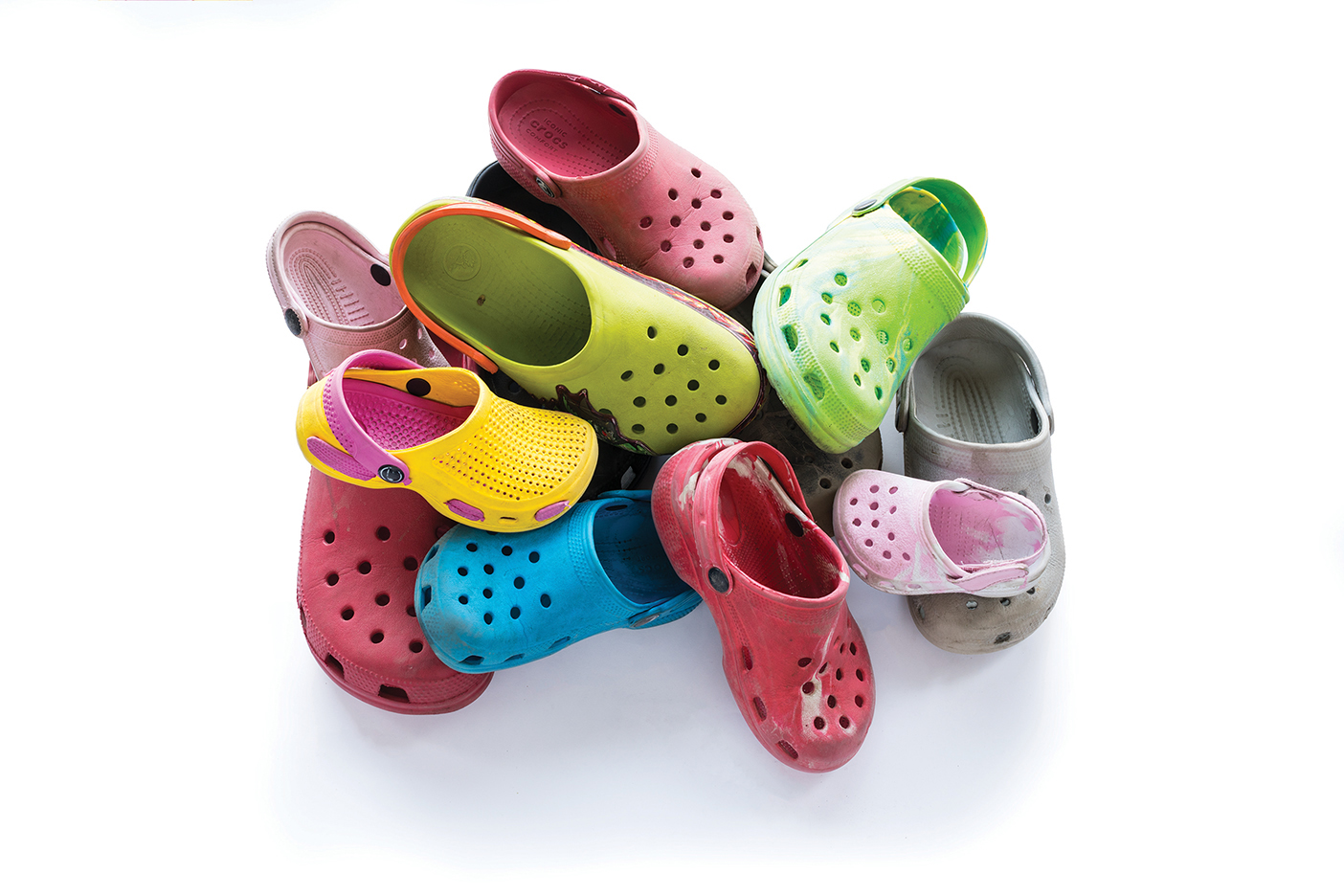 Under his parents' direction, Benjamin, now serving a mission in Ukraine, continued his high-achieving ways, finishing a BYU undergraduate degree by age 17. He currently has the distinction of being BYU's youngest alum.
Sasha and Sarah work as a team to teach their children how to run, and they have developed a unique family culture that supports their efforts. Sarah says, "We train each child individually, [and] there is also the family culture that everybody runs." Generally, the children begin running between ages 2 and 4, when they notice the rest of their siblings running and want to join. Each child's running routine varies according to age and ability, but six days a week, the Pachevs go running.
While teaching 10 children to run may seem daunting, Sasha and Sarah divide and conquer according to their talents. "I think [Sasha] has the vision, and I'm more in on the details," Sarah explains. While Sasha, who works as a software engineer, creates a plan for the family's runs, Sarah organizes equipment and scheduling. Sasha helps keep up the motivation, and Sarah comforts the children after particularly difficult runs.
One day several years ago, the children showed up for the family run wearing Crocs, their play shoes. "I told them to go put on real shoes," Sasha says, "and they said they were fine in Crocs." Sasha watched the children during the run and noticed they didn't run any slower or have any injuries. So Sasha decided to try it himself. "I [had] no injuries in Crocs and no blisters—even after a marathon!" After trying out barefoot running and various minimalist shoes, Sasha returned to Crocs. "And I have not regretted it," he says. Crocs, with the added benefit of being inexpensive, quickly became the family running shoe of choice. As Sasha and Benjamin began competing in their Crocs, people began to take notice. In May 2017, when Benjamin ran the 500 Festival Mini-Marathon (13.1 miles) in just 1:11:53—a roughly 5-minute-30-second pace—publications from Sports Illustrated to Runners World noted the achievement.
But for the Pachev family, running is ultimately about individual growth and family unity, not headlines. "[Running] is something we do to teach them to work hard, . . . to learn discipline, and to [have something] that they can feel accomplished in," says Sarah. It's part of their ambitious, unified, unconventional family lifestyle. "We love our life," says Sarah. "[We're] overjoyed that [it] has turned out the way it has."