---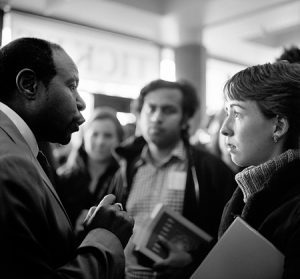 During the Rwandan genocide that claimed an estimated 800,000 lives in 1994, Paul Rusesabagina sheltered more than a thousand Tutsis and Tutsi-sympathizers from Hutu militia in the Mille Collines, a luxury hotel in Kigali, Rwanda's capital. His experience is depicted in the Academy Award–nominated film Hotel Rwanda.
In January droves of BYU students filed into the Marriott Center to hear Rusesabagina recount his story and encourage greater social awareness and responsibility. "My message today is to you young people: stand up and change the world," Rusesabagina said.
After the forum Rusesabagina spoke with students in a Q&A.