---
Peggy Burt Edwards (BS '02) of Scottsdale, Ariz., was never one to be defeated. When fibromyalgia and scoliosis precluded her from finishing a BYU music degree, she found joy in the marriage, family, and human development major. When her first daughter, Esra, was born with severe spina bifida and a rare genetic disorder that is now named after her, Peggy and her husband, Sam ('07), knew they would do anything to improve the life of their little girl.
As Esra grew, it became clear that she needed more than the basic, manually powered wheelchairs her doctors recommended. These chairs favored muscle development over ability to interact, and Peggy thought this interaction was an important part of Esra's development. "It was frustrating," Peggy says. "I knew there was no one who could really say what Esra can and can't do. I wanted to give her the right tools."
In 2007 Peggy found the SnapDragon, a powered chair designed for children and customized to the user, with up and down mobility as a defining feature. The chair, made by a small family business in England, had one major drawback: it would cost around $26,000, none of which would be covered by insurance.
Sam and Peggy realized they were on their own. Sam, a project manager for the U.S. Coast Guard, charted a plan to raise the money and created a trust. Once they started sharing Esra's story, help came not only from friends and family but also from complete strangers. One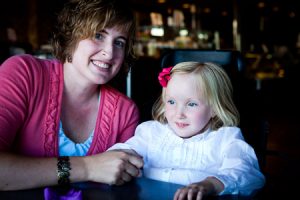 woman, inspired by Esra's sunny personality, donated a significant amount of money and promised Sam and Peggy she would help raise the rest. This culminated in a play put on at a local outdoor mall, where all benefits went to the Edwards family.
In July 2010 the family traveled to England with Esra to pick up her chair. "Truly, the greatest blessing from this project," Sam says, "[has been] to see the hand of God in providing for Esra."
Now Esra can explore her world and interact in ways impossible before, including playing more easily with her little sister, Estelle.
While the trust remains in place for Esra, Peggy has bigger plans. "This is not just about Esra's chair," Peggy says. She wants the trust to help others with disabled children—to help families like hers who have overcome impossible odds.
Read more about Esra at esrastrust.org.