A new biography measures the mighty steps taken by a latter-day prophet.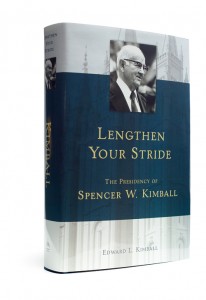 Let no family go into eternity without having left their memoirs for their children, their grandchildren, and their posterity," said President Spencer W. Kimball (1973–85) in the April 1978 general conference. "This is a duty and a responsibility" ("The True Way of Life and Salvation," Ensign, May 1978, p. 4; emphasis added). In other words, don't you dare die before completing your journals, memoirs, and personal and family histories!
In December 1980, he elaborated on his charge, saying Latter-day Saints should follow Nephi's example in writing things "of great worth" (1 Ne. 5:21) for their posterity. "Your journal is your autobiography, so it should be kept carefully," he urged. "You are unique, and there may be incidents in your experience that are more noble and praiseworthy in their way than those recorded in any other life" ("President Kimball Speaks Out on Personal Journals," New Era, December 1980, p. 27).
President Kimball set the standard for journal keeping, filling 33 journals and leaving behind thousands of personal letters, numerous sermons, dozens of interviews, and several books. His frank and honest account of things that he deemed of worth has given members of the Church of Jesus Christ a historically rich and spiritually instructive literary blessing. President Kimball's diary, with its record of Church events from 1943 to 1981, is so historically important that Leonard J. Arrington, the late Church historian, placed it alongside those of Presidents Wilford Woodruff and Heber J. Grant as sources of Church history.
In Lengthen Your Stride: The Presidency of Spencer W. Kimball (Deseret Book; 471 pp.; $29.95), President Kimball's son Edward L. Kimball has transformed these personal writings of the life and ministry of his father into a landmark biography. Edward is BYU professor of law, emeritus. He was coauthor, with Andrew E. Kimball Jr. (BA '71), a grandson of Spencer and Camilla Kimball, of Spencer W. Kimball (Bookcraft, 1977), which treats President Kimball's life up to 1977.
Along with President Kimball's personal writings, in Lengthen Your Stride Edward Kimball draws on interviews he conducted with his father and mother; with his father's counselors in the First Presidency (N. Eldon Tanner, Marion G. Romney, and Gordon B. Hinckley); and with many of his father's other colleagues among the General Authorities. To these accounts Edward adds his own recorded memories, along with the recollections and impressions of friends, relatives, and contacts around the world with whom President Kimball met, counseled, and corresponded during his presidency. These accounts have been gleaned, winnowed, and sifted by Edward, an astute editor, able interpreter, skillful writer, and careful biographer, to create what will become, I prophesy, a classic among Latter-day Saint biographies. (I prophesy only on sure eventualities.)
Edward Kimball, who writes this biography out of deep love and respect for his father, is able to see Spencer Kimball as at once normal and exceptional. He tells the story of the man who dealt with the irritations and vicissitudes of life, family issues, and a staggering array of health problems with varying success. And he tells of the man who asserted dynamic leadership in an expanding church and ministered with a loving embrace and kiss to the thousands of men, women, and children whom he encountered in his journey and who esteemed him, a man short in stature, as a bigger-than-life prophet of God.
The portrait of Spencer W. Kimball that emerges in this superb biography neither omits his weaknesses and problems nor exaggerates his strengths, which is just as President Kimball wanted it. "Your journal should contain your true self rather than a picture of you when you are 'made up' for a public performance," he advised ("President Kimball Speaks Out," p. 27). The accumulated evidence of this volume testifies about the quality of this man of God. Edward writes in the preface, "That the anecdotes [in the book] almost all illustrate good character comes not by conscious selection but because Spencer was, on all the evidence, a truly good man, with unusual measures of intelligence, kindliness, integrity, commitment, patience, and unaffected love" (p. xiii).
The life of Spencer W. Kimball is instructive. It is the record of a pilgrim's progress through ordinary dailiness to exceptionality and loving spirituality. He became, en route through his ministry, refined and sanctified by his eye-single-to-God service, devotion, sacrifice, daily acts of self-mastery, and consistently applied spirituality. And he accomplished all this while undergoing human sorrow, disappointment, manifold afflictions, and great pain.
The biography treats with directness and candor the major issues the Church dealt with during those exciting years of growth and change and revelation. So unflinching are the reflections that the publisher felt it necessary to preface the book with an unusual disclaimer: "The publisher and the biographer do not agree on the interpretations . . . given to a number of events, or the choices of characterization of some of the people. The author and the publisher have had open and energetic discussions on these issues, and there has been some give and take in the editorial process" (p. ix). One apparent compromise is the welcome and unprecedented addition of a CD, which contains not only the full text of the published book with additional footnotes and sources but a longer version of the book, which includes fuller treatment of some issues. The CD also contains audio samples that illustrate President Kimball's voice before and after his throat surgery.
At the center of Lengthen Your Stride is the capstone of President Kimball's presidency, the hosanna-shout that resounds through the five chapters that Edward Kimball devotes to the June 1978 revelation extending priesthood and temple blessings to all worthy males. These wonderful chapters will become the definitive description of the revelation for the history of the Church. They provide a careful composite of accounts by and interviews with some of the General Authorities who were present (p. 215, fn. 1).
The process that culminated in the priesthood revelation is instructive for the Church, as it offers, writes Edward Kimball, "a classic illustration of the pattern that often precedes revelation—an urgent question, intense consideration, a prayerfully formulated tentative answer, and a spiritual confirmation" (p. 215). In a letter to Edward, written years before the revelation, Elder Kimball wrote, "Revelations will probably never come unless they are desired. I think few people receive revelations while lounging on a couch. . . . I believe most revelations would come when a man is on his tip toes, reaching as high as he can for something which he knows he needs, and then there bursts upon him the answer to his problems" (p. 216).
Lengthen Your Stride is a gem of Latter-day Saint biography. Spencer W. Kimball, who donned the mantle, caught the divine vision, and lengthened his stride, called on members of the Church to do likewise. He impelled the Church into a new era of growth, development, and progress, stepping up a momentum that has continued into the 21st century, under a president who seems an extension of Spencer W. Kimball. As Edward Kimball concludes, "No short man ever had a longer stride" (p. 419).
---
Richard H. Cracroft is Nan Osmond Grass Professor in English, emeritus.