For God hath not given us the spirit of fear; but of power, and of love, and of a sound mind (2 Tim. 1:7).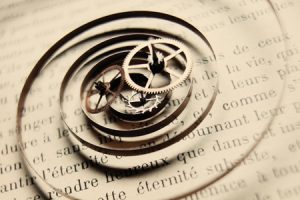 By Rachael A. Givens ('11)
Note: This essay won the 2011 BYU Magazine Student Essay Contest. The theme was Enter to Learn. The second- and third-place winning essays, by Kimberly Slater (BA '11) and Meilina J. Moore ('12), respectively, can be found online at magazine.byu.edu/2011essays.
Drumming my fingers, I stared at the mortar between the crumbling cement bricks of my Deseret Towers dorm wall and wondered what a Cartesian experience must be like. As I read René Descartes' account for my freshman writing class, I marveled at the controlled, rational way the philosopher dismantled a lifetime's worth of beliefs, one by one, and held them under a microscope of detached objectivity—like taking apart the pieces of an antique pocket watch.
Would it be so simple to pick apart all the ideas that have formed who you are? And then to start from scratch, putting back the parts that passed the test of truth, discarding the ones that had accumulated from mistaken assumptions and inherited traditions? What would be left? How would I put them back together? Would I ever have the courage to find out?
These questions, however, were soon pushed aside as a relentless assembly line of ideas and concepts crashed their way into my brain over the next several years. After serving a mission, I returned to school with a sense of assurance that I had everything figured out. Not that I knew everything there was to know, but I felt that any piece I could add to my pocket watch would simply fit into place. But that was soon to change.
In my philosophy of religion class that first semester back, I learned to understand and articulate theological and spiritual principles with exhilarating rigor. At the same time, I was learning LDS Church history and Christian theology as a research assistant, tapping into another world of ideas that gave my understanding of God and human experience a vivid, compelling intellectual dimension. I began a thesis in which I examined the intersection of rational and religious thought in early modern female writers, launching me into the fascinating cultural history of women and religion.
But as I probed deeper, unsettling questions began to surface. Questions soon outpaced answers and became bewilderment when I began to realize that the answers weren't a simple matter of reading a book or asking a professor. On the contrary, what I found was ambiguous, contradictory, and troubling, and my former black-and-white confidence started to crumble. Before I knew it, I had a full-blown Cartesian experience on my hands.
It was not like taking apart a pocket watch.
As I struggled for months to sort through the spiritual and intellectual debris, I continued visits to the temple, persistent fasting, and half-doubting but half-hoping prayers. I wasn't expecting answers from those acts, only emotional comfort—like something you instinctively hold on to when the ground starts to sway.
But the sorting was exhausting. One afternoon in the temple, I felt the waves of disorientation, frustration, and anger break over me again. It seemed my very spiritual identity lay in fragments, and I simply couldn't put them back together. My mind revolted against all attempts to retain what didn't seem to fit. At the moment when I was ready to give it all up, the words of one of my BYU professors sprang to mind: Sometimes the heart and the mind don't learn at the same pace.
In my unyielding search for intellectual certainty, for that enlightening of the mind that God had promised the honest seekers (see D&C 6:15), I had forgotten the other half of His promise—that He would "tell [me] in [my] mind and in [my] heart" (D&C 8:2; emphasis added). And so, in a moment of ultimate humility and vulnerability, I willed my mind to be still. In that internal silence came an unmistakable witness that a Being exists who can dispel confusion with light and cast out fear with perfect love. In that moment I understood how to learn with my mind and my heart, and in so doing, I found the one Truth that has given me the confidence to face all other questions.
I have since started putting my pocket watch back together, but this time without fear. God never asked us not to have questions—only not to be afraid.
YE WHO ENTER HERE
By Kimberly Slater (BA '11)
When her well-laid plans failed, a student discovered the power of hope.
Note: This essay took second place in the 2011 BYU Magazine Student Essay Contest.
I once heard of a high school English teacher who posted the same sign above her classroom door as the one found in Dante's Inferno above the gate to hell: "Abandon all hope, ye who enter here." Whether a joke or not, I think all students at some point in their path of learning know what it means to pass under such a sign. And, oddly enough, it's not as depressing a thought as it sounds.
When I entered BYU, I didn't think I needed hope. I had something better: a fool-proof plan. I imagined maintaining a perfect grade point average, being a brilliant English major, publishing a novel before I graduated, joining numerous clubs and societies, preparing to serve a mission the moment I turned 21, going on countless dates, finding some amazing guy to marry, and making instant friends with everyone from roommates to classmates. In short, I imagined an amazing, trouble-free experience. What an imagination.
Near the end of my freshman year, during which nearly all of the above expectations were challenged, I sat alone one night in my shared bedroom in Heritage Halls (my roommate was the one always off on the dates that year). My expectations had already been downgraded from certainties to hopes—and in some cases to slim chances or abandoned hopes. I felt surrounded by people who were better than me in every way, and in my naïveté I assumed this meant my own worth was decreasing. I was not as amazing as I thought. Alone in my room, I felt I was just a box on a conveyor belt—nothing special. More important, I realized I was losing my testimony of the loving Heavenly Father I'd believed in since childhood. I wondered if it was worth all the trouble and pictured how easy it would be to give up on my failing plans, hopes, and testimony. I remember thinking about the sign above the gateway to hell in Dante's Inferno: "Abandon all hope, ye who enter here." I wondered where I'd missed the sign. Which doorway had it been over?
I sat in that tiny bedroom and stewed over things for so long that eventually, my despair turned to anger. In my arrogance, I decided to give God one last chance before I gave up. I told Him to send me something, anything that would stop me from feeling like a lost and unremarkable failure. Then, remembering the countless stories I'd heard in various testimony meetings, I opened my scriptures at random to Doctrine and Covenants 50:41–42. These verses read, "Fear not, . . . you are of them that my Father hath given me; And none of them that my Father hath given me shall be lost." And between the lines, from a loving God to a child grieving for failing dreams, the scripture said to me, "Don't abandon hope. You're on my path. I won't let you fail."
BYU is a place for learning. I've sometimes thought about the signs that should be posted above the doorways in various buildings: "Learn of your American heritage, ye who enter here"; "Prepare to be tested, ye who enter here"; "Respect the books, ye who enter here"; "Learn to see through others' eyes, ye who enter here"; "Learn of Christ, ye who enter here"; "Learn more about yourselves, ye who enter here." There are lessons to learn through every door.
Each year I've been at BYU, I've had to face the fact that my education wasn't what I planned. As I prepare to graduate, I face unmet goals and unrealized dreams. But I've been through the door of abandoned hopes and back out again, hope restored. It's on returning through that door that we realize the importance of hope. Even if our hopes aren't completely fulfilled or our expectations met, hope is what keeps us going and what really enables us to be amazing. In a difficult life, I have learned that hope is of ultimate importance. On every doorway, placed there by a loving Heavenly Father, I can see the words: "Retain a perfect brightness of hope, ye who enter here."
Warm-Ups, Dimes, And Ginko Trees
By Meilina J. Moore ('12)
In her pursuit of a BYU education, a student discovers the importance of higher consciousness.
Note: This essay took third place in the 2011 BYU Magazine Student Essay Contest.
Physically, I was in the Madsen Recital Hall that day, but mentally, I was in a hundred different places. Let's see . . . my deadline for grading Human Development papers is tomorrow, and I have approximately . . . too many . . . left. Our director, Rosalind Hall, smiled widely and flung her arms above her head to begin our daily stretch. Oh, I need to send Bishop the hymn selection for Sunday. I wonder who could pull off a musical number in a week. Now we jogged in place as Professor Hall chirped merrily, "Energy begets energy!" I can't wait for the basketball game tonight! How soon should I go wait in line outside the Marriott Center? A D major chord summoned us to begin singing, and the air resonated with experienced voices, "Vee veh vah voh voo." I really should have talked to that cute boy in my D&C class—I sat right next to him for the whole 50 minutes! Sure, I was singing along with everyone else, but my vocal chords were the only things involved until Professor Hall dropped her hands to her side.
"Get conscious, folks!" she demanded. "Some of us are on automatic pilot!" Apparently, I wasn't the only one who was radiating a lack of focus, and her invitation startled me back to the present. Hundreds of hopefuls had auditioned for one of the 96 spots in BYU's Concert Choir, and there I was agonizing over my social life and organizing my to-do list. "Get conscious," I said to myself this time. And as we modulated up a half-step and repeated the warm-up, I was deliberately and wholly there. Whoops! Be aware of that descending minor second. Add more space to the 'oh' vowel. Keep the breath moving, and go, go, go on that last note! This time I recognized my strengths. I identified my mistakes. . And I took advantage of every second of a simple vocal exercise.
Before long, the "consciousness" I was practicing daily in choir trickled into other areas of my life, and I realized I often lived as the "average person" Leonardo daVinci described—one who "looks without seeing, listens without hearing, touches without feeling, eats without tasting, moves without physical awareness, inhales without awareness of odor or fragrance, and talks without thinking." Soon I noticed that Professor Hall was not my only professor who taught about living consciously. "Gaze upon the ginko," Professor Craig Israelsen counseled, encouraging us to notice the unique shape of the leaves on the trees behind the Eyring Science Center. "We're having a quiz," said Professor Lisa Boswell, and she asked us to record which presidents were on the front of the nickel, the dime, and the quarter—coins we had handled regularly throughout our lives. Professor Douglas Thayer frequently repeated the mantra, "Good writing is intentional."
The greatest lesson I have learned at BYU is that consciousness is the secret to a rich education and a meaningful life. When we live with intention, we make goals, we tune out that which distracts, and we embrace that which facilitates. We live in the moment. We enlarge our perspective and marvel in the beauty of God's creations. We find life in the details, and in the details we more fully and deeply know the whole.
My attempt to live consciously has already brought new insights to my life. I know that one particular tree in Helaman Halls is shaped like a monstrous witch's broom. I know that I have a tendency to speak with my hands when I'm nervous. I know that my roommate's emotional state can be determined by the cleanliness of our bedroom. I know that I'm likely to buy an Asiago cheese bagel if I walk through the Bookstore's Twilight Zone around 11 a.m. I know that Franklin D. Roosevelt's face graces the dime.
My final concert with the BYU choirs and final semesters at BYU are approaching much too quickly. I sometimes think I would be content to stay in school for the rest of my life. But no matter how bittersweet that graduation day will be, I can be confident that living consciously will ensure I leave BYU with no regrets.