---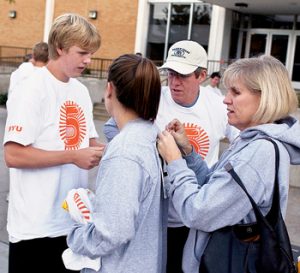 Judie and Elton Cribbs traveled from Houston to BYU to visit their daughter, Brittney, '06, and introduce their son Josh to campus during Parents Weekend, an October event that drew more than 600 parents to campus.
Among other events, the Cribbses participated in Testing 1, 2, 3, an activity that analyzed how well parents have retained knowledge in such basic classes as English and math.
"Elton only missed one in accounting," says Judie, bragging about her husband's score.
It is likely that Elton, who works in accounting, didn't mind that his scores were sent directly to his daughter. But, says Nancy Carson, Parents Weekend coordinator, "Other parents should be more compassionate about their students. We had many parents grab their scores and tell me there was no way their students were ever going to see them."
Testing 1, 2, 3 is merely one activity that parents partcipated in during the weekend designed to connect parents with their students. There were also behind-the-scenes campus tours; art exhibitions; hikes to the Y; 5K runs; football, soccer, and volleyball games; a pep rally; and a barbecue. BYU president Cecil O. Samuelson also greeted parents and students at the event.
David and Diane Dubnicki of New York did not know much about BYU or the Church of Jesus Christ when their son decided to enroll because of the university's ballroom dance program.
"We knew we had to come see our son, and when we went online, we found this wonderful event," Diane says. "We heard the marching band when we brought Daniel out to school, and they were wonderful. We also love this beautiful area. He's happy to be here."
For more information about the Parents Program, visit parents.byu.edu.