Honorees represent service to the community, family, and school.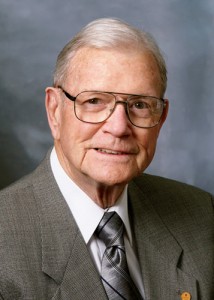 During Homecoming Spectacular, Oct. 14–15, nine people were honored with university awards. J. Elliot Cameron, '49, Clay Irvin Petersen, '52, Lynn G. Perry, '61, Norma Newitt Perry, '59, and Janette Callister Hales Beckham, '69, received Distinguished Service Awards for outstanding service to their professions, community, nation, or church. Service to Family Awards were extended to Fae Probert Ford, '39, and Debbie Kartchner and Whitney Kartchner, '83. The Honorary Alumni Award, recognizing significant service to the university by a person who did not attend BYU, was given to John Hughes.
Cameron was president of Snow College and BYU–Hawaii, dean of students at Utah State University, and a vice president at BYU. He has been commissioner of the Church Educational System and served three years as the Provo Temple president. During World War II Cameron spent three and a half years working as an administrative specialist. He was later responsible for initiating the Indian placement program in Sevier County, Utah, to help young Native Americans obtain education.
Petersen attributes his accomplishments to one principle: pure joy in learning. He spent 42 years serving in Utah schools, instilling in students appreciation for education. He has been president of the Granite Education Association and chair of Utah Classroom Teachers. He has been named Granite School District Teacher of the Year and Utah Teacher of the Year for his diligence in the classroom and care for his students.
After graduating from George Washington Dental School and serving two-years in the Air Force, Lynn Perry moved to California with his wife, Norma, where he opened his private dental practice. His passion, though, has been providing free dental treatment in third-world countries. At their own expense, Lynn and Norma have worked in Thailand, the Philippines, Africa, El Salvador, Tonga, Bhutan, Bolivia, and Mexico.
In 1988 Beckham was serving on the general Primary board and in the Utah State Legislature. Two years later she accepted a call to the Young Women general presidency; two years after that she was called to be the Young Women general president, where she served for five years. Beckham also served on the Church's Olympic coordinating committee, working as a liaison between the Church and the organizing committee for the 2002 winter Olympics in Salt Lake City.
After the death of her husband in 1977, Ford felt an urgency to record family histories, viewing herself as a link between generations. Since that time she has completed and published a personal history, her husband's history, and a history of their ancestors, which BYU associate professor of history William G. Hartley, '66, called compellingly narrated and extensively researched. Ford has also served as an ordinance worker in the Ogden temple for 18 years.
The Kartchners already had nine children when they decided to become a foster family. Since that time, they have adopted five more children. Despite busy schedules the Kartchners make time to ensure that each child feels special. Debbie also helps recruit and train new foster parents and serves on the review committee for foster care. Whitney works for Construction Solutions and Symphony Homes.
A Pulitzer Prize–winning journalist and nationally syndicated columnist, Hughes came to teach at BYU in 1991. During his stay, BYU served as host for prominent members of the worldwide news community. In 1997 he was appointed editor of Salt Lake City's Deseret Morning News. He has served as U.S. assistant secretary of state and assistant secretary general of the United Nations. He spent nine years as editor of the Christian Science Monitor.