---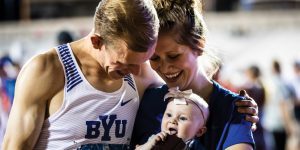 Baby Lucy was nearly as excited as her parents— Clayton A. (BS '19) and Ashley Larson Young (BA '18)—when her dad became BYU's first outdoor-track national champion in 10 years. Or excited, at least, to get her mouth on that trophy.
On a hot and humid night in Austin, Texas, sprinting the final 200 meters, Young held off a challenger from perennial powerhouse Alabama to win the 10K in 29:16.60. His Cougar teammates Connor R. McMillan (BS '19) and Conner B. Mantz ('22) finished third and fourth. "To get three guys in the top five is phenomenal," says Coach Edward D. Eyestone (BS '85, MS '90)—the last BYU athlete to claim the title in this race (in both '84 and '85). Eyestone ran the bleachers to meet Young at the finish line. "It was a feeling of exuberance."
Young and Mantz would later place sixth and seventh in the 5,000-meter final, leading the BYU men to six First-Team All-America awards and an eighth-place finish.
Watch the gripping finish of Young's race below.