---
Families remember 50 years of  fun at Aspen Grove.
At the testimony meetings that have become a tradition at BYU's Aspen Grove Family Camp, participants often talk about the breathtaking beauty surrounding them. From any vantage point the camp is an outdoor wonderland.
One young mother, however, offered a different perspective when she suggested that if the animals and the trees were given voice, they would applaud the humans in the lodge. "As wonderful as it is here, we are God's greatest creation in nature," she said.
Aspen Grove director Glen C. Parker (BS '74, MA '83) says that young mother's comment changed the spirit of the meeting. "She really captured the magic that is Aspen Grove," he says. "Whenever you talk about the spirit of the Y and the awe of God's handicrafts, the greatest thing here is the people who gather as families and share a spirit of love and wonder."
For 50 years, since July 13, 1963, thousands of families and reunion groups have taken in the beauty of Utah's mountainscape and enjoyed six days in the shadow of Mt. Timpanogos. Because the Aspen Grove staff does all the cooking and cleaning—and because BYU student camp counselors provide adventures with age-group programming—Mom and Dad get to have a vacation too.
Nestled in the heart of Provo Canyon, a short drive from the university, Aspen Grove Family Camp is celebrating its golden anniversary this summer, and for 28 of those 50 years, Glen and Beverly Westenskow Parker (BS '74, MA '94) have directed the camp and helped it develop from an aging lodge with 50 rustic cabins to a year-round facility with several lodges, a dining hall, a conference center, and an armload of activities: cross-country skiing, basketball, shuffleboard, horseshoes, racquetball, swimming, ropes courses, hiking, volleyball, and more. Their most recent accomplishment was the acquisition of an additional acre, making the total 54. The Parkers will leave Aspen Grove in fall 2013 to serve a mission, and Mark E. Longhurst (BS '88, MA '93), who has worked at Aspen Grove for 24 years, will take their place. He will join a short list of Aspen Grove directors that includes the Parkers, Welburn J. Van Orman (BS '62, MRE '66), Douglas A. Doxey ('66), and Ken J. Taylor ('65).
These five directors have offered families opportunities for fun as well as inspiration. The camp includes 10 guest lectures, an appreciated bonus for adults who can attend the classes on family relations, religion, health, and more, while children make crafts, cast pots, or fish in a pond for rainbow trout. The week also features theme nights, including talent shows, family games, a frontier night, and firesides—often by General Authorities who attend the camp with their families.
"I remember how much fun we had with all our cousins when I was a kid," says Emily Hanks Aldrich (BA '07).
Her father, Richard D. Hanks (BS '83), says memories of Aspen Grove framed his childhood. He also remembers how his father, Elder Marion D. Hanks, jumped in as a benefactor to help provide a program for single-parent families who might not have the means for an Aspen Grove experience. "We have a cousin who was widowed and raising a small family," he says. "Experiencing Aspen Grove as a family was especially meaningful for her."
Aspen Grove measures its success not only by the full camps, the waiting lists, and the 80 or so families who participate every week during the summer but also by the letters they receive. Wanda Silvers of Dallas, Ore., wrote: "I feel like Cinderella who has to leave the palace and go back to the ashes. You exceeded my hopes and dreams of this place. Our children young and old loved it. Your counselors were amazing with the kids."
Anne Prudler Allen ('94) of Elk Grove, Calif., was equally enthusiastic. She wrote: "Best family vacation ever! We loved how the whole family could be involved and everything was family-friendly and inclusive. I don't know why we haven't come before. We will be back."
Much of the work to keep the camp running is done by BYU student employees, who live at the camp for the summer and prepare meals, maintain the facilities, or lead activities for children and families. They also build lasting relationships.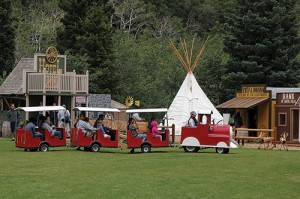 Like many other student employees, three of the Parker children found their spouses while working at Aspen Grove. "It was a great way to see what kind of men they were," says Amber Parker Myers (BS '99), who met her husband, Tod R. Myers (BS '02, MPA '10), at the camp. "I worked side-by-side with Tod as we did anything from digging rocks to hauling sod. As Tod worked maintenance with my dad, and I saw how well they got along, I got a lovely perspective of my future husband."
For camp counselor Ashley Day Mills ('13), Aspen Grove changed her life. "I grew up in a difficult home and began working at Aspen Grove in the summer of 2007 as a Tromper [4-year-olds] leader," she says. "That summer I gained the self-esteem I never had been able to acquire earlier in life and learned I was a person of value. By the time the summer of 2009 came around, I could not think of anywhere else I would rather be than this amazing camp." She also met her husband, Cory D. Mills ('14), at Aspen Grove, and they worked there the summer of 2010 as newlyweds.
While celebrating half a century of the family camps, Aspen Grove is also approaching its centennial mark. In the early years of the 20th century, sheep grazed on the land until the North Fork Investment Company donated a portion of the land to BYU in 1921. Former BYUpresident Franklin S. Harris (BS 1907) established the Alpine Summer School in the 1920s as a high mountain retreat where students and faculty could escape the summer heat on campus. It remained a summer school until World War II and then sat largely fallow for the next two decades. In the early 1960s Ray E. Beckham (BS '49, MA '69), first head of BYU's Alumni Association, saw potential in the property and persuaded the university to develop Aspen Grove. The Beckham Lodge at Aspen Grove honors his legacy.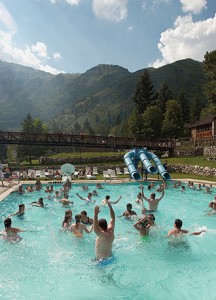 Beckham, who is being honored during the anniversary, shares the credit with former BYU vice president Ron G. Hyde (MS '64). "I may have gotten it started, but Ron kept it going," he says.
With the camp's heritage of vision and grit to guide him, Longhurst, who first found his way to Aspen Grove as a graduate intern in recreation management, looks forward to the coming years as director. "I have seen much of the growth and have seen how the family camps not only change the participants but also create lasting bonds among the students," he says. "I love working with the staff, the students, and the families. Most days have been a complete joy for me. I hope my contribution will be to build on that great legacy."
— Charlene Renberg Winters (BA '73, MA '96)