---
By Peter Carr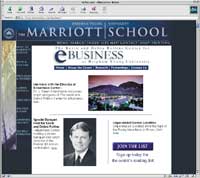 In a move to become one of the nation's leading high-tech business research centers, the Marriott School of Management has created a center for electronic business (e-business).

The Rollins Center for eBusiness@BYU will foster the study and teaching of how information technology is changing business and management processes. It will also serve as an intermediary between the high-tech business sector and BYU faculty and students by building new partnerships and allowing joint research projects.

"We have been working on an e-business center for a long time," said J. Owen Chjerrington, director of the Marriott School's master of information systems management program and head of the new center. "This is an exciting step that we believe will help us capitalize on several competitive advantages: our geographic location in one of the hottest areas in the nation for high-tech businesses, the high caliber of our information systems faculty and students, and lower costs for high-tech business development."
The center is designed to attract qualified faculty and staff, develop new course materials, expand the number of e-commerce classes, and provide students with new job opportunities, internships, and field study projects.
Announced in January, the center is named for BYU alumni Kevin and Debra Rollins, who made a substantial donation to help establish it.
"Debra and I are excited with the potential this new center has to generate new technologies and train technology-savvy business leaders," said Rollins, vice chair of Dell Computer Corporation. He also expressed a commitment to help the Marriott School raise the additional money needed to fully fund the center.
---
To learn more, visit the center's Web site(https://marriottschool.byu.edu/ebusiness.)