---
125 years ago: The cost of room and board in the three-story Academy Boarding House is $2.50 a week or $10 a month. Located at the corner of 100 West and Center Street, the building could house up to 60 students (both men and women).
100 years ago: The BYU marching band gives President George H. Brimhall (ND 1877) a surprise wake-up call on his 58th birthday. The band then marches across the grounds to wake the rest of campus.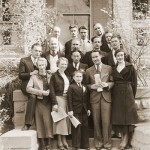 75 years ago: The newly formed BYU Press Club consists of students in the Journalism Department, which had been recently established by Professor Harrison R. Merrill (1906).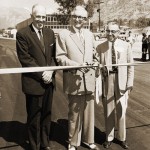 50 years ago: Church President David O. McKay, with BYU physical plant director Sam F. Brewster (left) and BYU president Ernest L. Wilkinson (BA '21) (right), cuts the ribbon to open Campus Drive.
25 years ago: Disney's The Black Cauldron is released with sound effects produced by Michael L. McDonough (BA '76).
10 years ago: BYU's Creamery on Ninth opens its doors, creating 50 student jobs and fulfilling its mission statement: "Serve good food. Be nice."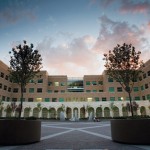 5 years ago: Church President Gordon B. Hinckley dedicates the new Joseph F. Smith Building, home to the College of Family, Home, and Social Sciences and the College of Humanities.
By J. Gordon Daines III (BA '97), University Archivist
More: Read more about BYU's history on Gordon Daines' blog at lib.byu.edu/sites/byuhistory.