---
125 years ago: Brigham Young Academy's first student newspaper, The Academic Review, comes to an end. The publication was organized under the Polysophical Society, which was founded by Principal Karl G. Maeser in 1884.
Find the digital collection of The Academic Review at lib.byu.edu/dlib/byuhistory.
100 years ago: As a member of the BYU track team in 1910, Alma W. Richards (1913) performs an early form of high jumping with his legs tucked underneath him. This new technique launched his fame at the 1912 Olympic Games in Stockholm, Sweden, where he became the first resident of Utah to receive an Olympic gold medal.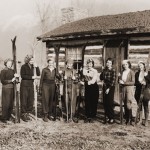 75 years ago: BYU's 1935 Winter Carnival was lacking snow, but that doesn't stop students from dressing up in their ski gear and enjoying the event anyway.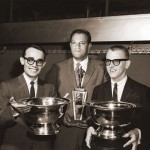 50 years ago: The BYU debate team wins first place at the Harvard University National Invitational Debate Tournament.
25 years ago: Jimmy Stewart is honored at BYU for donating his personal memorabilia, including his famous accordion, to the school.
10 years ago: BYU creates a new course on "The Family: A Proclamation to the World," the document introduced in 1995 by Church President Gordon B. Hinckley.

5 years ago: Dreyer's begins selling Cougar Craze, a BYU ice cream with fudge swirls and caramel-filled footballs. Some 10,000 gallons of Cougar Craze were sold in Utah and Idaho that year, outpacing sales of Dreyer's Utes Blitz, a U of U–branded ice cream.
By J. Gordon Daines III (BA '97), University Archivist
Read more about BYU's history on the University Archives blog at lib.byu.edu/sites/byuhistory.