---
125 years ago: The Brigham You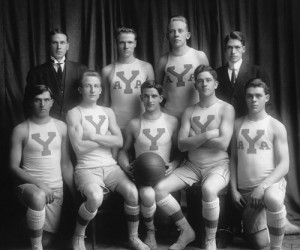 ng Academy continues to be homeless, and classes are held in a number of buildings, including the ZCMI warehouse.
100 years ago: The men's 1912 basketball team completes an undefeated season and wins the state championship.
75 years ago: The university introduces a new class called Religion and the College Freshman that is designed to familiarize incoming freshmen with Latter-day Saint doctrine.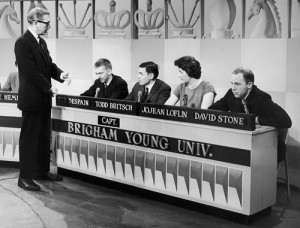 50 years ago: The BYU 1962 quiz bowl team captures the hearts of America for five weeks on NBC's popular game show G.E. College Bowl before being defeated by De Pauw University.
25 years ago: A special issue of BYU Studies celebrates the 150th anniversary of the beginning of missionary work in Great Britain.

10 years ago: Brigham Young University students and faculty participate as volunteers and spectators in the 2002 Winter Olympics in Salt Lake City.
5 years ago: Future star Jimmer Fredette ('11) sees his first playing time for the BYU men's basketball team.
By J. Gordon Daines III (BA '97), University Archivist
Web: Read more about BYU's history on the University Archives blog at lib.byu.edu/sites/byuhistory.