Recent titles offer insights into management, Church history, and doctrine.
Here are my recommendations for a number of good books, nonfiction and fiction, which confirm again my belief that one of the major reasons BYU was founded was to bring to pass the creation of thousands of good books to help us keep a bit more upright on our dash through time.
W. Mitt Romney, '71, one of our typically bright and savvy English majors and the current governor of Massachusetts, recounts in Turnaround: Crisis, Leadership, and the Olympic Games(Regnery; 396 pp.; $27.95) the remarkable story of saving the 2002 Salt Lake Winter Games. Stressing that the book is not a history of the Games, Romney writes, "Instead, I look to Olympic experiences to showcase career choices, principles of management, and measures of leadership" (pp. ix–x). He relates how his remarkable management team overcame seemingly insurmountable obstacles to mount the successful Winter Games.
Romney left his post as CEO of Bain Capital to assume leadership of the Salt Lake Organizing Committee (SLOC), which had been paralyzed by scandal, financial crisis, and demoralization. Romney and company's success in turning the enterprise around is now legendary, and this book is a near-casebook revelation of the management and leadership principles they applied. The hastily assembled team skillfully and tenaciously overcame the threatened withdrawal of support of politicians, the reluctance of corporate sponsors, the skepticism of local residents, the discouragement of athletes, and the shattered egos of Olympic leadership to reinvigorate SLOC and get the Games back on course. In the end, they steered the Games from threatened bankruptcy to a $56 million surplus.
The drama nearly turned into tragedy amidst the fallout and disarray of Sept. 11, 2001—just five months before the opening ceremonies. After the decision was made to go forward with the Games, the scramble began to amass additional funding and manpower to secure them from terrorist threats.
In this fascinating book, Romney stirs up an Olympic classic with a quart of patriotism, a gallon of "common vision of high purpose" (p. xviii), a peck of skillful leadership and uncommon management, a ton of respect for "people, people, people" (p. 59), and loads of weighty inspirational stories of such athletes as Jimmy Shea, Vonetta Flowers, Janica Kostelic, and Derek Parra. Throughout, he highlights the Games' thrilling success in "Light[ing] the Fire Within." Importantly, Romney silences all of you frustrated parents and grandparents who have ever felt impelled to ask, "But, Dear, what do you do with an English major?"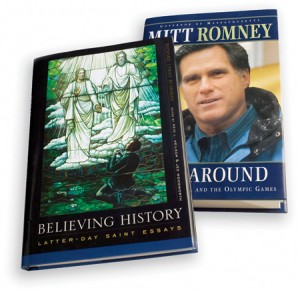 Richard L. Bushman, Gouverneur Morris Professor of History emeritus at Columbia University and Mormonism's preeminent living historian, reflects as "a believing Mormon in an unbelieving world and a historian in the Mormon world" (viii) on his Mormon faith and the history of his religion in Believing History: Latter-day Saint Essays (Columbia University Press; 304 pp.; $40), edited by Reid L. Neilson, '96, and Jed L. Woodworth, '94. In 17 thoughtful personal and scholarly essays and an afterword, Bushman examines and comments on Mormonism, the Book of Mormon, and Joseph Smith.
His purpose, Bushman writes in the introduction, is "to show skeptics the richness and compass of Joseph Smith's thought," to uncover the "full complexity" of the Book of Mormon, and to suggest "the force and originality of Joseph Smith's doctrines." However, he also intends to awaken some "self-satisfied" Latter-day Saints with an authoritatively placed "elbow in their ribs" (viii). Bushman accomplishes these purposes well. "In Bushman's hands," writes Grant Wacker, a professor in the Duke Divinity School, "Latter-day Saint scholarship displays the wisdom of a tradition gracefully come of age: intelligently at ease with itself in a strangely nonbelieving culture" (book jacket).
A delightful, thought-provoking book that makes a compelling case for ways to heal our ravaged western environment is Hope's Horizon: Three Visions for Healing the American Land (Island Press; 350 pp.; $27), by Everett S. (Chip) Ward, '92. In 22 informative and engaging chapters, Ward attempts to wake up readers to serious ecological problems in our environment. Ward, a professional librarian, is a longtime environmental activist and successful grassroots organizer for preserving and protecting the environment against modern man's self-destructive and myopic onslaughts. But he offers hope. Citing nature's resiliency in Vermont, which had become an ecological wasteland, Ward describes how wise management has allowed the state's ecosystem to miraculously sew itself together. He holds out hope that the West will, through enlightened management, similarly become once more what Wallace Stegner once called "the geography of hope" (qtd. in Ward, p. 153).
George Potter and Richard Wellington, in Lehi in the Wilderness: 81 New Documented Evidences That the Book of Mormon Is a True History (Cedar Fort; 196 pp.; $39.95), examine Nephi's 81 statements regarding the route of Father Lehi and his family across the Arabian Peninsula. The authors propose that Lehi's party followed the ancient incense trails, and they geographically link the journey to present-day sites. They follow the company through the wilderness from Jerusalem to the Valley of Lemuel, "the place Shazer," and "the camp of the Broken Bow" to "Nephi's Harbor" and Bountiful, which they show as likely to have been a port in modern-day Dhofar on the shores of the Indian Ocean in souther Oman. This is a thoroughgoing examination of Nephi's account of the wilderness journey.
S. Michael Wilcox, '73, an LDS Institute of Religion instructor, tells in an excellent short biography, Fire in the Bones: William Tyndale—Martyr, Father of the English Bible (Deseret Book; 255 pp.; $23.95), how Tyndale underwent persecution and, ultimately, martyrdom in translating and publishing, posthumously, the first English translation of the Holy Bible. His last words were, "Lord! open the king of England's eyes" (p. 216).
Because the era is so long gone, I thought we might see fewer novels about plural marriage. But I was wrong. I have just read—and thoroughly enjoyed—The Leah Shadow (Authorhouse; 326 pp.; $19.95), by Harold K. Moon, '57. Unquestionably, this novel is among the best and most satisfying treatments of plural marriage—or monogamous marriage, for that matter—that we have.
Happily, this is not an agenda-ridden novel. Instead, The Leah Shadow, set in the 1880s, is the tender, engrossing, human story of the shadow cast over the well-established and happy marriage of Catherine and John Glendrake by John's mid-life plural marriage to young Sheila. Later, John and Sheila are forced by anti-cohabitation laws to flee their sheep ranch in Duchesne, Utah, for a fresh start in Colonia Diaz, Mexico. But Catherine, haunted by the tensions in her marriage and in her soul, and to the dismay of her husband and sister-wife, with whom she has lived in love and harmony, chooses to remain behind, to fend alone for her children, and to learn what she has to learn. This remarkably well-written and often-exciting tale of faithful Latter-day Saints, of the rugged Utah and Chihuahua lands, and of a Javert-like U.S. marshal, makes for excellent reading and for one of the best LDS novels I've enjoyed.
Dean T. Hughes, in Take Me Home (Bookcraft; 437 pp.; $23.95), volume 4 in his Hearts of the Children series, courageously traces the dichotomies in the lives of the Thomas grandchildren in the ambiguous historical era of the early '70s: Hans Stoltz's constricted life in the dreary German Democratic Republic and his blossoming relationship with the faithful Elli; Kathy's seemingly futile attempts to help Filipinos while serving in the Peace Corps and her gradual awakening to Mormonism; Diane's disintegrating marriage to Greg and discovery of herself; and Gene's harrowing tour of duty in Vietnam and his disillusion over the war. Hughes delivers another gripping, hard-hitting, yet faithful novel about being LDS in a troubled and complex time.
Finally, I recommend Orson Scott Card, '75, who continues his Women of Genesis series (following Sarah and Rebekah) in Rachel and Leah (Shadow Mountain; 418 pp.; $23.95). Card became so engrossed in the story of Jacob's two sister-wives that he had to divide it into two novels, the second to be called The Wives of Israel. Long live Scott Card (another English major)!
Richard H. Cracroft is BYU Nan Osmond Grass Professor of English, emeritus.
Student Publications
BYU publishes nearly 30 student journals—ranging in topic from environmental studies to political science to science fiction and featuring creative, academic, and technical writing. The following is a sampling of BYU student publications:
Aporia
An undergraduate journal of philosophy, Aporia is published biannually—an online edition in the fall and a print edition in the spring. The most recent online edition can be found at the Web site humanities.byu.edu/philosophy/aporia/home.html.
Borrowed Earth
Published annually, Borrowed Earth is unique in offering a Latter-day Saint perspective of environmental studies. The journal publishes a wide variety of research, essays, and creative writing related to the environment.
Inscape
Inscape features poetry, personal essay, short fiction, and drama in addition to student artwork. It is published biannually.
Studia Antiqua
Sponsored by the History Department, Studia Antiqua annually publishes articles focused on classical studies.
To find out more about student journals or to obtain a copy, go to more.byu.edu/journals.