---
By Charlene Renberg Winters, '73
IF anyone in the audience at BYU's Homecoming Spectacular doesn't tap a toe at least once during the annual talent extravaganza, it's a pretty safe bet he or she has left a sense of rhythm at home.

That's because motion and music will dominate an evening of entertainment that supports the Homecoming theme, "Never Stand Still." Homecoming Spectacular will be presented Friday and Saturday, Oct. 10 and 11, at 7:30 p.m. in the Marriott Center.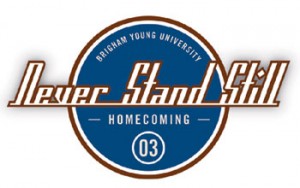 The Young Ambassadors, Ballroom Dance Company, Swing Club, and Tap Club will show why jitterbug, swing, and other lively dances were so popular in post–World War II America. Performances by Synthesis and the University Singers will also highlight the event.

"'Never Stand Still' is an ideal theme for us because it implies the movement and energy we hope to accomplish during Spectacular," says Janielle Hildebrandt Christensen, '67, artistic director of the show. "It was only natural to bring in such groups as Synthesis and University Singers as well as so many dance teams that can easily portray and embody that theme."

The first half of the program will showcase signature numbers from the various groups, and the second section could be dubbed "Swing, Swing, Swing." As a tribute to the late 1940s and the swing era, it will feature several production numbers from that time period, including "Boogie Woogie Bugle Boy."

"We are planning a big swing finale combining most of our groups as a reflection of the joyous period of time," Christensen says.

"The post-war era is something we haven't touched on before and has been an interesting period to investigate," says Michael G. Handley, '83, the show's producer as well as lighting and scenic designer. "It was ideal to add Synthesis because this is the music it plays so well and so naturally. The group celebrates its 30th anniversary this year, and this show provides a way for Synthesis to take center stage and anchor the entire evening."

As part of that celebration, Synthesis director C. Ray Smith, '75, plans to bring back several former Synthesis star performers as featured musicians.

Christensen and Handley will make use of a back screen with images that help evoke the late-1940s era. The screen will also be used to highlight the life of Howard S. McDonald, BYU's sixth president and this year's honored founder. The alumni award recipients and college honored alumni will also be recognized.

Homecoming Spectacular will come at the end of a week of highlights that will begin with opening ceremonies Tuesday, Oct. 7, and continue with a kickoff party at Brigham Square, daily noonday activities, a hike to the Y, a baby pageant, an alumni barbecue, a "Never Stand Still Run for Honor," and True Blue Football. College honored alumni will also deliver guest lectures, and various groups will meet throughout the week for reunions. Other key events are the Thursday evening BYU vs. Colorado State football game, Homecoming dances, a free pancake breakfast, and the Homecoming Parade.

INFO: Tickets for Homecoming Spectacular can be purchased at the Marriott Center Ticket Office, online at byutickets.com, or by phone at 378-BYU1 or 1-800-322-BYU1. Additional details about Homecoming 2003 are online at alumni.byu.edu.