---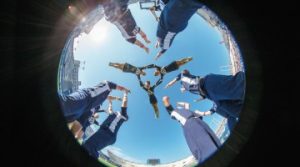 The helicopter stunt is a particularly tricky one—three fliers hold on tight, spin as one as they are hurled in the air, and land in a different set of arms to be sent skyward again two, three more times.
But flying doesn't scare cheerleader Taylor N. Lawrence ('17), who came to the sport from gymnastics. "It feels like you're floating through the air," she says. "There's no other feeling like it." This mid-toss shot of Lawrence and other members of BYU's co-ed cheer squad, captured in 2013 through the lens of university photographer Mark A. Philbrick (BA '75) as he ducked camera-up in the middle of the squad, offers fans an angle of the helicopter they'll never get from the sidelines.
Philbrick's photo took first in sports features at the annual University Photographer's Association of America symposium, where he was named the 2014 National Photographer of the Year for the eighth time—making him the organization's most decorated photographer.