---
You've got 110 minutes, 20,000 square feet, and one blueprint. The task: "to go from nothing to an entire design," explains landscape-management student Leslie Rodriguez Stewart ('19). Her first time at the National Collegiate Landscape Competition, Stewart dug into the exterior-landscape-design event—and the grass must have been greener in her design, because she landed a first-place award and several job offers. With 32 other students, including fellow gold-medal winners Matthew W. Heaton (BS '18), Jackson H. Chandler ('19), and Karlie E. Taylor ('19), Stewart kept BYU's team on the cutting edge of the competition, placing first overall. Here, she shares some tips from her award-winning design on how to spruce up your landscape.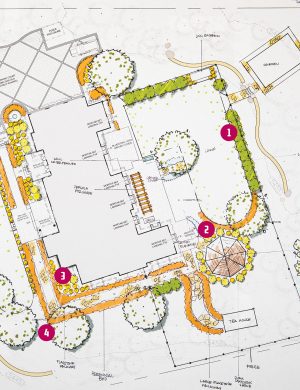 1. Screen Your Yard
To screen your yard from unwanted views, Stewart recommends using lilac hedges or other large shrubs to create natural barriers.
2. Shade-Friendly Greenery
Plant shade-friendly greenery on the north side of your home to counteract its "shady and cool microclimate," Stewart says.
3. Color-Changing Plants
Place smaller color-changing plants, including ornamental grasses, perennials, and forsythia shrubs, near the walls of your home to eliminate tricky lawn-mowing spots.
4. In the Sun
On the sunnier south side, put in large deciduous trees, like bigtooth maple or Bradford pear, to get afternoon shade.